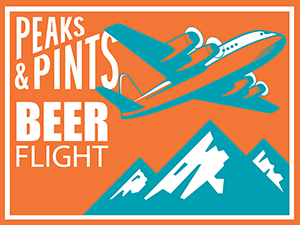 Amarillo wasn't so much developed as it was discovered. In 1990 Virgil Gamache Farms found this strain growing next to a field of Liberty hops. It still took 13 years from discovery for it to be publicly released. Amarillo is a citrus bomb with notes of lemon, orange, and grapefruit thanks to its off the charts Myrcene oil content. It's amazing on its own but works fantastically with other citrus and tropical hops. If it were socially acceptable to drink beer in the morning, one with Amarillo hops would be the perfect way to start the day. Wake up to Amarillo hops and our flight, Peaks and Pints Beer Flight: Amarillo And Friends.
Peaks and Pints Beer Flight: Amarillo And Friends
E9 Brewing Don of Time
5.4% ABV
Donovan Stewart has spent some time in Tacoma. The city first got to know Stewart as a drummer in the stoner sludge metal band Mico de Noche playing Hell's Kitchen on Sixth Avenue many times, although he rocked with bands Helltrout and Migas previously. Stewart moved to guitars, added more bands to his week — most notably Tacos! and Gold Sweats — as well as recording gigs. You could argue many Tacomans know Stewart as the longtime assistant brewer and now sales director at E9 Brewing. He and Head Brewer Shane Johns built a world class sour and saison program together, when they weren't creating delicious IPAs and the house pale ale, Don of Time, brewed with Amarillo and Simcoe for a hoppy yet balanced pale with subtle citrus notes. Fun fact: Don of Time won the 2023 Peaks and Pints Tournament of Beer: Northwest Pale Ales in April.
Wet Coast Baronesse Pale
5.6% ABV
When Peaks & Pints first heard Wet Coast Brewing brewed a pale ale called Baronesse, we were certain it was another term from their Prohibition-themed brewery. West Pierce Fire and Rescue firefighters Bryan Copeland and Aaron Johnson are the brewers and co-owners behind the business, along with their wives Molly Copeland and April Johnson, and they named their brewery after their love affair with our country's Prohibition era. In the 1932 presidential election, King, Pierce, and Spokane counties voted "wet," meaning those citizens voted for Democrat Franklin D. Roosevelt and his desire to bring back the drinkies, instead of Republican Pres. Herbert Hoover's desire to keep "the noble experiment," Prohibition. Well, the pale is brewed with Baronesse malt from Linc Malt in the Spokane Valley, plus Amarillo, Citra, and Mosaic hops, for a gentle but full bouquet of hop flavors and aromas.
Living Haus Carl
6.3% ABV
Citra has been an IPA brewer's favorite for the past decade but surprisingly it's only been available since 2007. It was the catalyst that changed the flavor profile of the IPA. Before the bright citrus character came along most brewers were using hops with pine and grassy characteristics which as you can imagine would not make a great juicy IPA but worked well for the classic West Coast IPA style. Adding Amarillo helps the Citra from being too Citra-y. Brewed with Ruse Brewing, Living Haus Carl uses both breweries' hop lots of Citra and Amarillo in this classic west coast IPA.
Alpine Duet IPA
7% ABV

Simcoe and Amarillo. Not a buddy-buddy cop movie but rather the only two hops in Alpine Beer's Duet IPA. On the nose, Duet's namesake is beautifully displayed as you can pick out the big contributions from the hop duet right away. Big-time nectarines, mangoes, pineapple, with mild undertones of citrus, likely from the Amarillo, with the wet, dank, pungent, and piney side from the Simcoe. They form a beautifully harmonious union with the tropical explosion versus the raw, dank hoppage. Duet is a tropicpalooza in the middle of an oily, hemp jungle.
Russian River Pliny the Elder
8% ABV
Russian River Brewing's Pliny the Elder first appeared in 1999, and year by year it gained a following. The beer's mighty name has almost certainly helped create the sensation. Pliny the Elder was named after the great Roman naturalist who first described, among many elements of the natural world, the wild European ancestor of hops, the plant so essential to beer making. Brewed with Amarillo, Centennial, CTZ, Cascade, Warrior, and Simcoe hops, the double IPA boasts balance and body where some other double IPAs just burn. In the glass, it glows a godly gold, smells notably of pine sap and needles, and carries a reassuring and delicious backbone of caramel.
LINK: Peaks & Pints cooler inventory
---