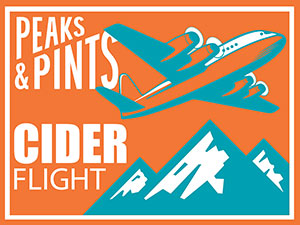 In December 2014, husband-and-wife team Brian and Christina Callahan, the Woodinville, Washington couple behind the Callahan Cellars winery, launched Elemental Hard Cider, focused on hard ciders made with Northwest apples, cold-fermented with minimal filtering and devoted to expressing the atmospheric components. In 2019, Elemental moved their production and taproom to Arlington. Since we're more than halfway through the 2021 Washington Cider Week, we though a to-go flight of Elemental ciders would be appropriate. Stop by Peaks & Pints and grab Peaks and Pints 2021 Washington Cider Week: Elemental. The Elemental Huckleberry and Strawberry Rhubarb are on tap, and we're donating 50 cents for every pint poured between 6-9 p.m. to the Drinking for Conservation's Guzzlin' for Grizzlies event.
Peaks and Pints 2021 Washington Cider Week: Elemental
Elemental Huckleberry
6% ABV
Made with Northwest huckberries, this sweet and tart cider offers dark, earthy fruit notes.
Elemental Strawberry Rhubarb
6% ABV
A full-bodied blend of strawberry and rhubarb infused with Washington apples, a crisp and refreshing strawberry presence, and a juicy splash of tart rhubarb.
Elemental Pineapple
6% ABV
An easy-drinking pineapple cider that's crisp, tart, and flavorful.
Elemental Lemoncello
6% ABV
Lemoncello semi-dry cider has a punch of acidity, more lemon than apple flavor, a slight creaminess, hints of grapefruit and finishes crisp, clean, and overly bright.
Elemental Blood Orange
6.5% ABV
Elemental's blood orange infused semi-sweet hard cider is full-bodied and full-flavored with the blood orange portion of the flavor remaining mild instead of overpowering.  It has a hazy orange hue with a hint of pink. The aroma is orange zest and wood. The flavor is sweet with lots of juicy blood oranges and highly sweet apples. It's citric and sweet on the finish. Not overly cloyingly sweet, the sweetness and sourness from the citrus are balanced.
LINK: Peaks & Pints cooler inventory
---