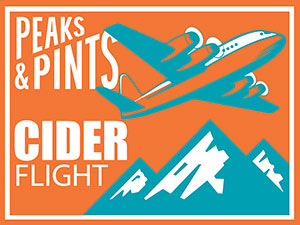 The Puget Sound is Washington's largest saltwater inlet and is connected to the Pacific Ocean via the Strait of Juan de Fuca and Admiralty Inlet. The National Oceanic and Atmospheric Administration defines "Northern Puget Sound" as bounded to the north by the international boundary with Canada, and Mukilteo to the south. Peaks & Pints points out these boundaries to define our Washington Cider Week to-go flight of Northern Puget Sound ciders, which includes Herb's Cider and Lost Giants Cider Co. in Bellingham, and Elemental Hard Cider in Arlington. Drop by Peaks & Pints craft cider and beer bar, bottle shop and restaurant 11 a.m. to 8 p.m. and grab the day's to-go cider flight, Peaks and Pints 2020 Washington Cider Week: Northern Puget Sound, then head to the Washington Cider Week website to find out what's what. Cheers!
Peaks and Pints 2020 Washington Cider Week: Northern Puget Sound
Elemental Pineapple
6% ABV
In December 2014, husband-and-wife team Brian and Christina Callahan, the Woodinville, Washington couple behind the Callahan Cellars winery, launched Elemental Hard Cider, focused on hard ciders made with Northwest apples, cold-fermented with minimal filtering and devoted to expressing the atmospheric components. Last year, Elemental moved their production and taproom to Arlington. The pineapple in Elemental's Pineapple cider isn't overwhelming with a nice, smoky dry finish.
Elemental Calcium Blood Orange
6.5% ABV
Elemental's blood orange infused semi-sweet hard cider is full-bodied and full-flavored with the blood orange portion of the flavor remaining mild instead of overpowering.  It has a hazy orange hue with a hint of pink. The aroma is orange zest and wood. The flavor is sweet with lots of juicy blood oranges and highly sweet apples. It's citric and sweet on the finish. Not overly cloyingly sweet, the sweetness and sourness from the citrus are balanced.
Herb's Double Stroke
6.5% ABV
After suffering two heart attacks, 53-year-old Primus drummer Tim "Herb" Alexander opened Herb's Cider in Bellingham, Washington. He knew he needed a change. Herb's Cider is made with 100 percent organic Washington apples, and guided by Chris Weir, formerly of Finnriver Cidery and Port Townsend Brewing. Double Stroke (yes, all the ciders have a drum theme) is the cidery's dry offering.
Lost Giants Elderberry Cider
7.3% ABV
In 2018, Chris Noskoff, Abraham Ebert and Brad Wilske founded Lost Giants Cider Company in Bellingham, Washington, focusing on handcrafted modern and traditional ciders that showcase the agricultural abundance in the state. Their Elderberry Cider is ruby red, semi-dry cider made with regional Elderberries and a blend of traditional dessert and cider apples. The tartness of the elderberry is balanced with sweet Washington apples giving us a subtle sharpness, delicate mouthfeel and a semi-dry finish. Aroma brings out fresh elderberries upfront, with light apple acidity. On the tongue, expect fresh elderberry character upfront, with tart fruit skins, and crisp apple acidity. It's nicely balanced, with a good expression on the berries.
LINK: Peaks and Pints vs 2020 Washington Cider Week
---