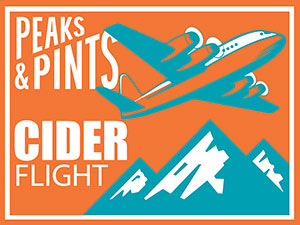 After today, the temperatures begin to dip in the South Sound. Fall is (finally) here! Between living up autumn life with apple and pumpkin picking, flannel everything, cold-weather recipes — and all of the aforementioned captured on your friends' Instagram feeds — Peaks and Pints bets you're ready for cider. The fall harvest brings farmers and communities together to celebrate another year of fruitful labor. It is a time of shorter days, cooler nights and great apples. Put down those Mexican lagers. Back away from the pilsners. Summer may have lingered a little longer than expected in Western Washington, but the times finally appear to be changing. Meaning that Peaks and Pints' Washington Cider Week to-go flight gives a nod to autumn harvest ciders. So, bundle up and enjoy Peaks and Pints 2020 Washington Cider Week: Autumn.
Peaks and Pints 2020 Washington Cider Week: Autumn
d's Wicked Baked Apple
6.9% ABV
Let's talk Baked Apple, as in Kennewick-based hard cider maker d's Wicked Cider's 2015 U.S. Open Beer Championship gold medal winning creation. The cider company, which is owned by Daniel and Heidi Washam, owners of Sun River Vintners, also in Kennewick, opened shop with Baked Apple, which uses Washington apples to makes its three cider varieties. This off-dry cider hosts the flavors of Red Delicious, Honey Crisp and Granny Smith apples, finishing with a touch of allspice and cinnamon. Think grandma's apple pie without the crust.
Seattle Cider Pumpkin Spice
6.9% ABV
Joel VandenBrink, the founder of Two Beers Brewing Co., launched the Seattle Cider Company in August 2013, with the help from his Two Beers sales rep and a former farm hand Eric Willard. Diagnosed with Crohn's disease, which makes beer difficult to digest, VandenBrink launched the cider company with only two products: Semi Sweet and Dry. Today, Seattle Cider has many options, including Pumpkin Spice. We'll tell you what we want, what we really really want: a cider spiced with cinnamon, nutmeg, clove and allspice. It's pumpkin pie's long-lost love.
Finnriver Bon Fire!
6.5% ABV
Finnriver Cidery farms and ferment on 50 acres of organic fields and orchard in Chimacum, Washington. While their farm is remote, they are honored to be on the forefront of the Pacific Northwest cider revival. Made with a selected blend of organic Washington apples, organic cane syrup, organic dandelion root, and organic Mexican vanilla extract, the winter ode to fireside nights Finnriver Bon Fire plants s'mores on the brain with rich notes of caramel, vanilla, and toasted marshmallow.
Alpenfire Rosy Pommeau
18% ABV
Located in Port Townsend, Alpenfire Cider can't wait to show people around their orchard again, where they grow three French and five English cider apple varieties as well as many heritage and dessert apples. Until then, there's pommeau. One of our favorite flavors in pommeau is the apple on the orchard floor, ripe beyond recognition, a memory of a harvest now past, sinking into the damp autumn leaves. Alpenfire's Rosy Pommeau is a rich, fancy Aerlie red apple cider partially fermented before adding eau de vie, which is distilled from the Port Townsend cidery's estate organic cider varietals and locally grown organic heirloom apples. Once blended Rosy Pommeau is aged in neutral oak for 15-plus months before bottling. Enjoy sweet floral aromas and notes of tropical fruit, berries, and honey.
---