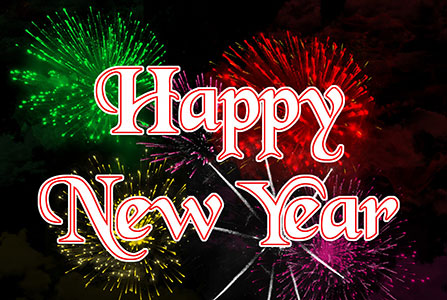 Let's face it, 2019 has been a dumpster fire. We could fill an entire novel with all the tragic and unfortunate events that have proved to be a major bummer over the past 12 months, but will instead focus on turning the page, moving on and looking forward to a brighter future. New Year's Eve is an occasion to drink with friends (if you wanna), to dress up in your nicest duds (if you wanna), to laugh your ass off (if you wanna), and to remember all of the good things that happened over the past 12 months (yes, there were some). Peaks and Pints will celebrate New Year's Eve on Eastern time, which means will pour complimentary prosecco at 9 p.m., then close the doors at 10 p.m. and start counting inventory. Whoopee! You, however, can celebrate New Year's Eve all day with our flight of hard liquids we call New Year's Eve 12.31.19: Flight of Goodbye 2019. Let's turn our backs on the little victories and larger defeats of 2019 and look ahead with some hope for the year to come. Cheers!
New Year's Eve 12.31.19: Flight of Goodbye 2019
Vandori Prosecco
13% ABV
Sourced from the Friuli Venezia Giulia, a northeast Italian region bordering Austria, Slovenia and the Adriatic Sea, and made from Glera grapes, Vandori Prosecco has a shiny bright straw yellow color and an intense, complex, fine, fruity fragrance.  It's bone dry with flavors of lemons, sage and apple. Party!
BeeHaven Peach Mead
6% ABV
Mead is fermented honey, water and yeast. Also known as "honey wine," mead is believed to be the world's oldest alcoholic libation and one that's generally associated with eras past. Mead-making likely started when a sack of honey would catch some rain, which leads to fermentation. Consuming what's in the bag would create a state of inebriation, which of course led people to experiment with making more. A process evolved. But this fermented honey drink is tiptoeing out from the cave. BeeHaven Beverage of Tukwila makes their peach mead melomel style, which mean fruit is added — in this case, peach. Also arriving to the mead party is a floral bouquet of chamomile and saffron petals. Party!
One Tree Snow Globe
6.6% ABV
Who doesn't love glitter? It's nearly impossible to get out of your cleavage after a night on the town, but it's festive as hell. And now thanks to edible glitter, your digestive system can be as sparkly as your 1990s eye shadow palette. One Tree Hard Cider Snow Globe is a delicious spiced cider with glitter. We recognize the clove and cinnamon, but the glitter seems like a handful rather than a full dance floor dump. Party!
Everybody's White Peach Gose
5.125% ABV
Everybody's Brewing founder and head brewer Doug Ellenberger dumped 700 pounds of white peaches to his gose adding a layer of fruity complexity to a style already known for its tart, tangy qualities. Soft peach aromas burst from the glass, while a light body and smooth mouthfeel make this beer incredibly refreshing. Party!
Boochcraft Ginger Lime Rosehips
7% ABV
Boochcraft, makers of organic handcrafted hard kombucha, use only certified organic ingredients, fair trade sugar, and fruit juices freshly pressed in-house. Their Ginger Lime Rosehips packs a punch with fresh-pressed ginger and zesty limes, plus aromatic rosehips, to create a lightly tart and subtly sour sipper. Party!
---