Monday Cider Flight and a Movie: Toy Story 4
It's Monday, which means Peaks and Pints offers a flight of cider to be enjoyed before or after a local movie screening. Today, we're excited to pair a flight of fruity ciders with Toy Story 4, screening at our neighborhood movie theatre, the Blue Mouse. Director Josh Cooley — working from a script by Andrew Stanton and Stephany Folsom, and a story from a host of Pixar veterans, including company founder and Toy Story creator John Lasseter — has delivered a Toy Story sequel Peaks and Pints didn't realize we needed. Admittedly, it doesn't feel as instantly necessary as the first and third films, and might fall just below all three previous editions if one had to rank them for quality, but it comes close. And in this era of endless sequels, reboots and remakes, that's more than Peaks and Pints could have hoped for — and good enough to make Toy Story 4 the best family film of the year. Monday Cider Flight and a Movie: Toy Story 4 centers around a 7 p.m. screening of the flick.
Portland Bada Bing Bada Blackberry
5.2% ABV
Oregonian Jeff and British Lydia launched Portland Cider Company in 2012 with the intent of marrying English cider traditions with the innovative Northwest micro-brewing culture.  It all started from a desire to make the clean, dry cider Lynda grew to love in England, and Jeff yearned to find in Oregon. With their Bada Bing Bada Blackberry, we get pie cherry on the nose, followed by heavy notes of tart cherry and balanced with sweet blackberry on the finish.
Fierce County Kapua Sweet
6.7% ABV
John and Tolena Thorburn adore craft beer. For 15 years they traveled the world drinking it. But, an oversaturated market lead them to cider. Learning and enjoying the varying styles and flavors unique to each brewer and set of ingredients, the Thorburns applied that experience to years of homebrewing and cidermaking. In 2017, Fierce County Cider launched its first commercial operating space in a 97-square foot ciderhouse in Puyallup. The ciderhouse is built for efficiency, utilizing the latest brewing technology and equipment to allow lead cidermaker Tolena to create "fiercely" ciders, including Kapua Sweet made with crisp Washington apple, pineapple and mango.
Cockrell Blackberry
6.7% ABV
Brothers Richard and John Cockrell have been making cider and beer in their Puyallup homes for more than 26 years, sharing their craft with family and friends, as well as grabbing many local, state and national awards and accolades. As the brothers began planning for their retirement their fans begged them to go pro. Their hobby became Cockrell Hard Cider. Their crisp, tart and refreshing semi-sweet blackberry cider is made with local fruit for aromas and flavors of blackberry, apple, and baking spice.
Swift Pineapple Hop Cider
6.7% ABV
Swift Cider is a small-batch, craft hard cider company from Portland, Oregon. The reincarnation of Outcider LLC, Swift carries forward the same dedication to fresh-pressed apples, wholesome local ingredients, slow-and-cold fermentation, wild yeasts, and intensely delicious flavor. Aidan Currie is the head-cider maker, founding owner, and obsessive fermentation sage. This past summer, Swift Cider grabbed "Medium Cidery of the Year" at the Portland International Cider Cup. Its Pineapple Hop Cider took Silver in the Hopped Cider category. The semi-dry cider has balanced flavor between the pineapple and hops with only hints of bitterness.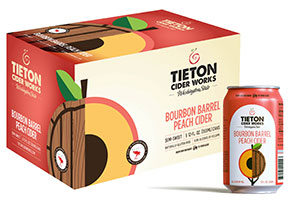 Tieton Bourbon Barrel Peach
6.9% ABV
This year, Tieton's popular Bourbon Barrel Peach cider was aged in previously used Dry Fly bourbon barrels. Aging in bourbon barrels gives the cider deep, rich notes of vanilla and spice.
---