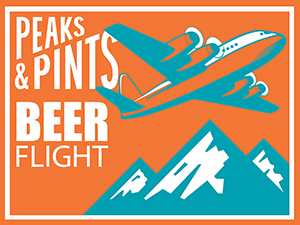 Today's beer flight, Craft Beer Crosscut 8.20.19: Flight For Bacon Lovers, seem like a good way to celebrate one of the most hallowed "holidays" on the food calendar: National Bacon Lovers Day. Moment of silence, please. Bacon beers may seem a delicious novelty, but until the 19th century all beers had a meaty taste to them. Barley, the grain that gives beer its alcohol and much of the flavor, was dried over open flames so a bacon-like smoke infusion was unavoidable. In trying to trace the roots of National Bacon Lovers Day, we soon found ourselves reading BaconToday.com. The websites says, "The month of August contains two bacon inspired holidays. Holiday one is a day to celebrate the lover of bacon; August 20 is National Bacon Lovers Day. The second nod to bacon in the month of August is for celebrating the beloved bacon itself; August 30 is International Bacon Day. And if that's not enough, and I'd dare say it is not, we end each year with yet another holiday celebrating bacon; December 30 is National Bacon Day. … Unlike the other two days that are a celebration of the food, National Bacon Lovers Day is a day to celebrate the lover of bacon. So, nearly everyone! Bacon is so inclusive." So, on this National Bacon Lovers Day, enjoy our smoked beer flight, Craft Beer Crosscut 8.20.19: Flight For Bacon Lovers in Tacoma.
Craft Beer Crosscut 8.20.19: Flight For Bacon Lovers
Matchless Right Kind of Smoke
5% ABV
In June 2017, Patrick Jansen and Grant Bolt opened Matchless Brewing Co. near the Olympia Regional Airport in Tumwater. With Grant as president and Jansen as director of brewing operations, the duo began cranking out award-winning craft beer in a 9,000-square-foot brewery and taproom. Fun fact — Right Kind of Smoke is the first beer ever made with Skagit Valley Malting's newest specialty malt: Copeland pilsner smoked over pecan shells. This helles lager sports a light, drinkable body with forward notes of smoked brisket burnt ends, subtle earth and nuttiness. Think toasty rather than crispy.
Aecht Schlenkerla Rauchbier – Urbock
6.5% ABV, 40 IBU
One day we hope to taste the perfect bacon beer but until then we have the hickory-charred resin-dried chocolate-smoked German-styled smoked bock beer Aecht Schlenkerla Rauchbier – Urbock, in which its barley malts are smoked over beech wood logs. Its higher smoke malt concentration and longer maturation in the 700 year old cellars underneath Bramburg create a flavor profile of most intense smokiness beautifully balanced with deep malt sweetness. It tastes somewhat sweet dark malt with dark bread and a little treacle tone, dry toasty roast, moderately smoky notes of campfire and subtle smoked ham, oak, pretty dry on the back end where the smoky, ashy notes overpower the malt. It has a fairly light body with extremely low carbonation. It's a solid smoke beer.
Alaskan Smoked Porter
6.5% ABV, 45 IBU
A repeated Gold Medal winner at the Great American Beer Fest, Alaskan Brewing's Smoked Porter nearly as old as the brewery itself, dating back to 1988 when it debuted as one of the first smoked beers in the States. A testament to the beer's lifespan, Alaskan releases Smoked Porter in limited yearly vintages, each with their own unique identities. Relying on techniques derived from Alaskans who brewed more than a century ago, Alaskan uses direct heat from local alder wood to malt its barley — a process also recognizable to those who love smoked salmon. And the water for the beer comes from a nearby glacier. That's all fine and dandy, but let's get to drinking. A robust woodsmoke aroma backs up the beer's name even from a distance. Smoked Porter's flavor follows suit on the smokiness, though less intensely than the smell. Roasted malts, molasses, plums, and a puckering charcoal all swim up from this complex brew
Skookum Smoke and Roast
7.6% ABV
Skookum Brewery head brewer Hollis Wood and his small team churn out "big bold strong" craft beers in a giant facility with a popular taproom down the street from the Arlington Airport — managed by an angel, a big, bearded lovable man named "Angel." Skookum Brewery brews beers that are locally sourced, with more than 90 percent of their barley grown and malted in state, on equipment predominately purchased locally including several pieces made in Washington state. Skookum's Smoke and Roast is a robust oatmeal porter brewed with oak smoked wheat malt and conditioned on heaps of whole Camano Island Coffee Roasters beans for a lightly smoked, intense coffee and smooth porter.
Skookum Deep Color
10.3% ABV
Old ale recalls the type of beer brewed before the Industrial Revolution, stored for months or even years in unlined wooden vessels known as tuns. The beer would pick up some lactic sourness as a result of wild yeasts, Lactobacilli and tannins in the wood. The result was a beer dubbed "stale" by drinkers: it was one of the components of the early, blended porters. Skookum Brewery brewed a strong old ale, added cherry wood smoke malt then aged in in whiskey barrels for 10 months. The result is Deep Color with deep notes and aromas of dark fruit, tobacco, oak, and mild smoke.
---