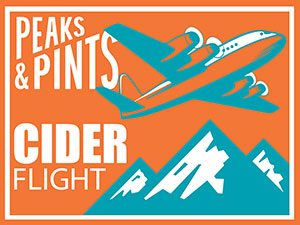 Dave Brown loves the blues. As a reverend, Brown formerly hosted monthly Blues Vespers at the Immanuel Presbyterian Church nestled in Tacoma's North Slope Historic District. Honored by the Washington Blues Society in 2004 with the "Keeping the Blues Alive" award, Brown's secular concerts of professional blues music rival the best blues shows in the state. Brown has hosted his Blues Vespers are various Tacoma locations since leaving Immanuel Presbyterian. Tonight, he sets up inside the Spanish Ballroom bringing in Jerry Miller to entertain. Miller is founding member of the 1960s San Francisco band Moby Grape, which continues to perform occasionally. Rolling Stone included Miller at number 68 on their list of the 100 greatest guitarists of all time and Moby Grape's album, Moby Grape, at number 124 on their list of the 500 greatest albums of all time. Before or after the 7 p.m. show, stop by Peaks & Pints for a to-go flight of cider — a flight we're calling Monday Cider Flight and a Concert: Blues Vespers.
Monday Cider Flight and a Concert: Blues Vespers
Avid Vanilla Bean Pear
6.2% ABV
"We called upon the Greek Goddess of Snow 'Khione' to forge a cider to combat that bitter, bleak, unyielding chill of her father's (Boreas God of the North Wind) winter season," states Avid Cider Vanilla Bean pear hype. "Equipped with a quiver of Madagascar Vanilla Beans her quest began with a hunt to collect the finest NW pears. In an effort of pure blasphemy to her father, she then pressed, blended, and fermented a drink in the perfect elixir that would allow us mortals to survive through the winter." Peaks and Pints has no idea what that means, but EXCITING! This cider tastes exactly what hard apple cider, pear juice, and vanilla bean extract can produce.
Channel Marker Rosemary Cran Ginger
6.5% ABV
Traditionally, a Moscow mule is vodka, lime juice and ginger beer.  To take it up a notch and dress it up for the holidays, folks add cranberry juice, which gives the drink great color and adds a nice tangy, berry flavor. Channel Marker Cider in Seattle has that holiday drink and created a cider with rosemary, cranberry, and ginger — leaving the vodka up to you. It's pleasantly tart, with an off-dry flavor that tickles the nose with the peppery, woody fragrance of fresh rosemary. Rosemary Cran Ginger also manages to capture and captivate your palate with sharp notes of ginger, just enough for you to appreciate the combination without over-powering.
Yonder Stoked
6.9% ABV
Stoked. The word comes from the Dutch stoken, meaning "to feed or stock a fire." The slang stoked is believed to have come from Californian surfers during the 1950s or 1960s. Similarly, to the slang gnarly, stoked has since spread from surfer lingo to mainstream use across the United States, often heard when snow is dumping in the mountains. Yonder Cider's Stoked is a limited-edition blend featuring 70 percent Stoke Red apple and 30 percent red fleshed apples. Rich, spicy and perfect for keeping you warm whether you're on the slopes or enjoying a pint at Peaks & Pints.
Art+Science Prairie Dog
9% ABV
Eight thousand years ago, Neolithic farmers living in the foothills of the Caucasus Mountains tossed grapes into a clay pot to make the world's first wine. Today, on the west side of the Willamette Valley, maverick cidermaker Art+Science uses the ancient technique of using clay pots to ferment — thanks to Novum Ceramics. Their Prairie Dog is another petnat cider made from apples harvested from Koosah Farms and fermented with native yeast in Novum's terra cotta pots. The cider hits the nose with dried stone fruit aroma with a little funky baked apple flavor.
LINK: Peaks & Pints cooler inventory
---