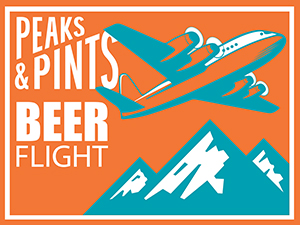 Goose Island Brewing Company first brewed their bourbon barrel-aged imperial stout in 1992 to commemorate the 1,000th batch of beer made at the company's Clybourn brewpub. Ever since, Bourbon County Stout has grown into a highly anticipated annual release, dropping on Black Friday. When Goose Island concocted its first Bourbon County Brand Stout, the practice of barrel aging beer took an intoxicating turn. After three months inside used bourbon distillery barrels, the brew had a complex oak character from the wood and rich flavors from lingering whiskey — characteristics that made the Bourbon County Brand Stout an instant hit. Here it is November 2022, and Goose Island Bourbon County Brand Stout is still very much a thing, and so are its variants. Since Peaks & Pints caps the limit at two each of BCBS 2022 and one each of the variants, technically we have a to-go flight that we call Goose Island 2022 Bourbon County Stout Variants Flight.
Goose Island 2022 Bourbon County Stout Variants Flight
Goose Island Bourbon County Brand Stout
14.4% ABV
Goose Island has been producing Bourbon County Stout since 1992, long before Anheuser-Busch InBev acquired the brewery in 2011. The Chicago craft brewery began packaging the stout in 2005 and first experimented with variants in 2009. The tradition of introducing it on the day after Thanksgiving began in 2010. This year's Bourbon County Stout imperial stout is aged and blended from freshly emptied bourbon barrels from Heaven Hill, Four Roses, Wild Turkey, and Buffalo Trace distilleries. Expect flavors of vanilla, dark chocolate, toffee, molasses, almond, and dried fruit.
Goose Island Bourbon County Coffee Stout
13.2% ABV
For the first time since 2017, Goose Island brought back a coffee variant in partnership with their neighbors, Intelligentsia Coffee. Intelligentsia relies on Burundi for some of the cleanest, sweetest coffees in the world that ultimately complement the quality and tasting notes of Bourbon County Stout. The specific coffee blend combined with Bourbon County is called "Turihamwe," which means "together." The result of this "togetherness" is rich chocolate, coffee, and caramel flavors.
Goose Island Bourbon County Biscotti Stout
14.3% ABV
Inspired by the Italian desserts of her childhood, Jill Cerone, HR manager at Goose Island, dreamed up Bourbon County Biscotti Stout after grabbing a box of chocolate-dipped biscotti from her cabinet. Working with the brewing team, Cerone brought the flavor to life with notes of anise, marzipan, cocoa, and buttered toffee. One sip and you'll be reminded of pizzelle cookies, Easter Pane di Pasqua and, of course, almond biscotti.
Goose Island Bourbon County Sir Isaac's Stout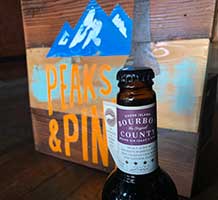 13.9% ABV
Goose Island E-commerce team, Melissa Alleguez and Ryan Hubona, crafted a recipe inspired by Alleguez' childhood memories of stealing fig cookies out of her grandma's cookie jar during her summers on Lake Michigan. And thus, the fig cookie and graham cracker-inspired Sir Isaac's Stout. Highlighting the dried fried profiles extracted from the bourbon in the barrels, Goose brewed with 10,000 pounds of Black Mission figs to create this variant resulting in characteristics of dried fruit, honey, molasses, and citrus.
Goose Island Bourbon County 30th Anniversary Reserve Stout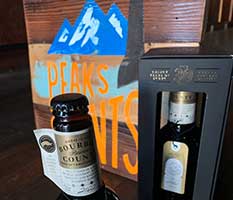 14.4% ABV
Going back to the inception of Bourbon County Stout, the 30th Anniversary Stout is aged from a blend of Jim Beam barrels from their Small Batch Bourbon Collection barrels. They are then blended for a complex and balanced expression that celebrates the heritage and legacy of both brands. Expect notes of dark chocolate, vanilla, cherry, and almond.
LINK: Peaks & Pints cooler inventory
---