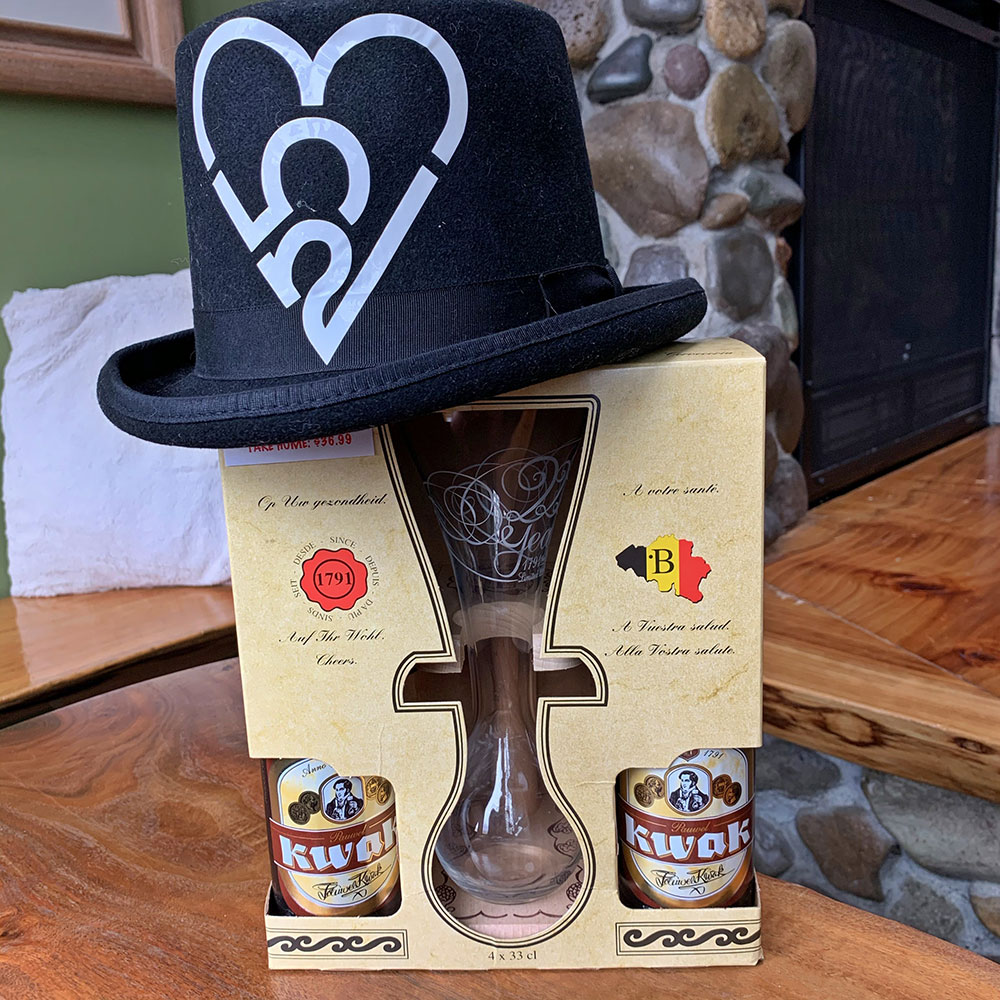 Fancy Pants Sunday: Pauwel Kwak Gift Box
No doubt that person on your holiday list doesn't need more cookbooks such as How to Drink Wine out of Fish Heads While Cooking Lobster in a Volkswagen Hub Cap, A Cookbook for a Man Who Probably Only Owns One Saucepan or Booty Food.
Booty Food?
"If Sex and the City's Carrie Bradshaw cooked, and wrote a cookbook, this might be it," says Publisher's Weekly of former WE Full Frontal Fashion host Jacqui Malouf's dated cookbook, Booty Food. OK, she doesn't, and she didn't, and also, she's a fictional character, by the way. Don't miss the book's chapter called "Cheese: Nature's Viagra." Yeah, it's a time-honored truth that cheese gets guys hard. Besides, who wants to cook from a book that reminds one about his or her big ass?
No, your recipients will remember most the gift that demonstrates elegance, taste and thoughtfulness — Fancy Pants Sunday: Pauwel Kwak Gift Box.
Indeed, Peaks and Pints weekly column championing complex, interesting and unique craft beer focuses this week on the Pauwel Kwak Gift Box, located in the Peaks and Pints Gift Center.
Pauwel Kwak?
Pauwel Kwak was an 18th century well-known brewer and publican in Dendermonde, a city in the Flemish province of East Flanders in Belgium. Kwak brewed his own beer, which was dark and heavy. In those days, the Napoleonic Code ruled that coach drivers were forbidden to drink beer with their passengers and so they were not allowed to leave the coach to quench their thirst. Kwak invented an efficient solution to this problem by offering the famous Kwak beer in a special glass that could be fixed to the carriage, so the drivers could also enjoy one. Kwak's story inspired Brouwerji Bosteels, which began brewing the Belgian pale ale Pauwel Kwak in the 1980s.
Pauwel Kwak (8.4%) hits the nose with mellow fruit and malt, with a slightly spicy character from coriander and hops. The flavor is earthy and fruity, with hints of licorice and spice passing into a warm finish like caramelized banana. A delicate, balancing bitterness remains in the background.
Fancy Pants Sunday: Pauwel Kwak Gift Box includes four, 11.2-ounde bottles, plus the unique Pauwel Kwak glass and wood stand; a great gift for the beer lover in your life, or at least someone who doesn't want to be reminded of their big butt.
You fancy Pauwel Kwak Gift Box.
LINK: Peaks and Pints offers a Christmas beer flight today!
---