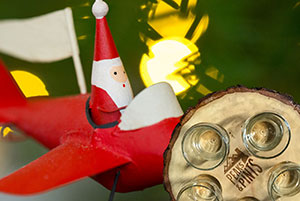 From watching Elf to eating Aunt Bethany's cookies to spraying fake snow on the windows, we all have our seasonal rituals. And it's impossible to live here and get in the spirit without a spin through ZooLights. Point Defiance Zoo & Aquarium's 700,000 light display depicts everything from Santa's reindeer to walruses and the 23-foot Mount Rainier. There is an infusion of newness in this year's event, including the Zoo's baby tapir, tamandua, beaver and wolf pups in lights. Before or after walking through the twinkling lights from 5-9 p.m., swing by Peaks and Pints for a holiday beer flight that we call Peaks and Pints Christmas Beer Flight 12.2.19: Zoolights.
Peaks and Pints Christmas Beer Flight 12.2.19: Zoolights
Finnriver Cranberry Rosehip
6.5% ABV
Cranberry sauce is an essential part of every holiday meal for one simple reason — it cuts through the heaviness of all the other dishes. It's light, it's bright, and it's actually pretty darn healthy. Finnriver Farm & Cidery's version is a small batch seasonal cider fermented to dry and then blended with the juice of transitional and organic cranberries from the Washington coast's Starvation Alley Farm. Head Cidermaker Andrew Byers then adds an infusion of wild rosehips gathered from woods and hedges around the Olympic Peninsula. Sweetened with unrefined organic cane sugar for added depth and balance, this holiday cider is lightly carbonated.
Delirium Noel
10% ABV, 20 IBU
In the town of Ghent sits Brouwerij Huyghe, the oldest, active brewery in that corner of Belgium. The brewery is best known for Delirium Tremens, a highly regarded Belgian strong pale ale, but they produce a wide variety of beers ranging from pilsners, witbiers, fruit ales and lagers. Huyghe's Delirium line of beers is famous for the pink elephant that adorns every label on every ceramic painted bottle. Its Noel labels are no exception. Skiing, sledding, pulling Santa's sleigh; the Pink Elephant does it all. Delirium Noel is a big, spicy beer with a lot dried fruit character and touch of alcohol to let you know that you're drinking a beer with a double-digit ABV.
Diamond Knot Industrial Ho!Ho! Winter Ale
8.5% ABV, 60 IBU
Diamond Knot Brewing's Industrial Ho!Ho! Winter Ale, brewed for 19 years, is on the nitro tap at peaks and Pints. This winter ale is the first beer recipe Diamond Knot Vice President of Brewing Operations Pat Ringe created when he arrived at the Mukilteo, Washington, brewery. Ho!Ho! is hoppy!hoppy! — 60 IBUs — with a balanced residual sweetness. It was also the first recipe he created when he came to Diamond Knot.
Pelican Bad Santa
7.5% ABV, 65 IBU
"I Saw Mommy Kissing Santa Claus," sung by former jockey Jimmy Boyd, takes a humorous approach to a child's shocking discovery of his mother's infidelity. The Pelican Pub & Brewery in Pacific City, Oregon, brews a beer that pairs with Mommy's merry adulterer — Bad Santa. This mysterious dark elixir is filled with complex malt flavors and aromas with toasted malt and roast character, blending seamlessly to the alluring herbal hop aroma that comes from copious amounts of Fuggle hops. Bad Santa doesn't care if you've been naughty or nice; he just wants Mommy.
10 Barrel Rough Terrain
9.8% ABV, 80 IBU
Bad weather, rough terrain, and a well-equipped enemy left many an American soldier miserable in Italy during the winter of 1943. The U.S. Army called them "morale crates," and they were shipped to arrive in Italy in time for Christmas to raise the spirits of the troops. Morale specialists in the War Department in Washington had carefully selected each item to provide the soldiers with fun diversions from the mud, cold, sleet, rain, and, of course, the Germans who were trying to kill them every day and often succeeding. Peaks and Pints places 10 Barrel Rough Terrain imperial red ale on this flight in honor of those brave American soldiers during WWII. Driven forward by Simcoe, Equinox, and Centennial hops, this imperial red is balanced out by a medium body and underscored by caramel malts.
---