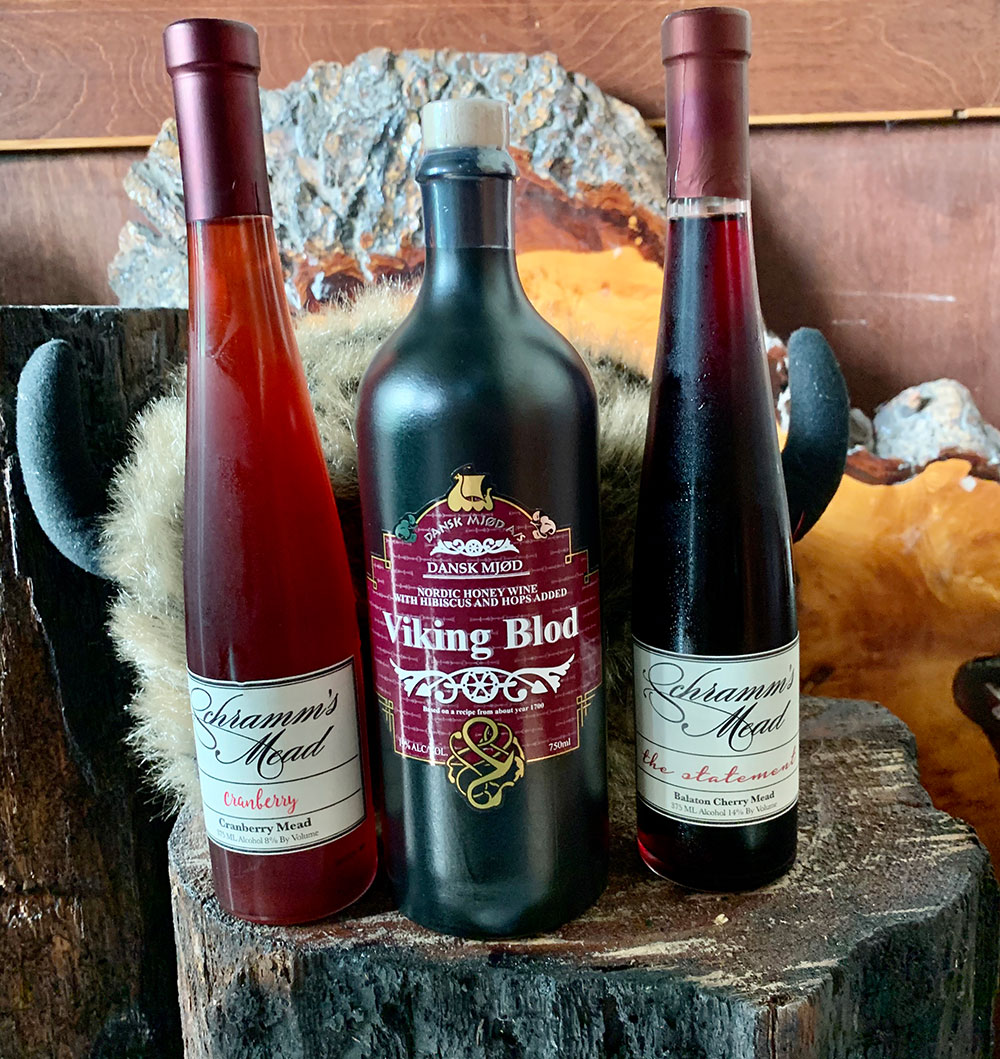 Fancy Pants Sunday: Mead
Now more than ever people in Pierce County can drink like Gandalf. The world's oldest alcoholic beverage is making a comeback in the South Sound Shire. Fancy Pants Sunday: Mead focuses on two brands of mead in the Peaks and Pints cooler: Dansk Mjød and Schramm's Mead.
Some call it honey wine, though the term is not endorsed by its makers. Mead is an alcoholic beverage made from honey, yeast, water, and often fruits, spices, and herbs. It ranges in alcoholic content but often settles between 14 and 20 percent.
Mead is an incredibly out-of-fashion beverage. But times and tastes are changing, and some local distributors have their sights set on modernizing perceptions and knocking the dust off the ancient drink's faded appeal.
"In our neck of the woods, mead is most associated with Vikings and the Britons they terrorized because, for the average American, it got stuck in their head while they were trying to nap through a high school lecture on Beowulf," says Mike Bosold, a sales executive with NW Beverages. The truth is that mead was made widely across Europe and Africa, and I believe Chinese were enjoying the stuff as far back a 7,000 BC, although I think I was napping through that lecture. But, to put this into perspective, what was happening in Denmark at the time was pretty much nothing."
Bosold wisely mentions Denmark as he represents Dansk Mjød, Scandinavia's largest meadery. All their meads are brewed based on recipes from the 1700s. Each batch is fermented then fortified with neutral spirit. This process not only helps to halt fermentation before all the unique characteristics of the honey are lost, but also extends the shelf life of the mead nearly indefinitely.
"Dansk Mjød's Viking Blod comes in a kickass heavy, black bottle and contains hibiscus, hops and spices," says Bosold. "It smells like flowers and tastes like Valhalla." 
Dansk Mjød sits in the Peaks & Pints cooler, but don't even think about steering your Viking ship after a glass. Viking Blod hammers 19 percent alcohol.
Schramm's Mead, a leader in the burgeoning mead industry, has signed with Orcas Distributing to immediately commence sales in Washington state.
Since opening in Ferndale, Michigan, in September of 2013, Schramm's Mead has been "mead-andering" across the country. Ken Schramm's highly sought-after mead has pushed his small artisanal meadery and its offerings to the top echelons of beer ratings sites.
"It's crazy how delicious Ken Schramm's meads taste," says Matt McLaren, sales manager and Advanced Cicerone at Orcas, "because mead is among the simplest of all alcoholic beverages. At its most basic, mead contains a mere three ingredients: honey, water and yeast. But the ancient beverage has a huge scope of flavor profiles. And, one thing is for sure; Schramm literally wrote the book on mead. His The Compleat Meadmaker was released in 2003 and is still considered the reference book for meadmaking."
Our weekly Fancy Pants Sunday column focuses on three meads in the Peaks & Pints cooler. …
Dansk Mjød Viking Blod: This mead is fermented with hops and hibiscus, which give it a slightly darker color than typical honey wine (hence the name). But while you can't really taste the hops the hibiscus cuts the sweetness of the honey, thus keeping the mead from being too cloying in its flavor. 19%]
Schramm's The Statement: The flavor of the Batalon cherries melds inconspicuously with the sweetness of the honey. The sourness of the Batalon cherries takes the center stage compared to the sweetness of the honey. 14%
Schramm's Cranberry: The distinct tartness of the earthy, fragrant and penetrating cranberry matches with the sweet, yet balanced style for which Schramm's Mead is known. 8%
All three meads are pricey, but worth it.
You fancy Dansk Mjød and Schramm's mead.
---