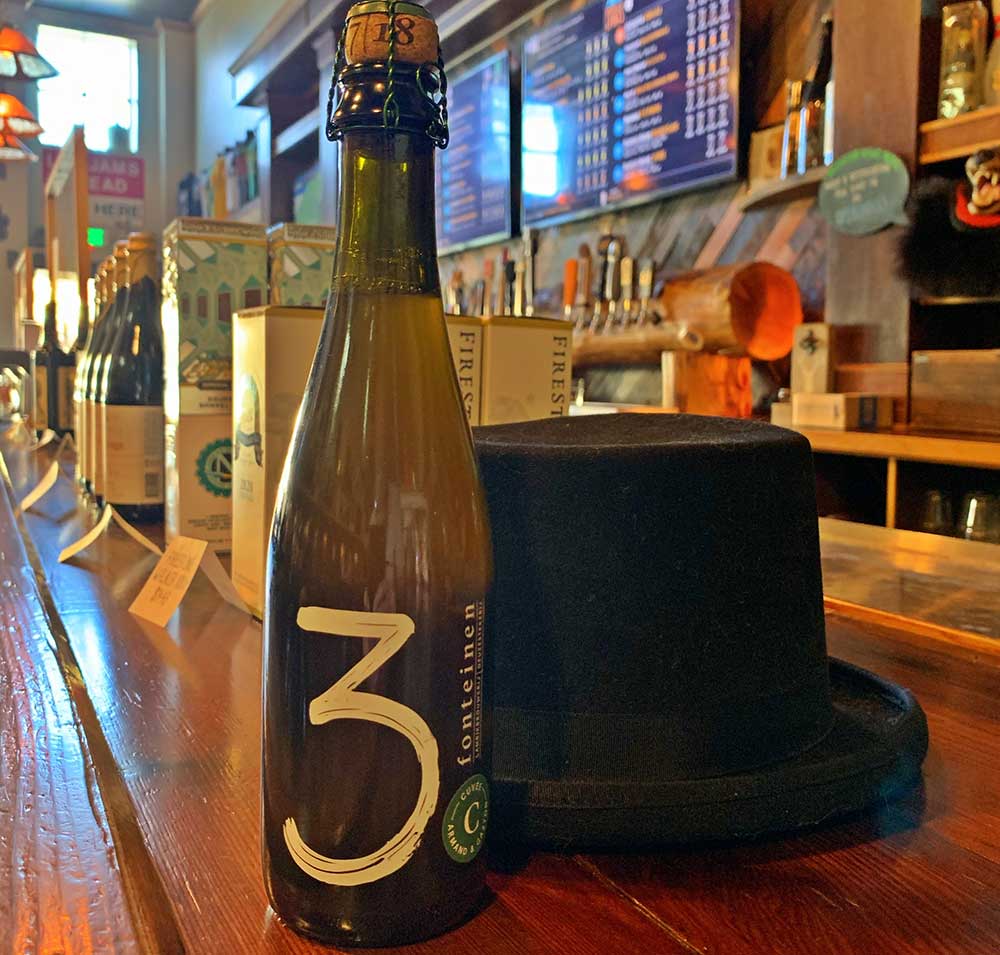 Fancy Pants Sunday 3 Fonteinen Oude Geuze Cuvee Armand & Gaston
Bone dry, pre-dessert deliciousness — welcome to Fancy Pants Sunday 3 Fonteinen Oude Geuze Cuvee Armand & Gaston (season 17/18) Blend No. 80.
Pronounced "goo-zah," gueuze is not really a style, per se, but rather a combination of versions of another style, lambic. Lambics are sour, funk beers fermented with wild yeast and bacteria — those that live and breed naturally in the wilderness. Young lambics are fairly sweet and inoffensive. Aged lambics will slap your face with acidity than become more delicious over time. Brewers found that by blending young and old versions of lambic, they got the best of both worlds — a gueuze. The younger lambics contribute the sugars that lead to second fermentation in the bottle, while the older lambics lend developed flavor. The result is a balanced, well-carbonated beer with pronounced sour character. Gueuzes are bottled after blending, then aged for 2-3 years to produce a dryer, fruitier and more intense style of Lambic. When combined with high carbonation it results in a tart, refreshing beer with significant complexity.
Brouwerij 3 Fonteinen, or Drie Fonteinen, focuses on aging and blending the beers of other lambic brewers. It's a particularly Belgian concept that the creative process in producing a beer comes not when its ingredients are combined and fermented, but in how the resulting beer is aged and blended with other vintages to create a new transcendant concoction. In this case, 3 Fonteinen Oude Geuze Cuvée Armand & Gaston (season 17/18) Blend No. 80 (6.5%) has been blended with 1-, 2-, and 3-year-old lambics from seven different barrels and originating from 13 brews. This blend contains 48 percent matured and old lambics from eight different brews.
This golden cuvée geuze has fermented in the bottle and will continue to develop its tastes and aromas over its long life when properly cellared. Today, Peaks & Pints finds the nose on the yeast-driven peach and zesty citrus side without bitterness, and some sweetness. Wow! The taste is bone dry with heavy oak tannins and slight tartness. Initially, there's a fruity pop but it's not overly acidic. We taste subtle touch malt sweetness, soft vanilla, and soft toast. The dryness could be called aggressive. It's the perfect beer to crack open and dinner while you're waiting for dessert. It's delicious.
You fancy 3 Fonteinen Oude Geuze Cuvee Armand & Gaston!
---