The Last Blues Vespers After Party
September 30, 2018 @ 7:00 pm

-

10:00 pm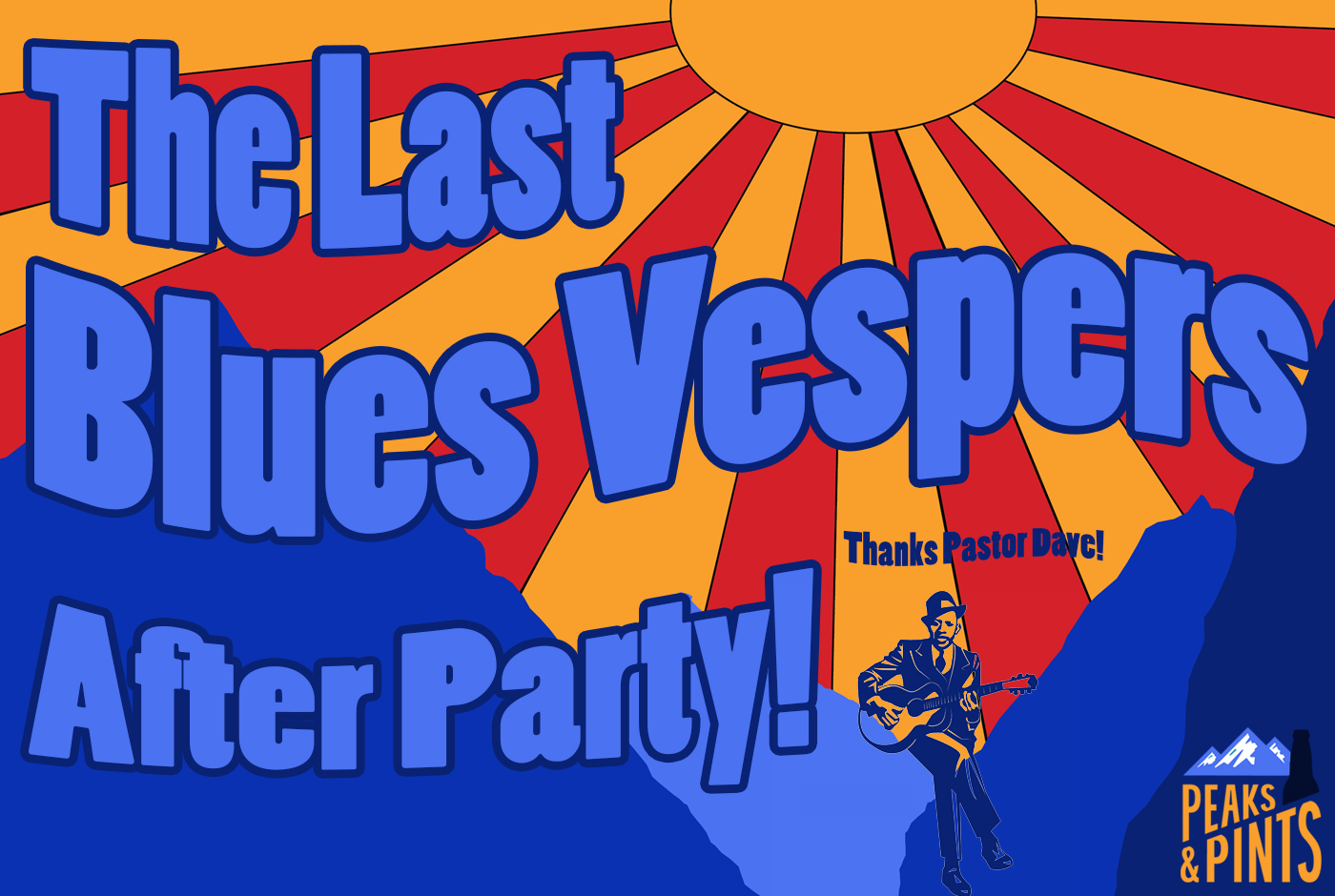 The Last Blues Vespers After Party
The evening music service known as Vespers can be found in many branches of Christianity.  There's something particularly evocative about this service though, since it seems to have originally been created to coincide with the setting sun, with the light streaming through the stained glass windows of the church/cathedral.  But if it's marking the closing of the day, it must also then be acknowledging the coming of night, and so historically the Vespers service has combined a kind of gentle, reflective calm with an uneasy sense of foreboding.  In Anglican churches, where the service is known simply as Evensong, one of the prayers is a plea to the Lord to protect us "from the perils of the night."  At Immanuel Presbyterian Church in Tacoma, the monthly Sunday evening worship is known as Blues Vespers, but only for a couple more nights.
Pastor Dave Brown is retiring. We'll let that sink in for a moment. …
It's true. Pastor Dave, who has married live blues music with prayer at Immanuel for as long as we can remember, is moving on to new adventures, which means Blues Vespers will see a final curtain. It's a real hit for blues music in Tacoma. Honored by the Washington Blues Society in 2004 with the "Keeping the Blues Alive" award, Rev. Brown's secular concerts of professional blues music rivaled the best blues shows in the state.
"Blues music and its cousin, gospel music, often expresses in its words and music human joy, longing, passion and pain," states Pastor Dave on his church's website. "An evening's music reminds us that God is there for us in all of life, often in the places where we are most human. Blues, like many other forms of music, can help express what we experience in life. At times music can be prayer. At other times God speaks to us as we listen and are entertained by the music. Musicians often find music a form of spiritual expression. With all that said, there are times we simply enjoy listening to good music — which in itself is pretty nice and can nourish our souls."
Indeed.
The last local musicians Blues Vespers will be held at 5 p.m. Sunday, Sept. 30 at Immanuel Presbyterian Church. The Mark Riley Trio will headline. A guitar craftsman and veteran of such bands as Snake Oil, Little Bill & The Bluenotes and The Mark Whitman Band, Riley and crew play blistering blues. Other performers include Blues Vespers veterans Dean Reichert, Tim Sherman, Stacy Jones, Randy Oxford, Jay Mabin, Kim Archer, Forest Beutel and others. Part of the proceeds will go to support the Tacoma Creates Initiative to support access to Tacoma's arts, culture and heritage programs, which Pastor Brown hold dear to his heart.
Peaks and Pints will join Pastor Brown and his wife, Ann, in hosting an after party for the Sept. 30 Blues Vespers show. At 7 p.m., Kim Archer and Dean Reichert will pull double duty performing live at Peaks and Pints in Tacoma's Proctor District. With all the musicians toasting Pastor Dave and Ann who knows what will go down musically.
THE LAST BLUES VESPERS AFTER PARTY, 7 p.m. Sunday, Sept. 30, Peaks and Pints, 3816 N. 26th St., Basecamp Proctor, Tacoma, no cover