Tacoma Beer Week Bus Tour 2022
August 11, 2022 @ 4:00 pm

-

9:00 pm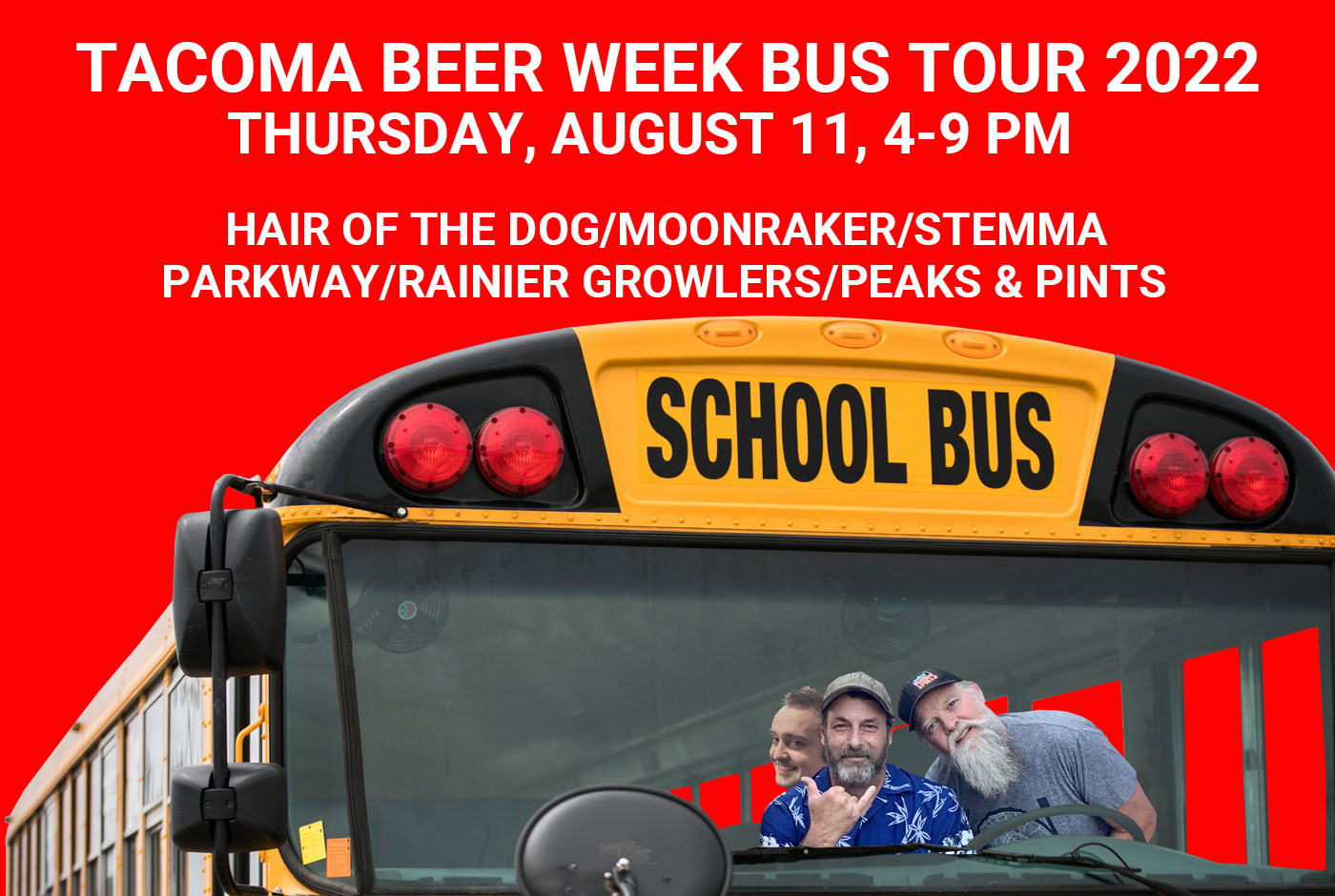 Tacoma Beer Week Bus Tour 2022
Sean Jackson, Ben Chase, and I donned the biggest smiles as we gently stirred hops in a steam powered kettle while Alan Sprints watched. We were brewing the last batch of beer brewed at the famed Hair of the Dog Brewery in Portland, Oregon, before founder Sprints would close his brewhouse. It was an honor to brew on the same 4-barrel system where Sprints created Fred, Adam, and other historic beers. Our smiles enlarged when our kettlesession produced the Tacoma Beer Week Bus 2022 idea — a bus tour between the Parkway Tavern, Rainier Growlers, and Peaks & Pints, our beer jobs, respectively, featuring "Alan" on tap, as well as draft options from Stemma Brewing and Moonraker Brewing. Yes, even though Sprints humbly argued against the name, we appropriately named the hoppy Belgian style strong ale after the man who brewed big, bold, barrel-aged beers before the Pacific Northwest knew it wanted them. We can tell you'll want "Alan" when you ride the bus Thursday, Aug. 11 during Tacoma Beer Week.
Our Hair of the Dog brewing experience maxed out our smiles when Bottleworks in Seattle, Apex Beer Bar in Portland, and longtime craft brewer/sales executive/spokesperson Kenny T. Beerman joined us at the brewery, which became Sprints' headquarters after he moved the original 1993 brewery near the Brooklyn rail yards in Southeast Portland. Fun fact: When Sprints wasn't looking, Beerman tossed an extra handful of Sultana hops into the kettle. After tasting "Alan" at Bottleworks last month, if you love hops, then you'll appreciate Beerman's extra effort.
Adding Stemma and Moonraker into the Tacoma Beer Week Bus fold arose during our post brewing adventures around Portland. The two notable breweries aren't readily available in the South Sound. The Parkway, Rainier Growlers and Peaks & Pints will tap different Stemma and Moonraker beers next to "Alan" making each bus stop even more exciting.
More details on the bus route will arrive soon.
TACOMA BEER WEEK BUS 2022, 6-9 p.m., Thursday, Aug. 11, Parkway Tavern at 313 N. I St. Tacoma, Rainier Growlers at 13105 Meridian Ave. E. South Hill Puyallup, Peaks & Pints at 3816 N. 26th St. Tacoma