Peaks and Pints Spread The Jam 2022
August 10 @ 6:00 pm

-

11:00 pm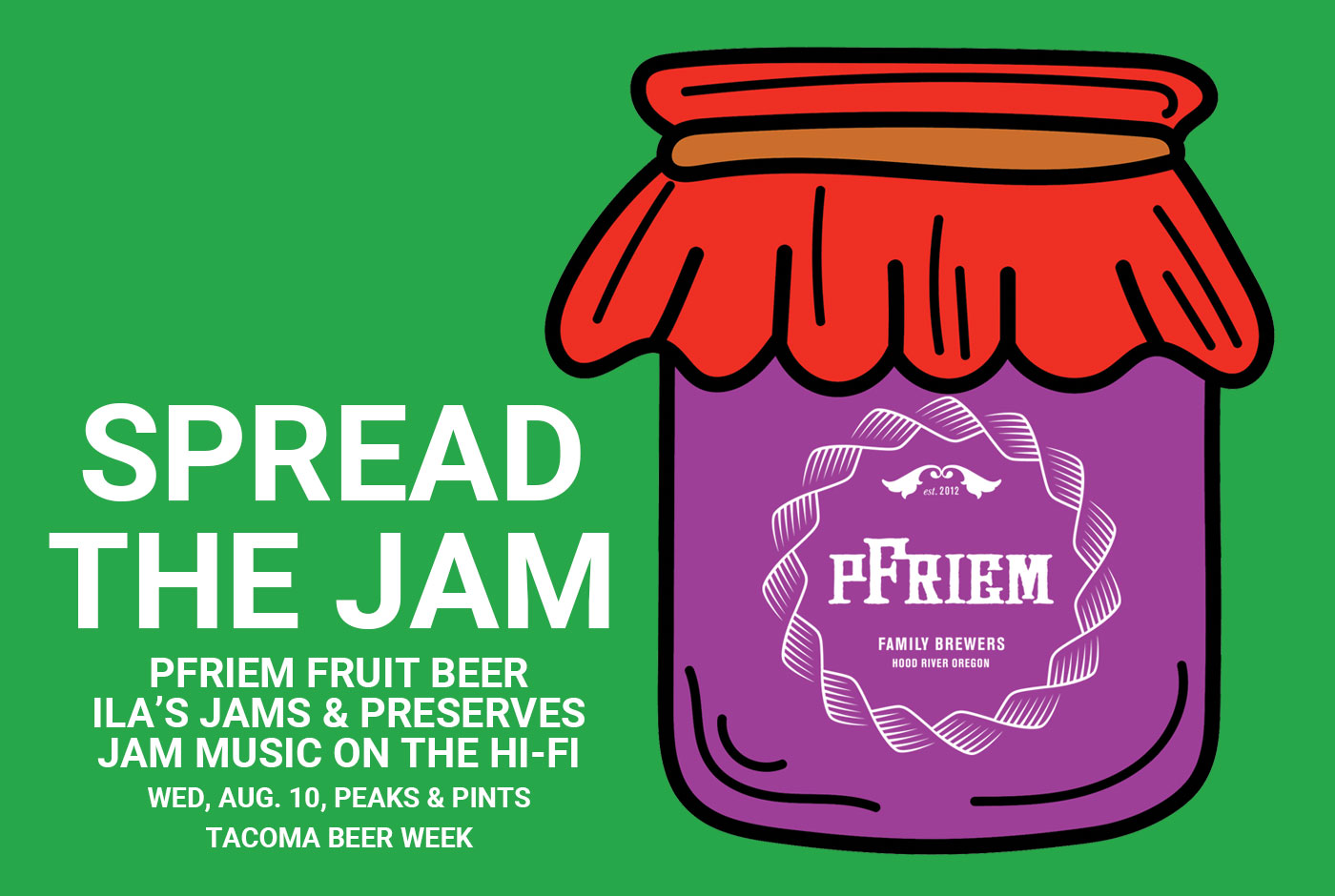 Peaks and Pints Spread The Jam 2022
Jams bands and craft beer have jammed together since the 1980s. Formed in the late 1960 but finding their jam in the '80s, performance-driven bands such as Phish and Widespread Panic have had rabidly loyal fans dedicating weeks, months, and years of their lives to the bands' touring schedules. Meanwhile, once the late 1980s and early 1990s rolled around, a wave of American breweries and homebrewers supplied said fans with craft beer as folks who like jam band music tend to appreciate things that are unique, carefully made, and full of identity. The craft beer audience was composed, generally, of upper-middle-class drinkers who could afford to pay a couple extra dollars for specialty beer. Take these two markets, add jams and preserves, and you have Peaks and Pints Spread The Jam 2022.
Wednesday, Aug. 10, Peaks & Pints will combine a local jam maker, pFriem Family Brewers fruited sour beers, plus jam music into one glorious night during Tacoma Beer Week. Tumwater jam maker Ila's Foods will be in the house with their jams and jellies, including a selection to pair with beer. Our Western red cedar tap log will be consumed by notable fruit beers and fruited sours from the Hood River brewery. Last, our jukebox will be loaded with bands that will stretch the minds of Spread the Jam participants — or, as Bob Weir of the Grateful Dead might say, the jukebox will take a song "for a walk in the woods" while craft beer and jam enthusiasts will definitely finish their fruit beers and jammy sandwiches before each jam song finishes.
Baby, it's time to Spread the Jam!
PEAKS AND PINTS SPREAD THE JAM 2022, a Tacoma Beer week event, 6-11 p.m. Wednesday, Aug. 10, 3816 N. 26th St., Basecamp Proctor, Tacoma, no cover