February 2021 Stout In and Out
February 26 @ 11:00 am

-

8:00 pm

|

Recurring Event

(See all)

An event every day that begins at 11:00 am, repeating until March 1, 2021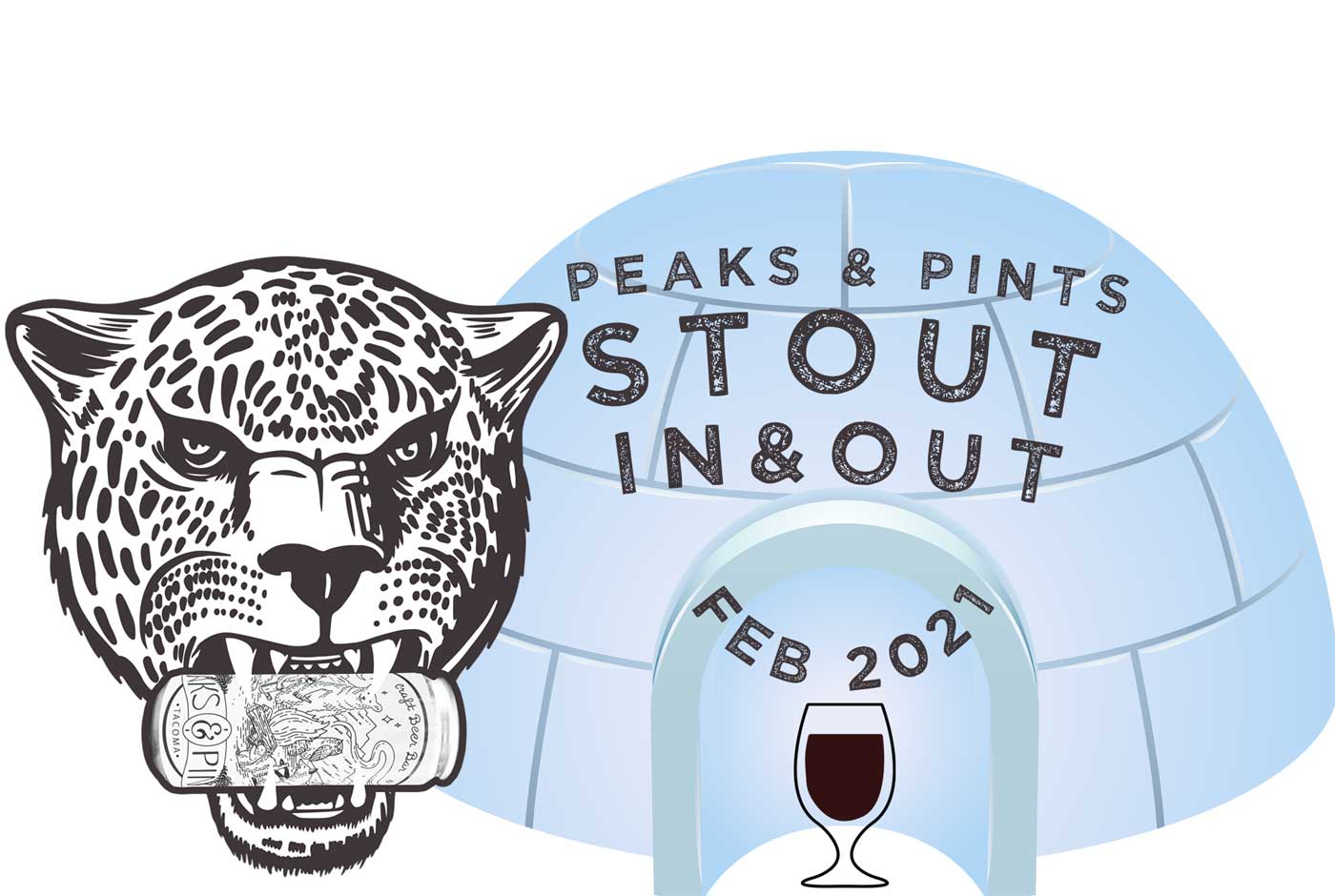 February 2021 Stout In and Out
Just when Peaks & Pints thought we'd have to cancel our annual February Stout Month celebration, Gov. Jay "Stout Is Life" Inslee allowed us to re-open for in-house drinking and dining Feb. 1! February 2021 Stout In and Out is on!
The Tacoma Proctor District craft beer lodge will tap five stouts on our Western cedar tap log through February for in-house enjoyment and Campfire Crowlers to go. Enjoy stouts, milk stouts, imperial stouts, pastry stouts, nitro stouts and other variations from your barstool or from your couch.
FEBRUARY 2021 STOUT IN AND OUT, through Feb. 28, Peaks and Pints, 3816 N. 26th  St., Basecamp Proctor, Tacoma, no cover
Safety Is Priority Number One
One of the most fulfilling aspects of our craft beer and cider bar, bottle shop and restaurant is being a gathering place for the community. It's a role we do not take for granted, and there are many responsibilities that come along with it — the health and safety of our guests and staff being at the top of the list. …
Face masks must be worn at all times.
Please maintain a social distance of 6 feet while waiting for take-out food and/or Campfire Crowler and growler fills.
We're continuing with two people at a time in the cooler with the line forming up the back stairs.
We're open 11 a.m. to 8 p.m. each day for now, but we hope to return to "before times" hours as soon as possible.
Hope to see you soon.
1

Alexandria Nicole

Jet Black Syrah

Woodinville, WA

12%

Just Tapped

2

Proletariat

Sangiovese

USA

Walla Walla, WA

12%

Just Tapped

3

Wither Hills

Sauvignon Blanc

Marlborough, New Zealand

9.5%

Just Tapped

4

Brew Dr.

Superberry

Kombucha

Portland, OR

0%

Just Tapped

5

Bluebeard Coffee Roasters

Nitro Cold Brew Coffee

Cold Brew Coffee

Tacoma, WA

Just Tapped

6

Everybody's

Local Logger

Lager

White Salmon, WA

5%

26 IBU

Just Tapped

7

Finnriver

Sun & Seed

Apple Cider w/ Toasted Sunflower & Carrot Seeds

Chimacum, WA

6.5%

Just Tapped

8

Bauman's

All the Berries

Cider w/ blueberries, raspberries, & marionberries

Gervais, OR

6.2%

Just Tapped

9

Best of Hands

17 Stitches Later

Imperial Saison

Seattle, WA

10%

IBU

Just Tapped

10

Heathen

Whiskey Sour Ale

Sour - Barrel Aged (Bourbon)

Vancouver, WA

5.3%

13 IBU

Just Tapped

11

Urban Family

Beary Blast

Sour

Seattle, WA

6%

IBU

Just Tapped

12

ForeLand

Landform Pils

German-style Pilsner

McMinnville Oregon

4.9%

IBU

Just Tapped

13

Ecliptic/Chuckanut

Vienna Lager

Vienna-style Lager

Portland, OR

4.8%

IBU

Just Tapped

14

Paulaner

Hefe-Weizen

Weissbier

Munich, Germany

5.5%

14 IBU

Just Tapped

15

Block 15

Good As Gold

Hazy Pale Ale

Corvallis, OR

6%

IBU

Just Tapped

16

Everybody's

Pop-Up Park IPA

IPA

White Salmon, WA

6.9%

75 IBU

Just Tapped

17

Narrows

Dragon IPA

IPA

Tacoma, WA

6.7%

IBU

Just Tapped

18

Everybody's

Aggressively Relaxed

Imperial IPA

White Salmon, WA

8.5%

IBU

Just Tapped

19

Postdoc

Connect the Hops

IPA

Redmond, WA

5.5%

50 IBU

Just Tapped

20

E9

Starbreaker

IPA

Tacoma, Washington

6.4%

IBU

Just Tapped

21

Structures

ESB

ESB

Bellingham, WA

5.1%

IBU

Just Tapped

22

New Belgium

La Folie Grand Reserve Honey Saffron

Wild Ale

Fort Collins, CO

7.7%

IBU

Just Tapped

23

Heathen

Koffee X Brown

Brown Ale

Vancouver, WA

6.7%

30 IBU

Just Tapped

24

Westmalle

Dubbel

Trappist Dubbel

Malle, Belgium

7%

IBU

Just Tapped

25

Fremont

Brew 5000

English Style Barleywine Bourbon barrels - Barrel Aged ()

Seattle, WA

12.2%

30 IBU

Just Tapped

26

Wingman/Sig

Vestige of Darkness

Imperial Rye Porter w/cinnamon & chili peppers

Tacoma, WA

9%

IBU

Just Tapped

27

Ecliptic

Dry Fly Triticale Scotch Ale

Scotch Ale/Wee Heavy - Barrel Aged (Dry Fly Triticale Whiskey)

Portland, OR

13.5%

IBU

Just Tapped

28

Matchless

5th Anniversary Blend

Imperial Stout

Tumwater, WA

13.5%

IBU

Just Tapped