Cheesy Flannel Fest Tacoma
March 31, 2018 @ 12:00 pm

-

9:00 pm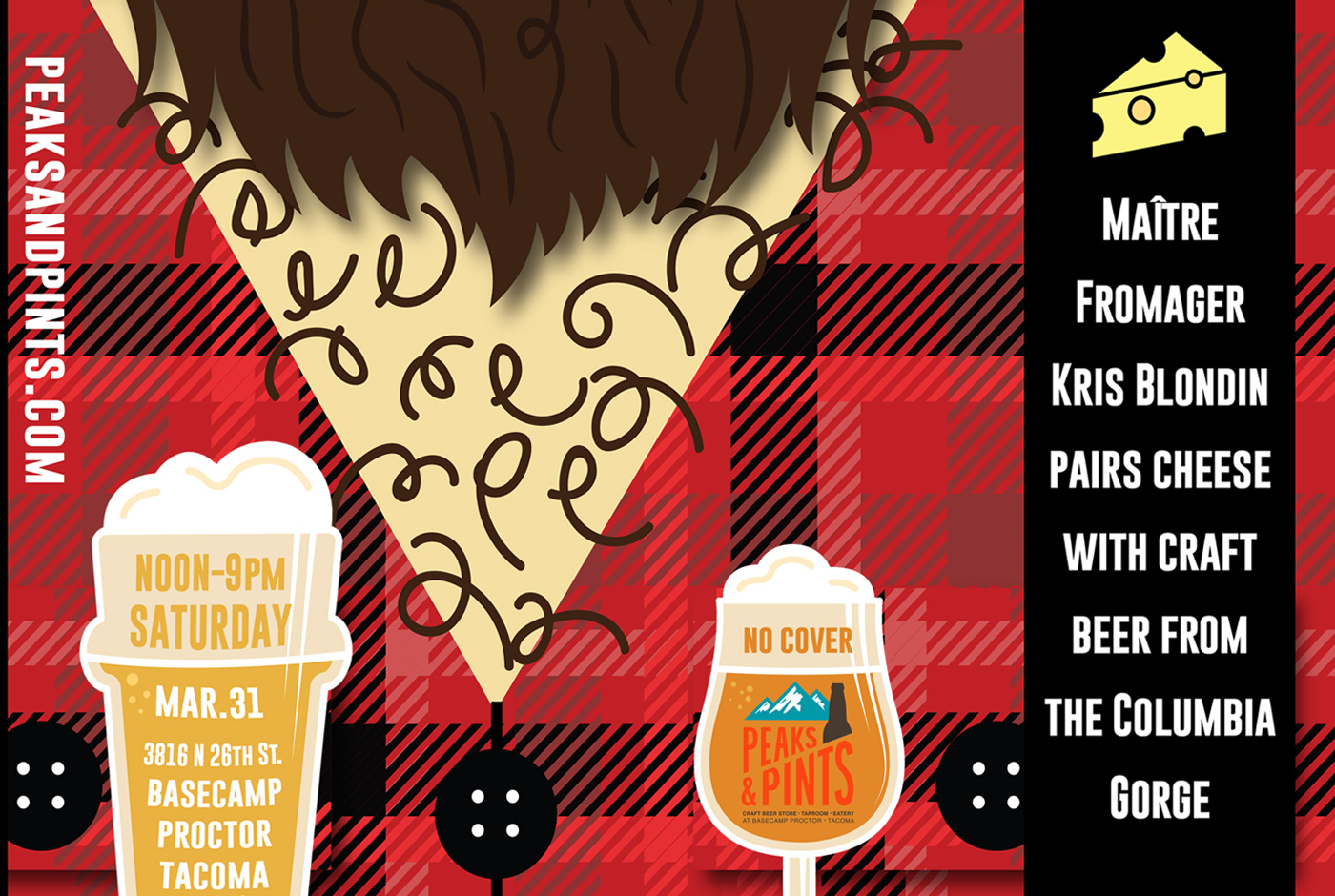 Not every combination of two good things leads to another good thing. Tea, for example, is lovely, and parties are fantastic, but the Tea Party manages to ruin both. Sometimes, though, magic happens — and at the Peaks and Pints Cheesy Flannel Fest, Maître Fromager Kris Blondin has found the sweet spot where beer and cheese put away their differences and come together. If you think wine is the only appropriate pairing for cheese, then let Blondin, the founder of former downtown Tacoma wine bar Vin Grotto and Tacoma Triangle District's Stink Cheese + Meat, enlighten you. She and Peaks and Pints cellarman Ron Swarner will pair artisan cheese from around the world with craft beer from the Columbia Gorge Saturday, March 31 at Peaks and Pints bottle shop, taproom and restaurant in Tacoma's Proctor District. From noon to 9 p.m. you may taste flights of cheese and beer, including a Russian imperial stout paired with Fourme d'Ambert Terre Des Volcans artisan organic cheese, Flanders blonde with Idiazabal smoked manchego, Belgian-style dubbel paired with French mimolette and a kolsch with a French Comte Alpine cheese, just to name a few. By the end of it, you might never want to hit the (wine) bottle again.
Don your favorite flannel and sip craft beer brewed by 54-40 Brewing Co., Backwoods Brewing Co., Double Mountain Brewery, Everybody's Brewing Co., Full Sail Brewing Co., pFriem Family Brewers and Walking Man Brewing Co. Although the pairings will be available all day, meet and mingle with Blodin from 4-6 p.m. and discover why she thinks Everybody's Local Logger pairs nicely with Pommier Brie or Full Sail's Citurs Maximus Pale Ale rocks with Spanish Pata Cabra aged goat cheese. Flights of three cheeses/beers and five cheeses/beers will be available for purchase.
Proceeds from the Cheesy Flannel Fest will go toward Friends of the Columbia Gorge's efforts to restore the damaged landscape cause by last summer's Eagle Creek fire. Thousands of acres of the Columbia River Gorge were destroyed by the fire, including numerous beloved hiking trails. Many trails are now hazardous minefields, full of falling trees and rocks and eroding land. The Columbia Gorge breweries' production was affected by the flames and smoke. Let's gorge on artisan cheese and drink a river of craft beer in the name of the Columbia River Gorge wilderness.
CHEESY FLANNEL FEST TACOMA, noon to 9 p.m. Saturday, March 31, Peaks and Pints, 3816 N. 26th St., Basecamp Proctor, Tacoma, donations accepted