A Barleywine Carol
December 20, 2018 @ 7:00 pm

-

10:00 pm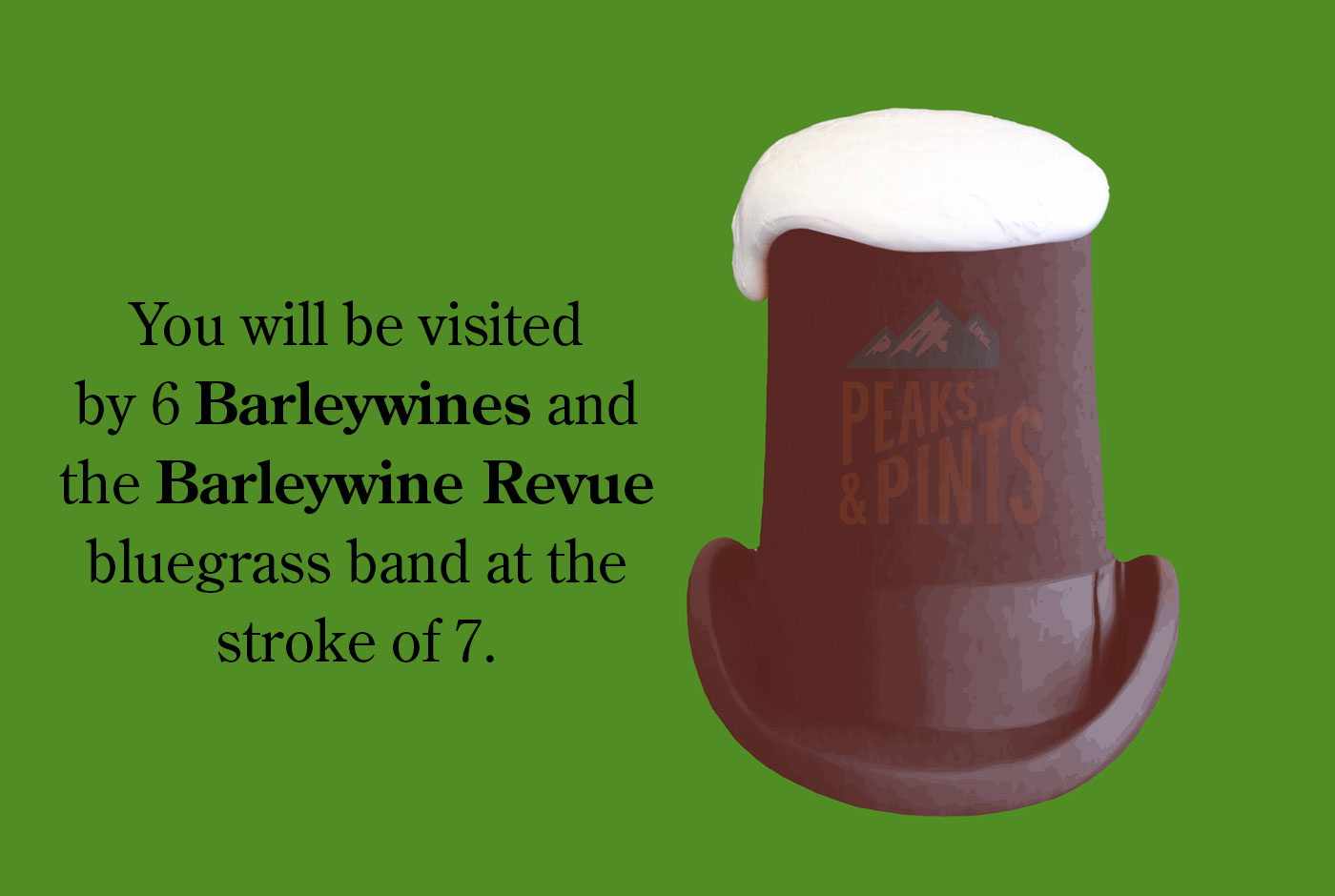 A Barleywine Carol
You fancy yourself cultured, don't you? You do. It's so obvious. If only you knew how obvious it is. You're one of the special people: You've been to Europe (Eastern Europe, no less), you speak French, you're dying to get to Hong Kong, you've at least tried to read Proust (and, as it was last year, it's a resolution for the new year), you love both Spike Jonze and Douglas Sirk. We're impressed.
Bet you ain't never drank no barleywine, fancy pants. Peaks and Pints offers you the chance to enjoy a half dozen or more at 7 p.m. Thursday, Dec. 20. It's our annual A Barleywine Carol party where we pair barleywines with live bluegrass from Tacoma's amazing Barleywine Revue band. It's a hoot.
Despite its name, the barleywine is indeed a beer but at wine strength — ranging as low as 7-percent alcohol by volume in British versions and upwards of 15 percent in American interpretations. The focus is traditionally on big malts, though American brewers tend to hop them up, which provides even more diversity and interesting flavors across the board.
Barleywine is a huge beer, both in flavor and alcohol content. It's the color of deep maple wood; it has a tiny head and not all that much carbonation. As a result, it sort of glides past the taste buds. Unlike most of those Frankenstein beers that have fruit added to them, nothing's forced or contrived about barleywine. It is what it is: a big, brawny beer, one that will fill you up, then lay you down on the floor and give you sweet, sweet kisses on the cheek.
A BARLEYWINE CAROL, 7 p.m. Thursday, Dec. 20, Peaks and Pints, 3816 N. 26th St., Basecamp Proctor, Tacoma, no cover