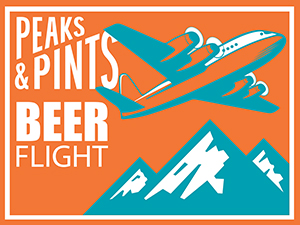 There are many pleasures you discovered during Peaks and Pints February Get Stouts Done, but new beers are chief among them. During our month long stout celebration, you drank five stout Fort George brewed especially for their annual Festival of Dark Arts stout party. You drank icicle Brewing's raspberry version of their liquid German chocolate cake, Dark Persuasion. You drank a 2018-19 vertical of Deschutes The Abyss. You drank the Breakside and Fremont collaboration double coconut stout, Bale Breaker's Jameson barrel aged beauty, imperial milk stouts, vanilla stouts, chocolates stouts and many more. Today marks the last day of our stout month. In celebration, we offer a flight of the five stouts we have on draft. Enjoy Craft Beer Crosscut 2.29.20: Flight of Leap Day Stouts.
Enjoy Craft Beer Crosscut 2.29.20: Flight of Leap Day Stouts
Oakshire Hellshire IX
13% ABV, 14 IBU
Deep within the recesses of the alcoves and antechambers of Oakshire Brewing lies another realm. It's a place where beers are carefully laid to rest in oaken sarcophagi. They slumber for aeons and emerge as wholly new and unique entities, fueling the malformed creatures that populate those blasted and eldritch wastes. That place is Hellshire. Oakshire Hellshire IX belongs in this flight because the name alone screams Lord of the Rings. Then, there's the demon label artwork from weirdo artist Sean Aaberg. It's all so damn eerie. For those unfamiliar, Hellshire began under former Oakshire brewmaster Matt Van Wyk, now part of Alesong Brewing and Blending. The beer carried with it a mythos before it was even released, heralded by many as a continuation of Wooden Hell, a similarly-styled annual release Van Wyk crafted at his previous brewery, Flossmoor Station. Oakshire aged Hellshire IX imperial stout for nine months in Kentucky bourbon barrels for all the freshly dumped bourbon barrels goodness, imparting rich vanilla and caramel characteristics with a pleasant hint of cola.
Rainy Daze State of Darkness
9% ABV, 20 IBU
You know the story. Longtime homebrewer Mike Montoney scores a brew system from closed Battenkill Brewing of Poulsbo, apprentices on a professional with Brad Ginn and Mark Hood of Sound Brewery, goes on to brew awarding-winning craft beers under the Rainy Daze Brewing brand. His State of Darkness is an imperial stout aged in bourbon barrels for one year, then conditioned on toasted coconut and ChocMo cocoa nibs in a stainless-steel tank. It's a well-balanced toasty, coconut, chocolate stout.
Avery Mephistopheles
14.666% ABV
The name Mephistopheles originally appeared in literature as the demon in the German Faust legend. According to the story, Faust was dissatisfied with his life and made a deal with the devil, exchanging his soul for unlimited knowledge and worldly pleasures. Mephistopheles appears in this legend as a plain-clothed devil, mirroring the massive imperial stout. First brewed in 2005, Mephistopheles was the third installment of Avery Brewing's Demons of Ale series. After creating The Beast Grand Cru and Samael's Oak-Aged Ale, Adam Avery decided he wanted the third demon to be a massive stout unlike any other. One of the most distinguishing ingredients is the beer's Westmalle Belgian yeast strain, which produces layers of esters and phenols that create much of the beer's complex flavor. The grist bill is focused mainly on roasted and black malts making it dark and rich. There is also a small amount of Special B, a specialty malt, added for a touch of raisin-like sweetness. The result is a massive and complex stout with notes of vine-ripened grapes, anise, bitter chocolate and an espresso-like finish.
Brothers Cascadia Kali Ma
12% ABV
Turkish coffee is not a kind of bean; it's a method of preparation. And an ancient one. You know the grocery store bean grinder's setting on the far, far right? That's the setting for Turkish coffee, the finest grind available. The brew is made without a filter, with the boiling water mixed with the coffee until the grounds sink to the bottom. Then, the ground beans are boiled with sugar and cardamom in a special pot called a cezve or ibrik. Inspired by the traditional Turkish coffee, Brothers Cascadia teamed up with Fort George Brewery to brew Kali Ma, an imperial stout with notes of spice, severed heads, chocolate, extracted hearts and coffee.
Black Raven Grandfather Raven
9.5% ABV, 70 IBU
In the creator role, and in the Raven's role as the totem and ancestor, the Raven is often addressed as Grandfather Raven. With this stately sense of pomp and tradition we bring you our imperial stout. Black Raven Brewing Russian imperial stout is full with rich dark caramel notes, unsweetened chocolate, and hints of coffee aromas and flavors. Stately indeed, but at 9.5% ABV, perhaps it is just a vain attempt to encourage the trickster spirit to act respectably. NOTE: This is different from the bourbon barrel aged version, Great Grandfather Raven.
---