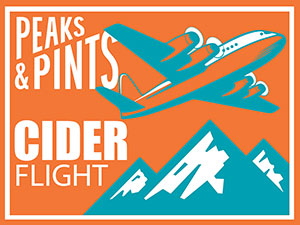 Happy National Apple Day! That's right; Oct. 21 is National Apple Day. Apple pie. Apple sauce. Apple crisp. National Apple Day celebrates the apple in all its various forms and reminds us that apples are shiny, tasty, and healthy. "An apple a day keeps the doctor away," "Apple of my eye," and "as American as apple pie" are all very common phrases in our language. Be it good health, familiarity or love, all are used to denote something we hold to be very important to our concept of culture in America. They also call attention to a humble fruit that not only shaped our language, but has also found its way into our landscape, built our economy, our taste in food and drink, our cultural heritage, our mythology and even our religious beliefs. Did you know there are more varieties of apples than any other fruit? Peaks and Pints celebrates National Apple Day in the only way we know — an apple cider flight. Drop by our bottle shop, taproom and restaurant in Tacoma's Proctor District and enjoy Craft Cider Crosscut 10.21.19: Flight For National Apple Day.
Craft Cider Crosscut 10.21.19: Flight For National Apple Day
2 Towns The BrightCider
6% ABV
In late 2010, Corvallis homebrewers Aaron Sarnoff-Wood and Lee Larsen filled a gap in the college town's drinking scene — cider. The duo opened 2 Towns Ciderhouse crafting unique ciders brewed with the traditional English and French-style's tannic apples, Oregon grown, of course. Discovered on Long Island in 1759, the Pippin Newtown is one of the oldest original US varieties of apples. Thomas Jefferson grew it and Benjamin Franklin took samples to the English royal court, causing it to become one of the first US apple exports to the UK. 2 Towns Ciderhouse takes advantage of the apple's sweet, rich flavor in its BrightCider, which shines a spotlight on Newtown Pippin with a little help from other Northwest Varieties. The BrightCider is fermented cold to slow the fermentation process, retaining the aromatics of this heirloom fruit. The result is balanced flavor — partly sweet and partly dry.
Finnriver Oak & Apple
6.5% ABV
A select blend of Certified Organic Washington apples from the Yakima Valley is fermented in stainless steel tanks at low temperatures to capture the full ester profile of the apples. Once fermentation is complete, this cider is then aged for 12 to 16 weeks in rye whiskey barrels from High West Distillery in Park City, Utah. The 2017 Good Food Awards winning Finnriver Oak & Apple has bright citrus with a smooth whiskey depth and spicy rye spirit. Woody astringency balances the acidity, and then finishes with lovely toasted oak and vanilla notes.
Baird & Dewar Silvestra
7.4% ABV
Let's face it. Baird & Dewar sounds more delicious than Trevor & Zeb. Trevor Baird is a highly regarded second generation farmer and fruit grower, whose peaches, cherries, and apples are used by many of Portland's finest restaurants and breweries. Zeb Dewar has made cider for more than 17 years, working for more than 10 years as a cellar hand, assistant winemaker, and harvest manager at premium Willamette Valley and Columbia Gorge wineries. He has been making cider from the apples grown at Baird Family Orchard for more than eight years. Baird & Dewar Farmhouse Cider was started slowly and quietly in the fall of 2011 as an extension of Zeb Dewar's home cidermaking. Silvestra is a dry, unfiltered cider aged for a year in oak casks for a Brett-y nose followed by crisp and effervescent, mild green apple tartness.
Snowdrift Cliffbreaks
7.8% ABV
Snowdrift Cider Company sits in Central Washington near East Wenatchee. The cidery controls its own source of apples, tending an orchard that not only produces dessert apples, but also an array of traditional cider apples. Snowdrift's most popular cider, Cliffbreaks sports a rich deep golden color with full body. A light sparkle carries classic English cider and bittersweet apple aromas, followed by flavors of melons, tart apple, and dried fruit. Complex tannins and mouth-watering acidity are balanced with just enough sweetness.
Dragon's Head Kingston Black
7.9% ABV
Named for the dragon that guards the apples of immortality in the Garden of Hesperides, Dragon's Head Cider was founded in 2010 on Vashon Island. Ignoring their last name, owners Laura and Wes Cherry planted a beautiful orchard of apples and pears with production held on site. Kingston Black takes its name from the town of Kingston near Taunton in Somerset, England — the heart of cider in the UK. Kingston Black apples are often considered the epitome of cider apples. They produce a cider rich in dried apple, clementine, and hint of honey, slightly bitter, and medium bodied.
---