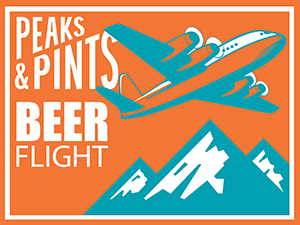 In May of 1989, John Maier arrived in the small Oregon coastal town of Newport just in time to create Rogue Ales brew #1. Thirty years and more than 20,000 brews later, Maier still rides his bike daily over the Yaquina Bay Bridge to the brewery where he continues to create innovative brews that have garnered international acclaim. One of the pioneers in the craft-brewing world, Rogue consistently puts out award-winning beers year after year, winning gold in national and international competitions. One of the founding principals of Rogue is to remain a one-off, small in size but large-in-reputation unique source of creatively inspired beers, and to be local and international, all at the same time. Tonight, Peaks and Pints kicks off our Lantern Lounge with Rogue. We'll be pouring a "Combat Squatch" cocktail with the brewery's Combat Wombat and BatSquatch. In conjunction, we present an all-day Rogue beer flight with call Craft Beer Crosscut 10.22.19: Flight of Rogue.
Craft Beer Crosscut 10.22.19: Flight of Rogue
Rogue Ales Cold Brew 2.0
5.6% ABV, 30 IBU
Rogue Ales follows up its popular Cold Brew IPA with Cold Brew 2.0 blonde ale. Where Cold Brew IPA plays up the two big bold flavors of hops and coffee, Cold Brew 2.0 explores the intricacies of coffee aromatics and delicate malt notes ending with a smooth, crisp finish. Rogue Cold Brew 2.0 blonde ale employs Stumptown's Cold Brew Coffee, which has been cold-brewed for over 12 hours and double filtered. The coffee arrives immediately, but doesn't dominate.
Rogue Dead Guy Ale
6.8% ABV, 40 IBU
Dead Guy Ale has been around for a while, and to many people, it's the standard that all American-made maibocks are held to. Dead Guy Ale incorporates Rogue's proprietary Pacman yeast, and features Pearl and Sterling hops for a robust take on the classic German beer. Although the beer's missing the style's bread crust, the present flavors are harmonious: Bread with toasted edges runs over the tongue before orange notes pop up. Hefty bitterness chases the swallow while peppery alcohol prickles the sip front to back.
Rogue Dead 'N' Dead
7.9% ABV, 40 IBU
The dead have collided with Dead 'N' Dead, a combination of Rogue's award-winning Dead Guy Ale and Dead Guy Whiskey barrels. Rogue brewers, distillers and coopers placed Dead Guy Ale in barrels that had previously held Dead Guy Whiskey, made with Rogue Farms ingredients. The beer was then aged for six months, allowing it to soak up flavors and personality from the whiskey barrels. Dead 'N' Dead features a strong whiskey nose and added notes of oak and vanilla, with a smooth caramel flavor from the whiskey barrels that balances out Dead Guy Ale's malty, honey sweetness.
Rogue Combat Wombat
7.2% ABV, 49 IBU
Rogue's fierce combination of a Northeast-style hazy IPA brewed with Australian hops and a sour ale with blood orange and grapefruit inspired both Combat Wombat's name and its striking label design of a blue kung-fu fighting wombat. The nose is exotic, fruity, and sweet-like hoppy with grapefruit notes and light sour. The palate matches the nose with a strong citrus backbone.
Rogue Batsquatch
6.7% ABV, 54 IBU
Dedicated to the half-bat half-sasquatch creature that, according to legend, resides in the woods on Mount St. Helens, this hazy IPA is brewed with Mosaic, El Dorado and Belma hops for flavors of stonefruit, orange, and tangerine, with a fruity citrus rind finish.
---