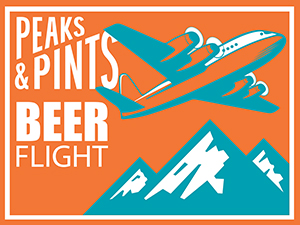 Autumn craft beer doesn't have to be all about pumpkin pie in a bottle, though Peaks and Pints stands behind many pumpkin beers. Not everyone likes pumpkin beer and the spiced lattes, but you don't have to slam it. You have to give everyone credit that at least this is seasonal and not being served in the middle of June. And as long as you find a pumpkin beer that is the right balance of cinnamon, nutmeg, and clove with a good malt backbone, why not try it? For those who simply can't do the pumpkin spice thing, autumn is also fresh hop and Oktoberfest beer season. You can find bright, hop-hazy fresh-hop beers, just hours from field to kettle and mere days from the fermenter as well as drink to your health with clean, hearty Oktoberfest-style lagers from Germany and nearby. Today, Peaks and Pints presents a flight of fall beers we call Craft Beer Crosscut 9.8.18: A Flight of Autumn.
Reuben's Brews Festbier
5.8% ABV, 18 IBU
Festbier, sometimes called Wiesn, Festibiere or Oktoberfestbier — a name that can only be used by Breweries in Munich — has taken the place of Märzen in the beer tents dotting the Theresienwiese (Therese's meadow) in Munich during the two week Oktoberfest celebration. Festbier is a relatively young, and mostly unknown style here in the United States that's a lower-ABV and more easy-drinking version of a Märzen lager. It's a pale lager with a clear Pilsner malt biscuit bent, with some additional toasted malt flavors in support. It is also brilliantly, aggressively clean, with nary an ester or phenol or ketone to be found. Reuben's Brews brewed one. It's freakin' delicious.
Ayinger Oktober Fest-Märzen
5.8% ABV, 25 IBU
Sweet and grainy on the nose — think of fresh bread baked with honey and raisin — Ayinger Oktober Fest-Märzen features a pronounced sweetness of caramel and caramelized pumpkin on the palate. Hearty, and even a bit creamy as it warms, Oktober Fest-Märzen features a touch of bitter hops and fresh straw upfront before veering into a long malty finish. However, the beer dries out nicely to avoid a sticky or cloying aftertaste. This beer pairs beautifully with our pretzel bread sticks and side of beer mustard.
Elysian Night Owl Pumpkin Ale
5.9% ABV
While most breweries have one or two pumpkin beers in the portfolio, Elysian Brewing Co. brews more than a dozen, including Dark O' the Moon, Night Owl, The Gourdfather and Blight. Night Owl, brewed with more than 7 pounds of pumpkin per barrel, seven different malt varieties, green and roasted pumpkin seeds, bittered with Magnum hops and spiced in conditioning with nutmeg, clove, cinnamon, ginger and allspice, is their most lauded. It leans more toward Christmas than Halloween. Maraschino, banana-nut, cinnamon, pecan and graham cracker hit the tongue. Cinnamon dominates with some caramel and a touch of biscuit malt sweetness to support. The pumpkin love doesn't end there — every year, Elysian also holds the Great Pumpkin Beer Festival (Oct. 5-6 at the Seattle Center), a celebration of 80 different gourd grogs, some of which are even served from giant pumpkin kegs with taps hammered right in the side.
Elysian Punkuccino Coffee Pumpkin Ale
5% ABV
Elysian introduced its Punkuccino Coffee Pumpkin Ale at the brewery's annual Great Pumpkin Festival in 2013. The beer's a pumpkin milk stout loaded with Stumptown's cold-pressed coffee with just a shake of cinnamon and nutmeg, plus, of course, pumpkin added into the mash, kettle and fermenter. Pale, brown, biscuit, C-77 crystal, chocolate and kiln-coffee malts provide the body, German Northern Brewer lends a touch of bitterness, and lactose sweetens the beer just a touch. The java turns the beer roast-forward; the lactose and pumpkin smooth out the sip.
Two Beers Fresh Hop IPA
6.2% ABV, 70 IBU
Two Beers Brewing Co. continues its tradition of releasing the first Fresh Hop IPA of the season, with draft arriving at peaks and Pints Aug. 3. First brewed in 2009, Fresh Hop IPA enters its ninth season on the Two Beers lineup, remaining one of the Seattle-based brewery's most popular releases. A true labor of love, Fresh Hop IPA is made with fresh Centennial and Cluster hops from fifth generation hop farmers, Puterbaugh Farm in Yakima Valley. The hops are handpicked by dozens of staff and volunteers on the brewery dock; the process allows Two Beers to go from hop bine to brew in less than 24 hours for an exceptional finished product. "This year's Fresh Hop IPA will feature Centennial hops, giving the brew a juicy citrus aroma with hints of grapefruit and passion fruit, and Cluster hops, which tend more towards bitter and earthy. Fresh Hop IPA (6.2% ABV/70 IBU) is dark straw in color with light caramel malt tones, and resembles an aggressively dry-hopped IPA, but packs the punch and flavor only fresh hops can deliver. In addition to the fresh picked Centennial and Cluster hops, this beer features locally grown Amarillo, Cascade, and Citra hops, helping this popular seasonal achieve its bright and delightfully bitter flavor," states founder and CEO Joel VandenBrink in a media release.
---