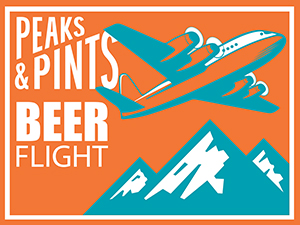 While it may not be autumn quite yet, fall craft beer is already hitting the shelves. (If we had a dollar for every person that told us that the real Oktoberfest actually takes place in September in Germany, we'd have a pile of cash higher than a German Alp. We get it; you've been to Europe, Griswold.) We would also use that cash to hang onto summer, which means drinking all the radlers. Radlers — also known as shandies — were invented by a Bavarian innkeeper in 1922, who found himself confronted by hordes of thirsty cyclists looking for some mid-ride refreshment. He mixed his dwindling supplies of lager with lemon soda, and a new drink called the "radlermass" was born. ("Radler" is German for "cyclist," while "mass" is the Bavarian term for a liter of beer.) Since it's the last day of sunshine before a string of rainy days in Western Washington, Peaks and Pints presents Craft Beer Crosscut 9.9.18: A Flight of Radlers.
Bitburger Radler
2.5% ABV
Bitburger Braugruppe, one of the biggest breweries in Germany, spent more than a year working on its radler recipe — a 50-50 split between Bitburger Pils, the top-selling draft beer in Germany, and lemonade. It hits the nose with lemon, a little floral and some malts. It sports a medium sweetness and low bitterness with notes of lemon that increases as the liquid decreases in the glass. Soft watery grains come through late.
Stiegl Radler Grapefruit Naturtrüb
2.5% ABV, 8 IBU
Salzburg, Austria, sits just over the border from Germany. That means it's influenced by the famous Bavarian purity law — the base of this radler — Stiegl Goldbräu helles — actually follows it, using only hops, barley, water and yeast — but the brewery doesn't have to follow the rules if they doesn't want to. And, thus, Stieglbrauerei zu Salzburg's radler in a can. This cloudy Austrian grapefruit 2.5-percent ABV thirst-quencher keeps saccharine qualities in check, meaning the radler is so crushable you could start with it in the morning and don't have to end until long after the sun goes down. Or so we've heard.
Great Divide Roadie Grapefruit Radler
4% ABV, 16 IBU
Maybe you don't like radlers (a blend of fruit juice/soda and beer). That's cool. No harm, no foul. But if you're looking for one radler to try, give Great Divide's Roadie Grapefruit Radler a shot. Rolling down the canning line is a beer created for a cruise down the bike trail. The Roadie Grapefruit Radler is a combination of two of Great Divide's passions — beer and the cycling community. Inspired by the annual BoulDurango, where some of Colorado's most tenured brewers join up for a 400-plus mile ride, it's brewed with natural grapefruit puree. This easy-drinking ale pours a hazy sunrise gold, bursts with citrus aroma, dry and slightly tart and is a seriously refreshing beer that comes in at a miniscule 4 percent ABV.
Schöfferhofer Grapefruit
2.5% ABV
Frankfurt, Germany's Binding Brauerei takes credit for creating the globe's first grapefruit-infused hefeweizen, a 50-50 blend of grapefruit juice and unfiltered wheat beer. Schöfferhofer's bubbly offering is more benign and accessible than more citrusy radlers, with a heavier sweetness that could be a turn-off to some. Still, this 2.5-percent ABV radler would make a fine brunch alternative to a mimosa, or to chase away the thudding fog of last night's bad decisions.
Sea Dog Bluepaw Wild Blueberry
4.6% ABV
We bent the rules a little for this beer from Sea Dog Brewing just because they've never made an appearance in one of our many beer flights. The Maine brewery offers the nutty quench of a wheat ale combined with the delightful aromatics and subtle flavor contributed by Maine wild blueberries — a lot of blueberries.
---