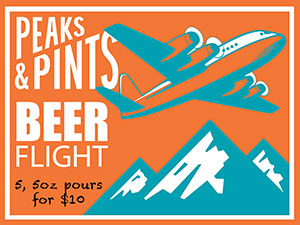 "Does anybody really know what time it is?" Yes, Chicago band, we do. But, how we use time is the lifelong question. Our lives will swell or diminish to fill a given space in time. We can do 12 things in an hour or one thing in 12. We can go hiking for two solid weeks and wander the trails in silence for 12 hours a day, and time will look at us like we're utterly insane as our breath and body thank us for all eternity. We can, conversely, microtask until our hearts implode. We did it to ourselves. We invented time. Clocks did not exist in any real way until the 14th century. Hours and minutes and seconds, to the ancients, were measured in sunlight and moonlight, the howls of the coyotes and the migrations of the birds. It is no longer possible to be astonished at the wonder of your footfalls along the forest path and not feel the urge to check Facebook, find the nearest Chick-fil-A, Instagram the hell out of that beautiful fallen tree. Never fear. Peaks and Pints exists to fill space with a time out. To unwind from the clearing your junk mail, refilling the stapler, changing your voicemail message. Take some time off with our Craft Beer Crosscut 9.24.17: A Flight of Time, watch the Seahawks game and catch up with a friend.
Black Raven Three Sundays
9.3% ABV, 33 IBU
Black Raven Brewing Co. wants you to have Three Sundays in a week — to take some time and enjoy the brewery's Belgian style tripel aged on French and American oak. Breathe in the candi sugar, white pepper, yeast, cloves and light fruitiness of banana and apple juice. The flavor is aggressive. Hops come in with a bite and fade out quickly to a relatively high level of sweetness. It has almost a St. Germain flavor — more for the citrus than for the elderflower. The oak is there through a mid-sip. It finishes boozy.
Sierra Nevada Nooner
5.2% ABV, 38 IBU
Sierra Nevada Nooner reminds us to take a break. To kick back with pleasant aromas of black tea with lemon and a very small touch of honey, with an overall earthy and floral profile. The front hits with some bready biscuit malt sweetness, as well as some cracker, followed by light, fruity citrus notes, with some pear, watermelon and spice character. The hops — Saphir, Tettnanger, Strisselspalt and bittering German Perle — are floral and spicy, which balances the malt sweetness. The bitterness is a bit bigger than the malt and hops flavors, but the beer is smooth, with a creamy mouthful. What are you doing at noon?
Two Beers Day Hike
4.1% ABV, 41 IBU
Two Beers Brewing took the time to rebrand Day Hike, making it more of a summer ale for when you want to take time for a day hike. Amarillo and Legacy are the hops of choice, collectively adding lemon and grapefruit aromas and flavors with a subtle hop bite. The medium-bodied, low ABV session ale is medium-bodied and well crafted, making the seasonal a great addition to your daypack, and perfect for enjoying at the top of a hard earned summit.
Dogfish Head 60 Minute IPA
6% ABV, 60 IBU
In 1995, Sam Calagione found time to open Dogfish Head Brewings & Eats in the beach community of Rehoboth Beach, Delaware. It was the smallest commercial brewery in America at that time. Within a few successful years, the company made good time switching from making very small, homebrew-style batches to industrial-sized sessions in a sizeable brew house. Dogfish Head Crafted Brewed Ales expanded and moved to a 100,000 square foot facility in nearby Milton, DE in 2002. They're one of the largest craft brewers in America but yet there may be no brewery today that exhibits such a dedication to experimentation and boundary pushing. Dogfish Head brewers add Warrior hops continues for 60 minutes when brewing 60 Minute IPA. Simcoe and Palisade hops are tossed in for 30 minutes and it's dry hopped with Amarillo, Simcoe and Glacier for a sweet aroma of apricot and pear — similar to a Riesling. The beer doesn't taste as sweet as it smells and instead we get notes pungent grapefruit pith with a slight bitterness.
Oskar Blues Ten FIDY
10.5% ABV, 65 IBU
We have heard multiple theories behind the origin of the enigmatic title of Oskar Blues beloved and impossibly viscous "Ten FIDY" Imperial Stout. The simplest explanation is that the brew has an ABV of 10.5 percent hence a slangified name that sounds like "ten fifty." Since the craft beer pours like motor oil the name could play off 10W-50 grade motor oil. Peaks and Pints believes the name refers to 10:50 p.m. — when we enjoy grabbing some time back with the inimitable flavors of chocolate-covered caramel and coffee. There are definitely layers of malty sweetness, but this beer is so roasted, and so hoppy that it comes off as bitter as hell, like the darkest chocolate matched with the blackest coffee kind of bitter. Speaking of dark, make sure you have some White Strips handy. It'll paint your kisser black.
Save
---