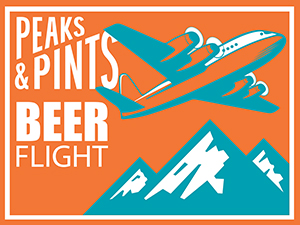 There are more than 120 different hop varieties used today. To be a true hop fan, the appeal of hops has to be more than just bitterness. Hops offer a range of flavors and aromas that resemble herbs, pine, tropical fruits like grapefruit and tangerine and more. How can you distinguish one hop from another? Hop aroma and flavor can be subtle. And year to year, growing conditions can also affect hop aroma and flavor within a variety. With the arrival of Firestone Walker's C-Hops Pale Ale on our Western red cedar tap log, we thought it appropriate to offer a craft beer flight of the "C-Hops" — Cascade, Centennial, Chinook and Columbus hops — in what we call Craft Beer Crosscut 9.2.18: A Flight of C-Hops. The Pacific Northwest's answer to continental Europe's Noble hops, C-Hops and their aromas epitomize IPA and pale ale — what some would call the cornerstones of modern American craft brewing. Cascade hops' name comes from the Cascade mountain range, where the majority of these hops are grown. They have flowery, spicy and citrus aromas. But it's the strong grapefruit flavor that stands out. Centennial, sometimes referred to as "Super Cascade," offers candy-like tangerine, lemon, citrus and light pine aroma and flavor. Chinook is the most pine-like hop and can overwhelm other, less assertive, hops. Chinook is more common as a bittering hop in big beers such as barleywines. They have a spicy, piney aroma with aggressive spicy pine, spruce and citrus flavors. Columbus, sometimes referred to as CTZ, a reference to the multiple names it's known by — Columbus, Tomahawk and Zeus — is most commonly used as a bittering hop — often used in conjunction with other varieties. It lends pungent, dank, floral notes and a mild citrus aroma to a beer.
Lagunitas Brewing IPA
6.2% ABV, 46 IBU
IPA was Lagunitas Brewing's first seasonal, released in 1995. The beer's labels claim it's "made with 43 different hops and 65 various malts," which would be badass if true, if wildly impractical. Cascade and Centennial are in the greatest abundance, and they combine to deliver flavors and aromas of citrus zest, bitter pine, grass, earth and just a pinch of crystal malt to keep the hops in proportion.
Firestone Walker C-Hops Pale Ale
5.5% ABV, 59 IBU
Firestone Walker Brewing Company scored three gold medals at the 2018 World Beer Cup, a prestigious biennial global competition that this year included 2,515 breweries from 66 countries. The brewery's C-Hops pale ale earned the lone gold medal in the crowded "American-Style Pale Ale" category. This marks the fifth time since 2004 that Firestone Walker has taken the gold in that category. C-Hops was available exclusively in the Firestone Walker's Lion's Share mixed 12-packs, but has since become available on draft. It is a new-age pale ale brewed with old-school American hops, including Cascade, Centennial, Chinook, CTZ and Cashmere. The result is a modern throwback, balancing assertive hoppiness with a full malt middle. Specifically, its tastes of citrus, resin, pine, grass and a bit of mango — with a bitter finish.
Two Beers Fresh Hop IPA
6.2% ABV, 70 IBU
Two Beers Brewing Co. continues its tradition of releasing the first Fresh Hop IPA of the season, with draft arriving at peaks and Pints Aug. 3. First brewed in 2009, Fresh Hop IPA enters its ninth season on the Two Beers lineup, remaining one of the Seattle-based brewery's most popular releases. A true labor of love, Fresh Hop IPA is made with fresh Centennial and Cluster hops from fifth generation hop farmers, Puterbaugh Farm in Yakima Valley. The hops are handpicked by dozens of staff and volunteers on the brewery dock; the process allows Two Beers to go from hop bine to brew in less than 24 hours for an exceptional finished product. "This year's Fresh Hop IPA will feature Centennial hops, giving the brew a juicy citrus aroma with hints of grapefruit and passion fruit, and Cluster hops, which tend more towards bitter and earthy. Fresh Hop IPA (6.2% ABV/70 IBUs) is dark straw in color with light caramel malt tones, and resembles an aggressively dry-hopped IPA, but packs the punch and flavor only fresh hops can deliver. In addition to the fresh picked Centennial and Cluster hops, this beer features locally grown Amarillo, Cascade, and Citra hops, helping this popular seasonal achieve its bright and delightfully bitter flavor," states founder and CEO Joel VandenBrink in a media release.
Ninkasi Tricerahops Double IPA
8% ABV, 84 IBU
Ninkasi, the mythical god of beer, would be afraid of Ninkasi Brewing's double IPA. Hops explode in the nose, cascading pithy grapefruit, sticky pinesap and floral notes atop a caramel foundation. It hits the tongue hard with sweet caramel before a blend of Chinook, Cascade, Summit, Centennial and Palisade hops offer floral, fruity, and earthy notes, yet with a malt background. It's hop-forward, full-bodied and strong. Yet the balance with the malt lends enough depth and a spicy complexity to make it very interesting. Resinous, citrusy, woody, and powerfully bitter, the hop flavors slowly unfold and last well into the aftertaste.
Avery The Maharaja
10% ABV, 102 IBU
Avery Brewing's The Maharaja is derived from the sanskrit words mahat, meaning "great," and rajan, meaning "king." Much like its namesake, this imperial IPA is regal, intense and mighty. With hops and malts as his servants, he rules both with a heavy hand. The Maharaja flaunts his authority over a deranged amount of hops (Columbus, Centennial, Chinook, Simcoe and Amarillo): tangy, vibrant and pungent along with an insane amount of malted barley — fashioning a dark amber hue and exquisite malt essence.
---