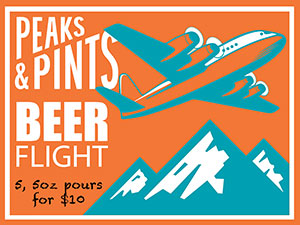 You know the story. In 2005, Joel VandenBrink found himself in a disagreement with a friend, so they headed to a local pub to talk it through. After the second pint disappeared, the two friends had an honest conversation. Before that second pint, VandenBrink was putting his engineering degree from Grand Valley State University to use at the Johnson Controls plant in Holland, when he wasn't exploring the great outdoors. The outdoorsman eventually moved to the great Seattle outdoors, epic solo hikes and, eventually that second pint of beer. After a homebrew starter kit and an inspirational tour of New Belgium Brewing, VandenBrink founded Two Beers Brewing Co. in a 170 square foot ActivSpace facility along Highway 99 in Seattle's Fremont neighborhood in August 2007. While Seattleites gasped when Seahawks quarterback Matt Hasselbeck and fullback Mack Strong presented President George W. Bush with a Seahawks' No. 43 jersey, VandenBrink engineered his beer recipes on two burners and two 27-gallon fermenters. In June 2008, VandenBrink delivered his first keg, hauled his 20:20 Blonde into the Park Pub in Seattle's Phinney Ridge neighborhood. He sold a maximum of four kegs a week to gauge a response from his consumers and the rest, as they say, is history. Two Beers and its sister Seattle Cider Company host an "After Party" for the Proctor Arts Fest at 5 p.m. inside Peaks and Pints tonight. In conjunction, we present a Two Beers flight we call Craft Beer Crosscut 8.4.18: A Flight of Joel VandenBrink.
Two Beers SoDo Brown
5.4% ABV, 20 IBU
In March 2009, Two Beers Brewing moved its full operation into a 2,400 sq. ft. Seattle SoDo neighborhood brewery and tasting room, adding three 250-gallon tanks, one 1,000-gallon tank and a cellar. The brewery quickly reached 470 barrels sold in its second year. Tacoman Eric Willard, who works across the street at Tiny's Organic, wanders over to Two Beers and begins friendship with VandenBrink. Willard ends up delivering kegs of SoDo Brown to Tacoma taverns The Spar and The Parkway on his way home. Brewed with seven grains and a single hop, this complex and mellow brown ale was brewed in honor of the regulars at the Two Beers Brewery tasting room. It's Two Beers' most malt forward beer; it features characteristics of sun-dried raisin, chocolate and toffee.
Two Beers Fall Line Russian Imperial Stout
12% ABV, 50 IBU
Two Beers just re-released its award-winning Fall Line Russian Imperial Stout, part of the brewery's popular Alta Series. A style born out of the cold north and the Russian courts desire for rich, toasty brews, Fall Line Russian Imperial Stout is brewed with a bunch of grains — 2 Row, raw barley, Black malt, Chocolate malt, Crystal malt, Vienna malt, Molasses malt, oats, roasted barley, rye and wheat — hopped with Magnum and Nugget, then aged in brandy barrels for six months, emerging with a deep, multilayered beer, its thick, smooth body carries immense, complex flavors of coffee, plums, chocolate, vanilla and highland peat under a deep milk-chocolate creamy head.
Two Beers EVO 2.0 Experimental IPA
6.2% ABV, 70 IBU
"We added a crazy amount of spruce tips to our EVO IPA recipe," says Eric Willard, director of Operation at Seattle Cider Company and Two Beers Brewing Company. "We were a bit worried that it might have been too much, but I think I turned out well." Indeed, as it seems that they bought the local Christmas tree lot right out, chopped them all up, and let them steep throughout the whole bloody brew cycle. It smells of spruce, that much is very true, all green and acrid and compelling, with a bit of appropriate dirty earthiness, and maybe a suggestion of some grainy and mildly caramelized malt. The EVO IPA alone hits the nose with pinecones and tropical fruit, as it's hopped with Yakima Valley Simcoe, Amarillo and Centennial, then aggressively dry-hopped with Simcoe and Columbus. The taste is replete with resinous spruce tree bitterness, tropical fruit and a slight toffee finish. It finishes dry, earthy, spruce needle-y, and faintly grainy.
Two Beers Fresh Hop IPA
6.2% ABV, 70 IBU
Two Beers Brewing Co. continues its tradition of releasing the first Fresh Hop IPA of the season, with draft arriving at peaks and Pints Aug. 3. First brewed in 2009, Fresh Hop IPA enters its ninth season on the Two Beers lineup, remaining one of the Seattle-based brewery's most popular releases. A true labor of love, Fresh Hop IPA is made with fresh Centennial and Cluster hops from fifth generation hop farmers, Puterbaugh Farm in Yakima Valley. The hops are handpicked by dozens of staff and volunteers on the brewery dock; the process allows Two Beers to go from hop bine to brew in less than 24 hours for an exceptional finished product. "This year's Fresh Hop IPA will feature Centennial hops, giving the brew a juicy citrus aroma with hints of grapefruit and passion fruit, and Cluster hops, which tend more towards bitter and earthy. Fresh Hop IPA (6.2% ABV/70 IBUs) is dark straw in color with light caramel malt tones, and resembles an aggressively dry-hopped IPA, but packs the punch and flavor only fresh hops can deliver. In addition to the fresh picked Centennial and Cluster hops, this beer features locally grown Amarillo, Cascade, and Citra hops, helping this popular seasonal achieve its bright and delightfully bitter flavor," states founder and CEO Joel VandenBrink in a media release.
Two Beers Brewing Wonderland Trail IPA
7.1% ABV, 84 IBU
VandenBrink hiked the 93-mile trail circumnavigating Mount Rainier solo. He dreamed of above 80 International Bitterness Units while hiking through Mystic Camp at 5,570 feet. He believed he could push an IPA close to the alcohol by volume mark of a double IPA as he trudged along the South Mowich River. He drew inspiration mixing strong citrus flavor hops with hops boasting earthy, pine characteristics while traversing along a ridge to Devil's Dream Camp. Wonderland Trail IPA is the product of nearly two years of recipe development. Featuring a seamless blend of Washington-grown hops, this flavorful Northwest-style IPA is brewed with Cascade, Amarillo, Mosaic and Legacy hops, then dry hopped with Citra and Mosaic hops, complemented by 2-Row, Vienna and Munich malts. On the nose, a slightly sweet aroma of tangerine is followed by a wave of citrus and passion fruit on the palate, finishing clean and refreshing.
---