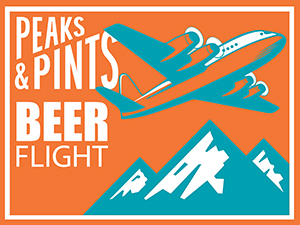 Nuggetzilla isn't Godzilla's foe but rather the nickname of Hopsteiner #06277 hop, or now known as Denali. Scientists crossed Nugget hops and the son of a cross between Zeus and USDA 19058 male hops to arrive at a monster of a plant with gigantic cones and unusually high total essential oil content, averaging more than 4 grams oil/100 grams of raw hops. Oh, no, there goes light flavor, Nuggetzilla. It is quite popular with brewers who are looking for a distinct, big flavor in their beers. Denali has a big aroma that imparts pineapple with notes of citrus and pine, though it can often come off as spicy as well. It can be used for bittering, flavor, aroma or a beer flight in Tacoma's Proctor District's craft beer bar, bottle shop and restaurant known as Craft Beer Crosscut 8.27.19: Flight of Denali.
Craft Beer Crosscut 8.27.19: Flight of Denali
HUB Robot Panda
6.2% ABV
Hopworks Urban Brewery's Robot Panda is a fruity and juicy hazy IPA that is easy drinking from start to finish. The beer balances a soft and fluffy malt body with big hop additions of Denali, Lemondrop, and Cascade. It hits the nose with juicy pale malty aroma with a soft wheaty semi-sweetness and citrus hops. Expect smooth flavor with a pale malty tone with a light bready touch, bits of citrus fruit, and soft juiciness.
Fort George Fields of Green: Michal
7.6% ABV
Set on the former site of Fort Astoria, the birthplace of Oregon, Fort George Brewery has swollen to fill two stories, an entire city block and about 18,000 barrels of beer a year —hovering around the 11th biggest brewery in the state — without any compromise in quality. Their Fields of Green IPA is a periodic release, always evolving, and packed into color changing cans. Each batch is a unique exploration of hop perception. The latest batch is Michal brewed with Denali, Ella, and Motueka hops for all the pine.
Modern Times Critical Band
6.7% ABV, 60 IBU
Packed to the hilt with Denali, Ekuanot, Citra, Simcoe, and Centennial hops, Modern Times Beer's Critical Band is a hazy, head-snapping thunderclap of an IPA loaded with tropical, citrusy awesomeness. Its deeply juicy profile is underscored by a crisp restrained malt bill that expertly carries this delicious, fruity wonder past bitter pine and into a soft, round finish.
Culmination Invisible Forces
7.6% ABV
In 1994, Tomas and April Sluiter left their bakery jobs in Grand Rapids, Michigan, and hit the road. They traveled extensively. Then, in the summer of 2000, they discovered Portland, Oregon. Thomas took an assistant brewer job at the Old Market Pub in Southwest Portland. Within two weeks of his hire, the head brewer quit and Tomas was thrown into that role. He dismantled the old, tired brewing system and refurbished a 15-barrel system. In January 2017, seven years after Tomas left Old Market and almost two years after attempting to open his brewery in Portland's Goose Hollow neighborhood, he and April opened Culmination Brewing in Northeast Portland's Bindery Annex building. Invisible Forces is a hazy IPA brewed a comical amount of El Dorado and Denali hops for orange and pineapple flavors.
Modern Times Orderville
7.2% ABV, 75 IBU
Modern Times' Orderville has seen many a recipe change. The current version leads with Mosaic hops with Denali adding strong support. Also, the hazy IPA utilizes oats and white wheat for extra turbidity. The aroma is sweet and tropical fruit focused like a mango banana smoothie. Flavor-wise, this doubles down on mango banana smoothie. Sweetness is just enough to allow the flavors to pop and never comes close to cloyingly sweet like some other NE-style IPAs.
---