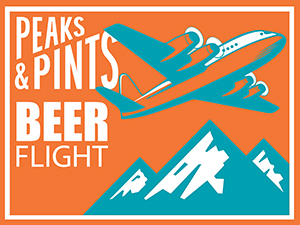 West Coast-style IPA ruled America. And, then, it didn't. The style — known for its pale, bright appearance, high bitterness and strong hop aroma — had a modest upbringing, born from Sierra Nevada's Pale Ale to the San Diego breweries during the mid-2000s (Ballast Point, Green Flash Stone). Then, the hazy, tropical IPAs of New England hitched the wagons and headed west. Haze became the West Coast craze, to the disdain of most West Coast brewers. Today, it's mass hysteria as the two styles have combined on many West Coast tap lines. The West Coast version of New England-style IPAs are not as hazy, have a touch more bitterness with pine making an appearance. Swing by Peaks and Pints today and taste five examples on our Craft Beer Crosscut 8.25.19: Flight of Tropical Pine.
Craft Beer Crosscut 8.25.19: Flight of Tropical Pine
Aslan Fish Have Feelings
7.4% ABV
Aslan Brewing's Fish Have Feelings IPA has been stamped with a Salmon Safe Certification, which means that the utmost care was taken to ensure that none of the practices used in the farming process of the beer's ingredients negatively impacted the habitats of salmon. Mashed with a large portion of buckwheat and only hopped on the hot side in the whirlpool, it was then dry hopped with a ton Mosiac hops. This big, hazy juicy IPA sports a sharp pine flavor with slight tropical notes.
Modern Times Critical Band
6.7% ABV, 60 IBU
Packed to the hilt with Denali, Ekuanot, Citra, Simcoe, and Centennial hops, Modern Times Beer's Critical Band is a hazy, head-snapping thunderclap of an IPA loaded with tropical, citrusy awesomeness. Its deeply juicy profile is underscored by a crisp restrained malt bill that expertly carries this delicious, fruity wonder past bitter pine and into a soft, round finish.
Three Magnets Impossible Knots
6.9% ABV
Three Magnets Brewing pulled out all the tricks on this one, brewing this hazy IPA with Nelson, Denali, Enigma, and Citra hops for pineapple aroma that punches you in the face, but massages your palate with melon and more pineapple because, you know, tropical. Expect a piney, moderately bitter finish.
Moonraker Atomic Betty
8.5% ABV
Moonraker Brewing Co. opened in 2016 in the same Auburn, California industrial park as Knee Deep Brewing, and was later honored as the ninth-best new brewery in the world by RateBeer, a resource for craft beer enthusiasts. New England-style Atomic Betty imperial IPA is brewed with Galaxy and Citra hops for sweet grapefruit juice, mango and other tropical fruit with pine on the nose, followed by a lightly sweet flavor full of mango and grapefruit with a pithy grapefruit and pine finish.
Matchless Love Buzz
8.8% ABV
Matchless Brewing invited their new bff Mount Olympus Brewing out of Aberdeen to brew meld a pine resin-soaked West Coast IPA with a tropically-hopped New Zealand/Australian new world IPA for something a little different and a little familiar. Buzzing with loads of Chinook, Waimea, Simcoe and Topaz, it's a tropical, piney summer sipper.
---