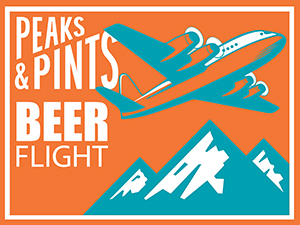 Barbecue. It is, after all, the only truly American culinary technique. No foppish French sautés for us. We red-blooded Americans like our meat smoked, cooked long and slow until it's tender enough to be cut with a sharp glance. Barbecue is serious stuff. Disagreements about whether tomato paste belongs in a sauce can lead to lasting conflicts. Barbecue isn't a verb, it's a noun. Going out and grilling a burger or a steak on the Weber isn't barbecue. Barbecue is a method of cooking that requires indirect heat, more like an oven than a grill. The geographic regions. The pit. The fuel. The right cut of meat for ribs. The flavorings: cumin, chilies, paprika. The Dry and the Wet — spice rubs versus sauces. Today, Peaks and Pints Kitchen Manager Lindsay Giantvalley has whipped up some barbecue. Eating great barbecue while enjoying a fine craft beer is always a favorable experience. Therefore, we've paired her apple wood and hickory smoked brisket with barbecue sauce, creamy Havarti and coleslaw on French bread with a flight of beer that we call Craft Beer Crosscut 8.24.19: Flight For Barbecue.
Craft Beer Crosscut 8.24.19: Flight For Barbecue
Jolly Pumpkin Ale Absurd
8.3% ABV
Ron Jeffries — AKA Brewmaster Spooky, AKA Captain Ron — founded the Jolly Pumpkin Artisan Ales with his wife, Laurie, in 2004. The name Jolly Pumpkin was one in a long list of possibilities, but it was the one Jeffries kept coming back to because it made him laugh. "Jolly Pumpkin" also embodies some of his favorite things: Halloween, pirates and the tropics. Dexter, Michigan's Jolly Pumpkin takes great care in maturing their beers. Each brew is fermented in open-air tanks and aged in oak casks. The beers are then further matured in the bottle with the addition of more yeast, also known as bottle re-fermentation. This process creates a beer that ages extremely well as the yeast continue to consume the sugars in the bottle, changing flavors, producing alcohol and causing natural carbonation. Jolly Pumpkin's Baudelaire Bière Series is based on the poetic works of Charles Baudelaire, a French poet who also produced notable work as an essayist, art critic, and pioneering translator of Edgar Allan Poe. Baudelaire Bière Ale Absurd is a medium-bodied, copper sour rye tripel ale with a hint of mild spiciness. Barrel aged in fresh California Chardonnay barrels for 17 months, the oak notes blend well with hints of pear and a light buttery tinge. Fatty beef, like those cuts of meat traditionally found rotating for hours over a barbecue spit in Texas, hold up against the strong flavors of this sour rye tripel. The tangy bite of this beer brings out the meaty flavor that can sometimes be downplayed by barbecue sauce.
Spoetzl Shiner Bock
4.45% ABV, 13 IBU
Bock is a bottom fermenting lager that generally takes extra months of lagering (cold storage) to smooth out such a strong brew. Bock beer in general is stronger than your typical lager, more of a robust malt character with a dark amber to brown hue. Spring is the season for maibock, a lighter, more refreshing bock beer style. But this season is also known for doppelbock, a style that originated as a beer to drink during lent, and are extra strong, rich and weighty lagers characterized by an intense malty sweetness with a note of hop bitterness to balance the sweetness. Bock beers can vary greatly from style to style and can go from light and refreshing to some of the strongest beers in the world with eisbocks.
Spoetzl Brewery in Shiner, Texas, was founded as the Shiner Brewing Association in 1909 by German and Czech immigrants with a desire for beer from the old country. Shiner Bock was introduced in 1913 and in 1915 German brewmaster Kosmos Spoetzl bought the brewery, giving it his last name. Shiner Bock is a no-frills kind of bock, but still arguably the most demonstrative of American-brewed bocks. Its very light body, and only slightly roasty notes from caramel malts, making this an easy bock to drink while barbecuing.
Ayinger Altbairisch Dunkel
5% ABV, 21 IBU
The German-style dunkel is a bottom-fermented lager style beer. The word "dunkel" is German for "dark," and this dark beer style offers beer lovers balanced flavors of chocolate, bread crust and caramel. Comprised of mostly Munich malt, the German dunkel's caramelized malt experience is the product of a chemical process known as the Maillard reaction — the chemical reaction which occurs between amino acids and reducing sugars in the presence of heat that results the browning of food while forming new aromas and flavors. This reaction is what lends Munich malt its distinctive bread crust flavor. While barley malt is kilned, the malt browns, creating a myriad of caramelized flavors. Browned proteins, like barbecued meats and oven-browned bread both benefit from the Maillard reaction. Keep this in mind when you are pairing these types of foods with beers since dishes that showcase flavors derived from the Maillard reaction complement each other very well.
About 25 kilometers from the Oktoberfest grounds in Munich, lays a little town called Aying, home to the beloved Ayinger Brewery (Brauerei Aying). This 142-year-old brewery has a deep family history, and remained almost completely unchanged until a new, updated brewery was built in 1999 in order to keep up with the growing market. Again and again Ayinger has won awards for its beers, including the World Beer Cup, and the Deutschen Landwirtschafts Gesellschaft — DLG (German Agricultural Society) gold and silver medals. DLG gold medal winner Ayinger Altbairisch Dunkel ("alt" means old, "bairisch" means "from Bavaria") offers easy caramel and light, grainy malts on the palate first, followed by a lovely, floral hop bite that counters the sweetness. With its paltry profile, courtesy of a light body, low alcohol, and dry, clean finish, this brew embodies the style's approachability.
Avery White Rascal
5.6% ABV, 22 IBU
The witbier or Belgian wit (Flemish for "white") derives its name from the beer's appearance: pale pear yellow with a soft, cloudy haze capped by a thick collar of foam. Belgian in origin, wit dates back to the 18th century, when the town of Hoegaarden was saturated with wit breweries. But, in 1954, the last of these breweries closed, and witbiers almost went the way of the dodo. That is, until Pierre Celis, a milkman who worked at one of the last witbier breweries, revived the style eight years later with Hoegaarden White Beer, a beer brewed with 45 percent unmalted (raw) wheat, pale barley, a touch of oats, fermented with ale yeast and spiced with Curaçao orange peel and coriander. The results produced a beer light in alcohol (4.8–5.6 percent alcohol by volume), light in bitterness (10–18 international bittering units), and a tinge of lactic acid. A crisp witbier pairs well with Southern white barbecue sauce, as the peppery and slight vinegar characteristics are subdued nicely by the beer style's characteristics.
As Avery Brewing's flagship beer and silver medal winner in the Belgian Witbier category at the World Beer Cup 2018, White Rascal is a tribute to the history and time-honored tradition of the Belgian witbier. Avery uses authentic Belgian yeast and real Curaçao orange peel and coriander, akin to what was used by 15th-century brewers from the village of Hoegaarden. Citrus and spice are prevalent in the taste of this witbier, but here, the barley also adds to the complexity. Amid all of this you'll notice a very thick body, making this wit the most filling one that we have tried.
Skookum Smoke and Roast
7% ABV
In the early 1700s, it was common for London pub patrons to ask for blends of the various available brews. Historical documents say the Brits called their mixed beer beverage "Three Threads" using a third of a pint each of ale, lager and a strong brew called "Twopenny." Eventually, bartenders told the Three Threadheads to take a flying leap off the London Bridge. Around 1730, a brewer named Harwood came up with a solution. He re-created the flavor of Three Threads into a single craft beer called Entire before it reached the pub. This beer came to be loved by porters and other physical laborers, and so earned its name, Porter. Porter was also born out of the need to address a shortcoming of London's water. The hard alkaline water lent itself to dark, malty beer. In terms of barbecue, porters pair well with barbecue, especially Skookum Brewery's Smoke and Roast, a robust oatmeal porter with oak smoked wheat malt and conditioned on heaps of whole Camano Island Coffee Roasters beans. Light smoke, intense coffee and smooth porter. If you like a darker beer, especially to compliment Craft Beer Crosscut 8.24.19: Flight For Barbecue, this lightly smoked, intense coffee and smooth porter fits the bill.
---