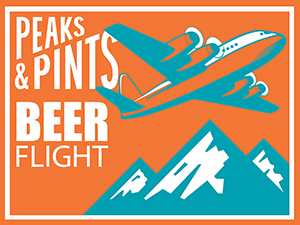 Are you a fan of craft beer? How about specifically Cigar City Brewing? Don't have the time to travel to Tampa? Want Peaks and Pints to stop asking open-ended questions? If you said yes, then today is a day of joy for you. Peaks and Pints has tapped the Tampa Bay-based brewery's Jai Alai India Pale Ale and Maduro Brown Ale. Although Cigar City is deliberately inseparable from their home state — beers with names like Florida Cracker, to the many Florida-centric ingredients — Cigar City has finally added Washington state to its portfolio. Peaks and Pints also has the same two beers in the cooler, as well as Cigar City Guayabera Citra Pale and two others. Looks like the making for a beer flight? Indeed. Swing by our Tacoma Proctor District craft beer bar, bottle shop and restaurant and enjoy Craft Beer Crosscut 8.22.19: Flight of Cigar City.
Craft Beer Crosscut 8.22.19: Flight of Cigar City
Cigar City Florida Cracker
5.5% ABV, 18 IBU
The Cracker Cowboys of Florida were colonial-era settlers, often of Scots-Irish descent, who arrived in Florida when Spain traded their territory of La Florida to the English. The term Cracker in Florida usage relates to the whip these "cow hunter"" used to herd cattle in Florida's Palmetto Prairies. Called Quaqueros by the Spanish, these hardy and hard working Cracker Cowboys helped to shape the history of Florida, the nation's oldest cattle raising state. Cigar City brews Florida Cracker White Ale with unmalted wheat, orange peel and coriander and then ferment it with a Belgian yeast strain to give it a spicy and dry finish.
Cigar City Maduro Brown Ale
5.5% ABV, 25 IBU
Maduro is a Northern English-style brown ale with some American affectations. Maduro is higher in alcohol than the common English brown ale and features flaked oats in the malt bill, which imparts a silky body and works to mesh the roasted, toasted and chocolate components together in Maduro's complex malt profile. The end result is a remarkably full-flavored yet approachable and sessionable brown ale. Pairs well with a cigar, obvs.
Cigar City Guayabera
5.5% ABV, 50 IBU
Traditional throughout Latin America, the guayabera shirt combines style, functionality, form and tradition in its four-pocketed design. Like its namesake article of clothing, Guayabera Citra Pale Ale is breezy, easy, and summer-suited. It's entirely a Citra-hop showcase, so if you love that hop's bright citrus and melon notes, you'll absolutely dig this beer. The cloudy, light-orange pour launches tangerine, mango, honeydew, and yellow Starburst aromas right off the head. Subdued malts contribute a Hawaiian-roll sweetness to the sip, but mostly get out of the way so the hops' melon rind, underripe strawberry, lime, and lemonade flavors can take the reins. This beer is tropical for sure, and lightly sweet, but it finishes with enough citrus-pith bitterness to put a punctuation mark on the sip.
Cigar City Space Pope IPA
7.3% ABV, 57 IBU
Is the Space Pope reptilian? That question remains to be answered but in the meantime Cigar City has his eponymous IPA to consider. Brewed with an astronomical amount of Mosaic, Citra, CTZ and (natch) Galaxy hops that lend notes of orange, passionfruit, peach and melon to the clean flavors of base malt and a touch of crystal malt for depth of character.
Cigar City Jai Alai India Pale Ale
7.5% ABV, 70 IBU
An IPA for Lupulin-lovers, Jai Alai (pronounced HI-lie) blends six different hop varietals in the kettle, then is dry-hopped with Simcoe. It's named for a game native to the Basque region of Spain (and once popular in parts of Florida) played with curve mitts and balls launched at speeds edging 200 miles per hour. This moniker is appropriate, as a nose placed near this beer feels as if it's being bombarded with speedily launched aroma particles. Resins in the form of sugar-covered tangerines and sticky grass slam against the olfactory walls. While the grassy, orange-heavy notes of the hops are noticeable, the Jai Alai highlights a strong malt backbone as well. And the Marigold color — what a beautiful sight for a beer!
---