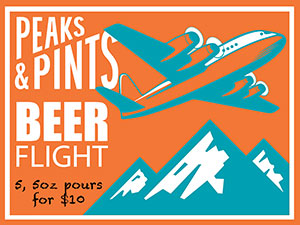 Scoured out of the earth by the Vashon Glacier 13,500 years ago, Seattle's Interbay neighborhood was a marshy area between what would come to be called Salmon Bay and Smith's Cove. Native Americans of the Shilshole tribe made their permanent home on the north side of Salmon Bay, a salt water extension of Puget Sound. The settlement consisted of cedar long houses that sheltered several dozen people during winters. Summers, the family groups scattered and camped along the shores and in the uplands fishing and hunting. The Interbay area was a rich source of shellfish and waterfowl. Today, a transcontinental railroad, first completed in the 19th century, runs next to the home of a 21st century biotechnology company. A food bank, a fishing fleet, a golf course and numerous breweries round out the wide variety of activities where once deranged hermits hid from society. Since Peaks and Pints is a bottle shop and taproom, we'll skip the food bank and golf course and concentrate on the breweries. Enjoy Craft Beer Crosscut 8.21.18: A Flight of Seattle Interbay Breweries.
Holy Mountain Witchfinder
6.1% ABV
Located in the Seattle neighborhood of Interbay, near the Magnolia Bridge, and started by friends who worked in the local beer business, Holy Mountain might sit at sea level but its name gives nod to Mount Rainier, the ominous holy mountain that looms over Seattle, but also to a song and album by doom/stoner band Sleep. The well-respected local beer veterans gained quick respect for their mixed-fermentation ales, primarily saisons and wild ales brewed with a mix of Brettanomyces and local microflora. Witchfinder is a refreshing young saison brewed with Pilsner malt and wheat, and fermented with a mixed culture of saison strains. Hopped with Saaz and Amarillo, this farmhouse style beer is full of floral and citrus hop notes, and juicy fruit esters.
Urban Family Mantra
8% ABV
The family-run Urban Family Brewing in Seattle's Interbay neighborhood has stealthily crept under the radar for several years. Now it's finally getting the recognition it deserves with its approachable atmosphere (think board games and old school video games), food trucks that circle through, and — namely — by brewing some of the best small-batch sour beers in Seattle. Mantra imperial sour ale was made with Alphonso mangoes, and dry-hopped aggressively with Citra hops to create a bold and balanced concoction of happiness.
Rooftop Ladro Sul Tetto
5.8% ABV, 28 IBU
Seattleites swear by Caffè Ladro Roasting. They've been standing in lines since the 1990s. Can you imagine living next door to Ladro? Rooftop Brewing Co. can — as they almost share the same roof. The brewery has developed a new appreciation of coffee after numerous tastings and conversations with the passionate Ladro employees. It was only a matter of time before Rooftop brewed a coffee beer with Ladro. Ladro Sul Tetto is the result of more than 12 test batches where the two businesses tried different combinations of grains, hops and coffee beans as well as different methods of infusing the coffee. Ladro Sul Tetto — Italian for, "thief on the roof" — is a pale ale infused with Ethiopian Hama beans, giving it flavors of honey and nougat, and a pleasant lemon zest acidity. The light malt base and floral aroma hops are intended to accentuate the nougat and citrus flavors of the coffee. The palate lingers with a buxom caffeine infused boldness, usually reserved for stouts and porters.
Rooftop Azacca Single Hop IPA
6.8% ABV, 76 IBU
Located on the northend of Interbay, Rooftop Brewing Co. is a charming, tiny converted garage and shipping container. On sunny days, Rooftop is one of Seattle's best-kept secrets. Just bring sunscreen. Creativity rules the beer list, from a steam lager to a rye IPA to this Azacca Single Hop IPA. The flavor majors on mango, ripe pineapple and generic citrus (maybe bending toward tangerine).
Reuben's Life on Mars IIPA
8.2% ABV, 80 IBU
Reuben's Brews sits north of Interbay, between the Ballard and Fremont neighborhoods. Founded in 2012, Reuben's Brews began its operations in Seattle's Ballard neighborhood brewing on a 5-barrel system. Then three years later the brewery made a large expansion down the street to its current home located at 5010 14th Ave. NW. Here it installed a new 15-barrel brewhouse in a 4,000 square foot building that also included a much larger taproom and outdoor space. Now only three years after opening this new space, Reuben's Brews will expand once again to a new space at 800 NW 46th St. in Seattle — about a half mile southeast from its current production and taproom space, closer to Interbay. Reuben's Life on Mars imperial IPA lands on the nose with citrus, pine and sweet caramel malt. Taste followed the nose. Sweet malt balances nicely against some big, bitter hops with flavors of sticky orange, tangerine, tropical, stone fruit and resinous pine.
---