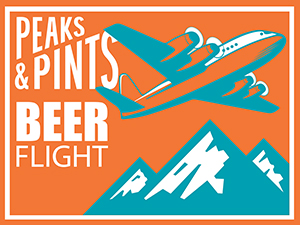 Mixing caffeine and alcohol is nothing especially new. Beyond Irish coffee and Four Loko, brewers have been slowly working coffee into the DNA of craft beer, too. Java stouts and coffee porters are now as ubiquitous as American pale ales and imperial IPAs. Peaks and Pints will celebrate the unification of coffee and beer when we present Coffee Beer Chat at 6 p.m. tonight. Coffee beers will takeover our Western red cedar tap log, including the coffee beer collaboration between Tacoma's Bluebeard Coffee Roasters and Bellingham's Kulshan Brewing, Oaxacan Sunrise. In addition, we'll host a coffee and beer lecture where the public can rate coffee and coffee beers side by side with certified coffee and beer judges. In conjunction, we present an all-day coffee beer flight that we call Craft Beer Crosscut 8.16.19: Flight For Coffee Beer Chat.
Craft Beer Crosscut 8.16.19: Flight For Coffee Beer Chat
Kulshan Oaxacan Sunrise
5% ABV, 21 IBU
Kulshan's Oaxacan Sunrise is a collaborative effort with Bluebeard Coffee Roasters in Tacoma, Washington and their just re-released Santa Maria Yucuhiti de Oaxaca coffee. This Mexican coffee lager doesn't jolt with coffee, but rather offers subtle notes. In fact, "Subtle" is this crisp lager's middle name with subtle notes of graham cracker, cocoa, praline, cinnamon and plum. Oaxacan Sunrise will be featured at Peaks and Pints Coffee Beer Chat session at 6 p.m. Friday, Aug. 16, in conjunction with Tacoma Beer Week.
Rogue Ales Cold Brew 2.0
5.6% ABV, 30 IBU
Rogue Ales follows up its popular Cold Brew IPA with Cold Brew 2.0 blonde ale. Where Cold Brew IPA plays up the two big bold flavors of hops and coffee, Cold Brew 2.0 explores the intricacies of coffee aromatics and delicate malt notes ending with a smooth, crisp finish. Rogue Cold Brew 2.0 blonde ale employs Stumptown's Cold Brew Coffee, which has been cold-brewed for over 12 hours and double filtered. The coffee arrives immediately, but doesn't dominate.
Ninkasi Whiteaker Series No. 9 Coffee Cream Ale
5.6% ABV, 40 IBU
Ninkasi Brewing's golden cream ale and Stumptown Coffee Cold Brew are a deliciously dynamic duo. Freshly brewed coffee, rich chocolate, and light herbal hop notes invite you to drink deeply. Lush fruit and caramel notes tantalize your taste buds while the bittersweet flavor of coffee lingers on your palate.
E9 The Bearer w/Coffee
6.4% ABV
The base of this coffee porter is E9 Brewing's classic robust porter with moderately strong malt flavor and featuring a lightly burnt, black malt character, plus a bit of roasty dryness in the finish. This base is then cold steeped with an organic Guatemalan and Sumatran blend from Caffe Vita to impart a bold yet balanced coffee backbone with hints of dark chocolate and brown sugar.
AleSmith Hawaiian Speedway Stout
12% ABV
Perilously situated on the westerly flank of the active shield volcano, Mauna Loa, Kona coffee beans are the result of nature's ideal coffee growing conditions. The combination of dark, mineral-rich volcanic soil and Hawaii's diurnal cycle of bright sunny mornings, moist rainy afternoons, and mild nights yield a ripe environment for this exceptional coffee. Unlike other coffee producing regions, every Kona berry must be inspected and handpicked because of the lack of mechanized harvesting techniques available in this rocky location. Mostra Coffee carefully roasted 100 percent Kona beans to showcase the coffee's nutty sweetness and floral aroma, a seamless complement to AleSmith Brewing's award winning Speedway Stout. Roasted cereals, toffee candy and coffee merge in this cushiest of coffee-infused imperial stouts.
---