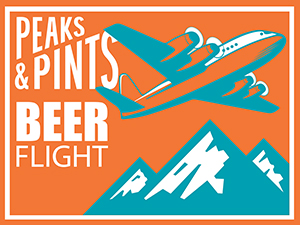 For the past year, Peaks and Pints has hosted SudsPop nights pairing a brewer, an exclusive one-off beer brewed by the special guest brewer and a chosen artist or band in our East Wing events room. Since it's Tacoma Beer Week, we altered this month's SudsPop, which is tonight at 7 p.m., to include more Tacoma history. The Tacoma Beer Week Dune SudsPop will be the first time the host isn't a brewer, although Pacific Brewing brewers will be in the house. Tacoma's 11-acre Dune Peninsula, aptly named for the environmental-themed, sci-fi novel "Dune," written by Tacoma native Frank Herbert, recently opened at Point Defiance Park. The man who championed Dune Peninsula, sci-fi author and Metro Park Board Commissioner Erik Hanberg, will be our star lecturer tonight, with music by hometown musician Doug Mackey, who grew up in the shadow of Dune Peninsula's former occupant, the ASARCO smelter. Toss in Tacoma's historical brewery, Pacific Brewing & Malting Co., and you can't get more Tacoma than Peaks and Pints Tacoma Beer Week Dune Night. In conjunction with Tacoma Beer Week Dune SudsPop, Peaks and Pints presents an all-day loosely "Dune" themed, space beer flight that we call Craft Beer Crosscut 8.14.19: Flight of Dune.
Craft Beer Crosscut 8.14.19: Flight of Dune
Chuckanut Nut To The Future
5.3% ABV, 40 IBU
Frank Herbert's "Dune" is set 25,000 years from now, where warring noble houses are kept in line by a ruthless galactic emperor. Chucknut Brewery's Nut To the Future is set today, as "The Future" is a nod to this beer's collaborative brewery, Future Primitive Brewing, the Seattle brewery that makes an "effort to realize the future, we deeply respect the enduring relevance of our primitive past, which reminds of "Dune" characters the Fremen who wear moisture-retaining clothing and masks, living a semi-primitive existence in the desert. Anyway, Chuckanut teamed up with Future Primitive to make this California Common with a German twist.  Using the Bellingham brewery's house German lager yeast, they fermented this beer at a higher than normal temperature in order to get the classic yeast character of a California Common. In addition to using a German lager yeast the two brewers brewed with all German hops and malt. German Northern Brewer and Polaris provide a minty, woody bitterness that is associated with the style, while the Mittlefruh and Tettanger provide a clean noble finish. An all Weyermann malt bill, highlighted by Pilsner, Munich and Vienna malts, give this German Common an amber hue and bready, slightly sweet taste.
Ecliptic Vega IPA #2
6.5% ABV, 45 IBU
In 2013, John Harris founded Ecliptic Brewing purchasing the brewhouse from friend and Dogfish Head founder Sam Calagione. Harris' love for brewing and astronomy shines as he pushes the limits of creativity rotating Ecliptic's offerings every six weeks in accordance with the old world calendar, producing seasonal favorites. His Vega IPA series — named after the brightest star in the northern constellation of Lyra — showcases different hop flavor profiles, as well as gives the Ecliptic brewers a chance to express their creativity. Vega IPA #2 is brewed with Idaho Gem, Barbe Rouge and Peeko hops for bitter, floral and pine notes.
7 Seas Great Maker Imperial Hazy IPA
8% ABV
7 Seas Brewing searched as deep as oceans dive. Peaks and Pints probed as high as mountains climb. The nautical-themed craft brewery and mountain-themed craft beer bar, respectively, found the answer in the middle: a collaboration hazy imperial IPA inspired by Tacoma-born author Frank Herbert's "Dune" novel and recently opened Dune Peninsula along Tacoma's waterfront. Named after the sandworms in the novel, the Great Maker hazy double IPA is heavily hopped with Magnum and Amarillo in the kettle, Citra and Mosaic in the whirlpool and dry hopped with Idaho 7 and Amarillo. Add imperial juice yeast and 7 Seas' brewer Salmon Joe's magic and this easy-drinking, colossal collaboration has a full and supple mouthfeel with juicy orange and citrus flavor.
Stone Aggro Agronopmist IPA
7% ABV, 57 IBU
Frank Herbert's famous science fiction novel "Dune" is filled with aggro violence of all types including torture, gore, fighting, weapons, and some generally scary and disturbing imagery. That's not awesome. Getting aggro with your hops however? Awesome. It's often a tradition passed down through generations, as is the case with Perrault Farms in Toppenish, Washington. Since 1928, the Perrault family and friends have honed their craft to breed new hop varieties with ever more awesome flavors and aromas. Stone Brewing's Aggro Agronopmist IPA features the powerhouse hop Citra as well as two new varieties — Sabro and the as-of-yet unnamed HBC 692. These new beauties balance classic citrus notes with intriguing hints of coconut, herbs and stone fruit.
Loowit Player's Handbook: Barbarian
8.6% ABV, 120 IBU
The board game adaptation of Frank Herbert's "Dune," first published 40 years ago and long out of print, is back. Publisher Gale Force Nine (GF9) says that this is just the beginning of its newly-forged partnership with the Herbert estate. Originally titled Frank Herbert's "Dune," the game was first published by The Avalon Hill Game Company in 1979. It's widely considered a classic, and was a personal favorite of GF9 head honcho, Peter Simunovich. Loowit Brewing's imperial Northwest IPA, Barbarian, is the second IPA in the Vancouver, Washington's new experimental Player's Handbook IPA series inspired by THEIR favorite role playing game, Dungeons and Dragons. Brewed with Simcoe, Chinook, Columbus, and Centennial, this IPA has strong notes of pine and citrus.
Dune sandworm courtesy of Universal Pictures — own it on Blu-ray, DVD & Digital
---