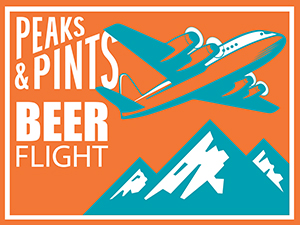 Hundred plus years ago, old ales, also known as stock ales, were usually mixed with younger, sweeter ales in the pubs of London and other British cities. Because ales required aging, breweries often transferred the beer from fermentation tanks to oak barrels to mature, hence the name. Generally, old ales are low attenuated beers with high levels of dextrins, creating a full malt body with plenty of character ¸— balanced hops bitterness and exhibit caramel and dark fruit flavors. Although bittering levels can greatly vary, expect common fruity, vinous, intense malts and sharp alcohol characteristics. The often racy but mellow attitude of the beer may also include acidic notes, raisins and black currants. Vintage varieties may have a low level of oxidation. Stronger versions may have similarities to a port wine. Brewers may also inoculate a portion of the batch with Brettanomyces lambicus and age for an extended period of time to achieve an old-school acidic character. Today, Peaks and Pints gathered five old ales for a flight that we call Craft Beer Crosscut 7.31.19: Flight of Old Ale.
Craft Beer Crosscut 7.31.19: Flight of Old Ale
De Proef Zwart Black Star
8% ABV
For 2018's De Proef Brouwerij's annual Brewmaster's Collaboration series, Dirk Naudts partnered with Surly Brewing's Jerrod Johnson and Ben Smith to craft an old ale with star anise and Brettanomyces, creating a delicious beer that will continue to develop with time. Dip your nose into Zwart Black Star for big, sultry, woody caramel, brown sugar, ripe tree fruit and a hint of tropical Brettanomyces. The Brett is back for the flavor profile with lots of oak, whispers of bourbon, a bit of plum, and dark Belgian fruity malts. Zwart!
Skookum Deep Color
10.3% ABV
Old ale recalls the type of beer brewed before the Industrial Revolution, stored for months or even years in unlined wooden vessels known as tuns. The beer would pick up some lactic sourness as a result of wild yeasts, Lactobacilli and tannins in the wood. The result was a beer dubbed "stale" by drinkers: it was one of the components of the early, blended porters. Skookum Brewery brewed a strong old ale, added cherry wood smoke malt then aged in in whiskey barrels for 10 months. The result is Deep Color with deep notes and aromas of dark fruit, tobacco, oak, and mild smoke.
North Coast Old Stock Ale
11.9% ABV, 34 IBU
With a big sherry-like aroma, including hints of vanilla and peppery spice, we're forewarned North Coast Old Stock Ale is stocky. Sure enough, our first taste highlights big brown sugar sweetness up front, with Champagne-grape and honey notes along for the ride. It's brewed with classic Maris Otter malt and Fuggles and East Kent Golding hops, all imported from England. In the cocktail world this beer would be an Old Fashioned. It's hot with alcohol, lip tingling and obviously young, with an assertive bitterness that belies the 34 IBUs. As good as it is today, it will significantly improve with time.
Hair of the Dog Adam From the Wood 2018
12% ABV
Inspired by the historical style Adambier from Germany, Hair of the Dog's Adam is a strong, dark smoky old ale aged for an extended time in barrels for deeply bready malt flavors layered with roast, smoke, and leather. It's astonishingly complex and punishingly strong at 10-percent alcohol. This is Hair of the Dog Adam From the Wood is Adam living several years in a tiny American oak house. First released in 2000, this 12-percent Adambier hits the nose with caramel, brown sugar, tons of raisin, light chocolate, little campfire roastiness and HUGE bourbon kick like kisses from your grandma on Mother's Day. On the tongue, expect dark fruits like an imperial quad, dates, plums, more little campfire roastiness, oak and bourbon.
Founders Curmudgeon's Better Half
12.7% ABV, 45 IBU
Founders Brewing's Curmudgeon Old Ale is brewed with molasses and aged on oak; it becomes the "Better Half" after aging — for 254 days — in bourbon barrels that have more recently been aging Michigan maple syrup. As a result, Curmudgeon's Better Half is a bit sweeter than her miserly counterpart.
---