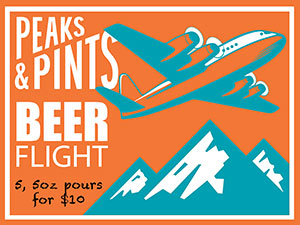 Today's Peaks and Pints beer flight, Craft Beer Crosscut 7.19.18: A Flight of Colorado, salutes Colorado craft beer, which happens to rank third nationally in terms of number of craft breweries, 348 (as of 2017). The state has a long history of beer. Brewers started to show up to Colorado in 1858 when gold was discovered in the Rocky Mountains. Many brewers were making small batches and selling it to miners in mining camps and on access roads to the small mining communities popping up across the state. Denver was founded in 1858 in a small saloon on Larimer and less than a year later a couple of entrepreneurs showed up to start a brewery. Rocky Mountain Brewery was founded in 1859 and quickly became the largest brewery between St. Louis and San Francisco. Colorado beer history of monumental proportions was made in the area when a young German immigrant by the name of Adolph Coors (who came to America as a stowaway aboard a ship) founded the Coors Brewery in Golden in 1873. His amber concoction, brewed with fresh Rocky Mountain water from natural springs surrounding the brewery, became a favorite among locals, earning it the name "Miner's Banquet." In 1978, President Jimmy Carter signed H.R. 1337, which allowed for American citizens to brew in their homes. This allowed for craft beer to be made in breweries and brewpubs across the US. Sept. 25, 1979 marked the day Colorado opened its first craft brewery in Boulder Beer Company. Things were slow to start, but craft beer had a surge in the early '90s and New Belgium opened its doors in 1991 along with a handful of others. In 2002, Oskar Blues opened and had a crazy idea of putting his craft products into cans. Thanks all fine and dandy, but let's get to drink Colorado craft beer.
Crooked Stave Sour Rose
4.5% ABV
Crooked Stave Artisan Beer Project in Denver, Colorado has rereleased its Sour Rosé, a wild ale fermented in oak barrels with raspberries and blueberries. Sour Rosé spends upward of 12 weeks on whole fruit in large oak foeders. This traditional American sour is the first 100 percent mixed culture fermentation, 100 percent primary fermented oak-aged beer to be released into a can by any brewery. It pours purple, with a small, pink head. Bright blueberries and tart cherries hit the nose. It's definitely a sharp, fruity sour taste with some lemon zest and a bit of funk.
Oskar Blues Pinner Throwback IPA
4.9% ABV, 35 IBU
Oskar Blues threw "throwback" on Pinner's name for two reasons — the beer has some elements of an old-school IPA heavy on hops and lighter in ABV, which in turn makes it easier to throw a few back. The Longmont, Colorado brewery is primarily known for its high ABV offerings, but this session IPA complements those nicely. For Pinner, Oskar Blues tosses in six to eight different hops per batch — including an experimental variety — then dry-hopped with Mosaic, Citra, Eldorado and Azacca hops, for tropical fruits, citrus juices, pineapple and spice berry up front, balanced with biscuit and toasted bread in the back.
New Belgium Hemperor HPA
7% ABV, 55 IBU
In 1988, Jeff Lebesch was riding his bike through the villages of Belgium, most likely a little wobbly as he visited brewery after brewery in search of inspiration. When he returned to the States, with the help of his marketing-savvy wife, Kim Jordan, Lebesch launched New Belgium Brewing Company in 1991 with a beer whose name you probably already know: the Fat Tire. New Belgium's Hemperor HPA (Hemp Pale Ale) is a THC-free pale ale brewed with fragrant oils extracted from hemp plants. While craft brewers have experimented with hemp seeds before, the Hemperor is noteworthy as the first craft beer made with hemp terpenes — organic compounds that give cannabis its signature aromas. New Belgium's research and development brewer, Ross Koenigs, has been perfecting the revolutionary process for the past two years combining fruity, tropical, herbal and slightly skunky notes from the hemp with floral Cascade and piney Simcoe hops.
Great Divide Vanilla Oak Aged Yeti
9.5% ABV, 60 IBU
Great Divide has been fairly conservative over the years about messing with its signature Yeti Imperial Stout, adding only a few variations every couple of years or so; these have included Chocolate Oak Aged Yeti, Espresso Oak Aged Yeti, Oatmeal Yeti and the draft-only, lower-ABV Velvet Yeti Nitro. Vanilla Oak Aged Yeti seems like a no-brainer. The sweet vanilla tones meld into the oak character and the two really support and enhance one another, all while sitting on the bold, roasty character we all love from Yeti.
Boulder Mojo IPA
7.2% ABV, 70 IBU
Founded in 1979 by two University of Colorado professors, Boulder Beer was originally established in northeast Boulder on a small goat farm. Five years later, they moved to the transit village at Valmont and Foothills Parkway, and they've been there ever since. Probably the two most well known beers produced by Boulder Beer are Hazed, a hoppy session ale, and Mojo IPA. You can smell Mojo coming before it catches you — the big hop-forward aroma seems to fill a room. The deep, oily, sappy character of the grapefruit and pine hops, the zesty orange peel and tropical fruit notes are almost balanced by sweet malt.
---