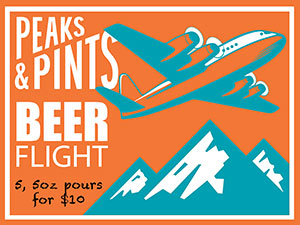 Matt Swihart and Charlie Devereaux crossed paths while working at Full Sail Brewing in Hood River, Oregon. They became instant friends, chatting up food, beer and music while starring out Full Sail's window at the beautiful Columbia Gorge. Devereaux didn't see Swihart climb to assistant brewery as he followed his dreams in 1995. They'd reunited here and there, spit-balling future project over beers and music. In February 2006, Swihart caught glimpse of a "For Lease" sign in one of the few light-industrial-zoned storefronts in downtown Hood River. St. Patrick's Day 2007, Swihart and Devereaux opened Double Mountain Brewery & Taproom in said spot, named after the orchard they owned, Double Mountain Orchards — where one can look in one direction and see Mt. Adams and then look in the other direction and see Mt. Hood. With a mash tun paddle and one hand and a banjo in the other, Swihart ran the brewery while Devereaux ran the pub, creating a pizza that draws as well as their, Belgian inspired yet Northwest centric craft beer. While Swihart can't make Peaks and Pints' Double Mountain Music To Their Beers event tonight, we salute him and his brewery all day with Craft Beer Crosscut 7.17.18: A Flight of Matt Swihart.
Double Mountain Dry Cider
6.7% ABV
Double Mountain had long toyed with releasing their own hard cider, occasionally featuring housemade cider on at the taproom made from owner Matt Swihart's own apples. The brewery finally releases its own Dry Cider in December 2017, blending freshly harvested heirloom apples from Double Mountain Orchard and Hood River Newtowns, Braeburns and Hanners for old world complexity. Double Mountain gave it plenty of time to dry out and develop the aromas of juicy pear, lychee, green fruit, and chamomile.  It finishes tart, crisp, dry and quenching.
Double Mountain Devil's Cuvee Kriek
9.5% ABV, 12 IBU
Several years ago, Double Mountain released Devil's Cuvee Kriek, an oak barrel aged Devil's Kriek Belgian style sour ale brewed with cherries. Indeed. Carefully selected Devil's Kriek from 2014 aged on Hood River Valley Bing and Vann cherries was given extra time in new French Oak barrels and blended with a small portion of next year's Kriek. Its time in the oak gives it more depth and wisdom, and ripened the fruit imparting a sherry and dry red wine character.
Double Mountain Timbeer!
5.4% ABV, 35 IBU
A collaboration born of mutual admiration between Double Mountain Brewery and Timber! Outdoor Music Festival, the Hood River, Oregon brewery brewed an "All Day Pale" for the Carnation, Washington music festival July 12-14. Timbeer! will be on tap during the indie rock festival; Peaks and Pints feels fortunate to have a few cases of the easy-drinking pale. Dip your nose into the tropical and pine goodness while listening to Car Seat Headrest on the stage. Sip the piney pale with the long bitter finish as you dance to the Polyrhythmics.
Double Mountain Kolsch
5.2% ABV, 40 IBU
Double Mountain built its empire around two-row pilsner malt sourced from British Columbia. We're a big fan of pilsner malt — it imparts a definite smoothness to the brew, including Double Mountain's Kolsch. A tribute to the style of beer native to Cologne (Koln), Germany, this beer is a very light straw pour with just a touch of haze and a decent egg-shell-white head. A little pepper crosses the nose along with sourdough bread, biscuit and light hops. Firm, tangy hops come through on the palate — Sterling and Perle — which is a nice combo of soft malt, fresh grain, spicy pepper and citrus. The finish is light and refreshing.
Double Mountain Black Irish Stout Nitro
4.5% ABV, 50 IBU
This Dublin-style stout is a quintessential Double Mountain interpretation of a classic style. It's rich, creamy, roasty and beautifully bitter that pours with a thick head, courtesy of nitrogen. The nose is roasted malt and some dark chocolate. Flavor is similar — rich roasted unsweetened dark chocolate. Except a semi-dry finish.
---