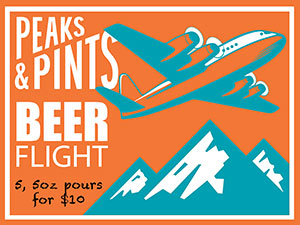 Meriwether Lewis and William Clark concluded their 8,000-mile exploration along Southern Washington, arriving at the West Coast in the autumn of 1805. Interpretive markers trace the explorers' last 100 miles to the Pacific Ocean. Known for fertile estuaries and the Willapa National Wildlife Reserve, Southwest Washington is characterized by small towns and century-old landmarks. The region is also home to the dramatic Columbia River Gorge, a protected scenic area known for its delicate ecology. The Columbia River curves through Southwestern Washington before the river ends its 1,200-mile journey at the Pacific Ocean. The vibrant city of Vancouver, Washington's fourth-largest metropolis, overlooks the Columbia, adjacent to Portland, Oregon. Southern Washington is home to 40-some craft breweries, five of which we highlight today in our beer flight, Craft Beer Crosscut 7.11.18: A Flight of Southern Washington.
Loowit Eddie Gose Surfing
4.6% ABV, 6 IBU
In 2012, longtime friends Devon Bray and Thomas Poffenroth opened Loowit Brewing Company in downtown Vancouver, Washington, helping revive the city and quickly became a force in the Southwest Washington beer scene. Gose is an old style of beer, somewhat overlooked. It originated along the river Gose, which flows through the town of Goslar in the German state of Lower Saxony. Traditional versions are quite sour and salty. The saltiness in particular likely came from the naturally saline, mineral-rich water from around Goslar and Leipzig that was used for brewing. The style is similar to a hefeweizen, in that it's made with high amounts of malted wheat. It has very low hop bitterness. Loowit's gose, Eddie Gose Surfing, is all that plus tangerine and floral flavors.
Barrel Mountain Brewmaster's Reserve #9
6.2% ABV
When you think of mountain cabins, many things come to mind: wood, saws, wood, ski hardware, wood, canoe oars and wood. In Battle Ground, Washington, there's a mountain cabin motif brewery with all that goodness, plus a chair made of ropes, metal siding and a bit of Kentucky shabby chic. Not only did Barrel Mountain Brewing owner Troy Steigman bring the outdoors indoors to a former Laundromat, but he also added a scratch kitchen, well-equipped brewery and hired brewer Ryan Pearson, formerly of Green Flash and La Quinta in Southern California. The beers reflect the expertise Pearson brings to the table, with a variety of well-made styles, including his Brewmaster's Reserve #9 brewed with Brothers Cascadia Brewing. This dry-hopped saison saw Pilsner malt and wheat before bathing in Amarillo and Huell Melon hops. There is a bone dry character to this, drying melon with a tarty, sharp edge to it. It's fresh and reasonably bitter.
Brothers Cascadia It's In The Cloud
6% ABV
Brothers Cascadia Brewing is helmed by Sherman Gore, head brewer Jason Bos and Richard Tiffany. Gore and Bos previously worked together at Laurelwood Brewing. The Hazel Dell, Washington brewery specializes in classic and experimental IPAs and clean lagers. It's In The Cloud looks like a hazy IPA, but has a little bit more bitterness like a West Coast IPA. It smells juicy like those New England IPAs, yet not quite as thick. Indeed, Brothers Cascadia has captured balance in this IPA — taking the best of both worlds and making them work together for lovely grapefruit juiciness, balanced with some bitterness.
Backwoods Gifford Pinchot Pilsner
5.1% ABV, 10 IBU
The Gifford Pinchot National Forest is one of the oldest National Forests in the United States. Included as part of the Mount Rainier Forest Reserve in 1897, this area was set aside as the Columbia National Forest in 1908. It was renamed the Gifford Pinchot National Forest in 1949. Backwoods Brewing co-owner Kevin Waters has a fondness for the forest as well as pilsners after a visit to Prague, the capital of the Czech republic and home to many a pilsner. Waters brewed his GP Pilsner the Czech way with Czech Saaz hops for a spicy floral aroma with grassy notes and a clean, crisp finish. It's the perfect beer after a day hiking in the Gifford Pinchot National Forest.
Everybody's Brewing/Grains of Wrath Cow Punk IPA
6.5% ABV, 65 IBU
Last summer Everybody's Brewing invited the forthcoming Grains of Wrath Brewing out to White Salmon, Washington to brew a collaboration beer. The result was a draft only collaboration release of Cow Punk IPA. Since that time Grains of Wrath opened and the beer that was a hit last year hit the street again. With pounds of Mandarina Bavaria in the whirlpool, and dry-hopped with Citra and Simcoe, the two breweries added tangerine, orange and grapefruit zest for an IPA bursting with citrus aroma and flavor.
---