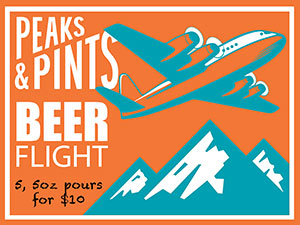 Belgian-style beers are the holy grail of beer-making, according to most brewers. Belgian beers are unique in their fruity, spicy, warming flavors, and over the centuries, the monks of Belgium have perfected their brewing and left an indelible mark on the beer world. At roughly one-fifth the size of Washington state, Belgium has contributed more original beer styles than any other nation. Dubbel? Tripel? Quad? There are several schools of thought regarding the origin of these numerical names. As the tradition of brewing in Belgium emerged in the Middle Ages, the monasteries likely had a single brew house, and one to three batches were thought to have been made from a single mash. The terms double and triple may have grown from this practice, or they may also have referred to taxation levels. Contrary to what some believe, though, these beers are not double or triple in alcoholic strength. Today, Peaks and Pints offers a flight of dubbel, which is a medium- to full-bodied, red to dark brown ale. The style offers spicy sweetness and malty hints of chocolate and caramel. Dubbels have low bitterness, but are known for distinctive yeasty qualities characterized by the fruity esters of banana, raisin and plum. Enjoy Craft Beer Crosscut 7.10.18: A Flight of Dubbel.
New Belgium Abbey Belgian-Style Dubbel
7% ABV, 20 IBU
The story of New Belgium Brewing begins with an abbey: Not only were Belgium's monastic beers the inspiration behind the Colorado brewery, but Abbey, a Belgian-style dubbel, was one of the first beers New Belgium released in 1991. Since then, it's become its most award-winning offering, and in 2015, it updated the recipe. This garnet brown hued Belgian-style dubbel is strong on character and rich in flavor. Seven malts, including caramel Munich and chocolate, and a definitive Belgian yeast, waft off sweet, spicy aromas. Rich tones of chocolate and dark caramel mix with nuanced dried cherries, burnt sugar and figs. Expect a sweet and roasty upfront, followed by a slightly bitter finish.
Atwood 1918 Dubbel Centennial
7.1% ABV
Located just 18 miles north of the burgeoning Bellingham brewery scene, on the outskirts of a scenic seaside town, is Blaine, Washington's first, and oldest, brewery — Atwood Ales. The unique setting provided by a 100 year old farmhouse and barn and the surrounding acreage is not only visually compelling, but also provides countless opportunities to directly incorporate estate and locally grown agricultural and natural ingredients into Atwood's small batch beers. It's a family-operated farm and brewery. The family's farmhouse was built in 1918. This beer marks their 100th batch, brewed in March of 2018. To celebrate the "hundreds" of accomplishments of both their farmhouse and their brewhouse, the Atwoods brewed this dubbel abbey-style ale with Belgian and Skagit Valley malts, their estate-grown Centennial hops and a fresh pitch of Trappist ale yeast. It's is a malt-forward beer with dark fruit and caramel notes, light fruity esters and phenols, and a light, dry finish.
Ommegang Double Barrel Dubbel
9.9% ABV, 20 IBU
This luxurious brew begins with Brewery Ommegang's Abbey Ale that then heads to its cellar, where it's aged for six months in a mix of bourbon and brandy casks. Brewed with pils, amber, Munich, and aroma malts and hopped with Syrian Golding and Spalter Select, Double Barrel Dubbel enjoys a similar spicing to Abbey Ale with orange peel, coriander, cumin, star anise, and licorice root. It pours a deep burgundy color with a creamy tan head. Robust aromas of coconut, vanilla, molasses, burnt sugar and dark stone fruit greet the drinker up front, with more subtle hints of vanilla and bourbon following in their wake. Flavor of caramel, raisin, and plums mix nicely with underlying flavors of oak, bourbon, and subtle hints of dried fruit and vanilla. A wonderfully full mouthfeel pairs with a lingering sweetness on the finish resulting in a decadent drinking experience.
Brouwerij der Trappisten van Westmalle Dubbel
7% ABV, 24 IBU
In 1836 the Belgian Westmalle monastery became a Trappist Abbey and began brewing beer shortly thereafter. The holy suds they produced started out as an insider-only deal — a choice beverage to be made and enjoyed by Trappists and Trappists alone, but eventually they decided to expand and opened up a public beer hall in the early 1930s. Westmalle Dubbel is a dark, reddish-brown Trappist beer with a secondary fermentation in the bottle. The creamy head has the fragrance of special malt and leaves an attractive lace pattern in the glass. The flavor is rich and complex, herby and fruity with a fresh-bitter finish. It is a balanced quality beer with a soft feel in the mouth and a long, dry aftertaste.
Brouwerij St. Bernardus St. Bernardus Prior 8
8% ABV
Between 1946 and 1992 the St. Bernardus brewery brewed the beers of the Sint-Sixtus abbey in Westvleteren. In 1992 production reverted to the abbey of Westvleteren. By some mathematical equation this means the recipe for the St. Bernardus Prior 8 originated in 1946. And to this day, this abbey beer wears the original Westvleteren yeast. On the nose, expect sturdy banana esters, moderate toffee-like malt and slight clove. It drinks like a dubbel with fruit esters (light raisins, banana, and clove) that finds a spicy counterpoint in sharp black pepper. Subtle earthy hops punctuate these malty, yeasty notes as the beer washes back.
---