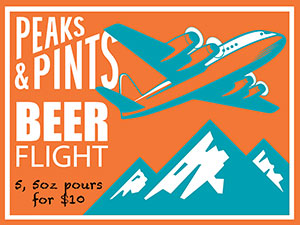 Can you imagine not having numbers? Look around you. They are everywhere, including the craft beer world. You often see numbers on tap lists and menus that are meant to help explain what a particular beer will be like, including alcohol by volume, or ABV. The standard measurement of the alcohol content of drinks is alcohol by volume, which is given as the volume of ethanol as a percent of the total volume of the drink. If a certain beer is tagged with ABV 12% or ALC. BY VOL. 12%, it means 12 percent of the liquid is alcohol. In other words, the alcohol by volume is 12 percent. While a higher ABV, such as 12 percent, often represents a greater level of flavor and complexity, it also means that the physiologic effects of alcohol play a greater role, which is why Peaks and Pints bottle shop, taproom and restaurant serves high ABV beers and cider in smaller glasses. IBU is an abbreviation for the International Bitterness Units scale, a gauge of beer's bitterness. What IBUs measure are the parts per million of isohumulone found in a beer. Isohumulone is the acid found in hops that gives beer its bitter bite. We thought it would be fun to focus today's beer flight on ABV and IBU — more so numbers than alcohol and bitterness. A sequence, in mathematics, is a string of objects, like numbers, that follow a particular pattern. Welcome to Craft Beer Crosscut 6.19.18: A Flight of ABV and IBU Sequence.
Modern Times Fortunate Islands
5% ABV, 50 IBU
Modern Times is a modern brewery, baby. Founded in the Point Loma neighborhood of San Diego in 2013, a consistent and modern aesthetic permeates everything they do. From their beautifully designed cans to their sleek and minimalistic website, this 30 barrel production brewery and tasting room approaches things in a modern way, man. The brewery's Fortunate Islands shares the characteristics of a hoppy IPA and an easy drinking wheat beer. A massive dose of Citra and Amarillo hops gives it a blastwave of tropical hop aromatics: mango, tangerine, and passionfruit all leap out of the glass when poured. Brewed with 60 percent wheat malt, Fortunate Islands also has the mild, nutty malt backbone, reasonable ABV, and restrained bitterness to make it an outstanding session beer.
Mazama Mosaic Eruption IPA
6% ABV, 60 IBU
Mount Mazama is famous for blowing itself apart and leaving a hole where Crater Lake form and later became Oregon's only full-service national park. Mazama Brewing came later, much later, but it's catching up in popularity. Founded in 2013, it's a family owned microbrewery in Corvallis specializing in European style ales made with the finest ingredients from the Willamette Valley. Mosiac Eruption IPA, duh, showcases Mosaic hops that give it a bold grapefruit twist. This beer is triple-hopped with a blend featuring Mosaic, Amarillo, Citra and Centennial hops for moderate herbal, grassy and earthy flavors and bitterness with medium biscuit and cracker malt and a dry finish.
21st Amendment Brew Free! Or Die IPA (Blood Orange)
7% ABV, 70 IBU
Fruit forward beers across the board have been a very popular seller for 21st Amendment. After the breakaway success of Hell or High Watermelon Wheat beer, brewmaster Shaun O'Sullivan decided to go the blood orange route with Brew Free! Or Die. Ever since O'Sullivan first introduced Brew Free! Or Die to the beer festival circuit, there has been a palpable buzz from patrons who can't get enough of the citrusy combo of Citra hops and orange. It hits the nose with strong orange, with notes of pine and fragrant ale malts. The taste is medium bitter, but sweetened by strong orange and subtle pine.
Ninkasi Tricerahops Double IPA
8% ABV, 80 IBU
Ninkasi, the mythical god of beer, would be afraid of this double IPA. Hops explode in the nose, cascading pithy grapefruit, sticky pinesap and floral notes atop a caramel foundation. Ninkasi Brewing's Tricerahops hits the tongue hard with sweet caramel before a blend of Chinook, Cascade, Summit, Centennial and Palisade hops offer floral, fruity, and earthy notes, yet with a malt background. It's hop-forward, full-bodied and strong. Yet the balance with the malt lends enough depth and a spicy complexity to make it very interesting. Resinous, citrusy, woody, and powerfully bitter, the hop flavors slowly unfold and last well into the aftertaste.
Dogfish Head 90 Minute IPA
9% ABV, 90 IBU
Inspired by a cooking segment he saw in the late '90s where a chef added little increments of pepper over an extended period to enhance flavor, Dogfish Head founder Sam Calagione turned to a vibrating magnetic football game to create a system that would continuously add hop pellets during the entire time a beer boiled. The 90 Minute IPA, which debuted in 2001, is the first beer that Dogfish Head continuously hops, adding hops for 90 minutes during the boil for bitterness, and then dry-hop in the fermentation casks to achieve high aroma and flavor. Despite the massive amounts of hops, a clean, grainy malt character ekes through — maple and golden raisin — balancing some of the bitterness and grassy flavors.
---