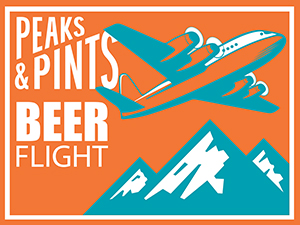 The midnight sun is a natural phenomenon that occurs during summer in places south of the Antarctic Circle and north of the Arctic Circle. The earth is rotating at a tilted axis relative to the sun, and during the summer months the North Pole is angled toward our star. That's why, for several weeks, the sun never sets above the Arctic Circle. Midnight Sun Brewing began commercially producing ales and lagers for folks close to the Arctic Circle in 1995. Midnight Sun is Alaskan proud. Everything from their beer names to the beer labels portrays the pride they have in their heritage. Even the name of the brewery reminds us of the north — where else but Alaska do you ever see a midnight sun? Well, actually Peaks and Pints. Today, we present a flight of Midnight Sun Brewing that we call Craft Beer Crosscut 6.18.19: Flight of Midnight Sun.
Craft Beer Crosscut 6.18.19: Flight of Midnight Sun
Midnight Sun Tundra Wookie
13% ABV, 13 IBU
Midnight Sun's Belgian special dark ale is brewed with tart cherries for a deliciously complex bouquet of dark cherries, aged malt, aged vinegar notes and debittered chocolate. Toasted malt and caramel hit the tongue along with deep, sweet, chocolate-marsala-soaked bread and raisins. The alcohol is entirely masked, serving only to enhance the flavor profile.
Midnight Sun Son of A Berserker
6.9% ABV, 20 IBU
You son of a …! Find solace from the slanders rolling of your tongue with Son of a Berserker! Since Midnight Sun fired up their kettles in 1995, this Alaskan brewery and brewpub has been warming the good folks who braved that last frontier with their multitude of year-round, seasonal and specialty brews. Its Son of a Berserker is a small stout — a second running, usually called "small beer," of Berserker Imperial Stout. This beer displays its complexity from the first sniff; it is a cornucopia of bittersweet chocolate, dark roast coffee, roast malt, caramel, black cherries, plums, figs and a light resiny hop aroma. The flavor follows suit, although the maple syrup and molasses are not overtly noticeable, they do add an additional layer of richness and depth to an already complex beer. Feel the rage wash away.
Midnight Sun Arctic Devil Barleywine
13.2% ABV, 20 IBU
Midnight Sun is the oldest brewery in Anchorage and the second oldest statewide. Their 13.5 percent Bourbon Barley-Aged Arctic Devil Barleywine made Men's Journal's list of the "12 Best Barleywines in the World," as well as No. 8 Best English Barleywine on BeerAdvocate. Cognac-drenched candied apricots, caramelized brown sugar and dark fruits are cellared for rich flavors, soft vanilla notes and malty booze.
Midnight Sun Barfly
11.6% ABV, 45 IBU
Midnight Sun's Barfly first landed at the bar as part of the brewery's 2010 Pop Ten Series. It's a smoked imperial stout brewed with smoked malt, molasses and brown sugar, then aged in oak bourbon barrels. Somber and smoky, Barfly saunters into the room slowly. Thick smoke. Cool swagger. Good wood. Too much brass. Sticky leather. Slow glances. Lingering looks. A bit of sass. Delicious.
Midnight Sun Sockeye Red IPA
5.7% ABV, 70 IBU
Midnight Sun Sockeye Red IPA finds inspiration from Sockeye salmon. Near the end of the fish's life, the Sockeye's body turns bright red during spawning. Midnight Sun Brewing Co. has channeled this transformation in the hue of the liquid, which is brownish-red in color and achieved from the use specialty malts. Ample pale malt creates a fresh, firm body while specialty malts impart a red hue. But its predominant character comes from outlandish portions of Centennial, Cascade and Simcoe hops, giving this beer tremendous citrus and floral aroma and flavor.
---