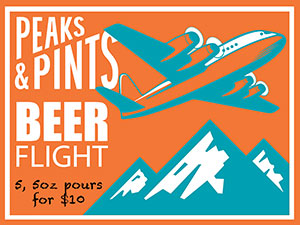 File Under: things that get you buzzed. Like many folks, you might be a slave to chemical rituals. Caffeine in the morning, and booze at night. In the name of efficiency, Peaks and Pints recommends combining the two at every opportunity. The pairing of roasted barley with roasted coffee is so natural; it's almost surprising these stouts and porters didn't catch on sooner. But coffee beers didn't really start to percolate until the mid-90s, and even now they are far from a staple even among craft breweries. But almost no one argues with the inspiration — porters and stouts tend to rely on a roasty malt bill already, conjuring subtle coffee aromatics and flavors, especially in the finish. If you mean business, and want two buzzes in one (no, they don't cancel each other out …), then pull up a chair to Craft Beer Crosscut 6.13.18: A Flight of Joe.
Hotbox Roasters Nitro Cold Brew
NA, 420 mg of caffeine
Launched in 2015, Hotbox Roasters was brewed up by Oskar Blues Brewery's founder and craft beer canning innovator Dale Katechis after he bought and learned how to roast on a small roaster as a hobby in the back of the Longmont, Colorado, brewery. Hotbox Roasters brews its Nitro Cold Brew with premium, "kindly-sourced" Arabica coffee beans. The beans are roasted and the coffee is brewed for 24 hours with cold, crisp, filtered Rocky Mountain water. During the brewing process millions of smooth, velvety nitrogen bubbles are infused into the high-octane brew.
Modern Times Black House Nitro Stout With Coffee, Coconut & Cocoa
5.8% ABV, 40 IBU
Basically, this is Modern Times' Black House — the brewery's year-round oatmeal coffee stout, brewed with Ethiopian Hambela and Sumatran coffee — nitrogenated and packed to the gills with coconut and cocoa nibs. This special January 2017 is a decadent symphony of chocolate and coffee laced with luscious notes of coconut and a mouthfeel so luxurious it's like drinking a velvet painting. The flavors are very well-balanced, smooth and harmonize perfectly together, with an excellent body and finish. Seriously, it's crushable.
AleSmith Kona Speedway Stout
12% ABV
Perilously situated on the westerly flank of the active shield volcano, Mauna Loa, Kona coffee beans are the result of nature's ideal coffee growing conditions. The combination of dark, mineral-rich volcanic soil and Hawaii's diurnal cycle of bright sunny mornings, moist rainy afternoons, and mild nights yield a ripe environment for this exceptional coffee. Unlike other coffee producing regions, every Kona berry must be inspected and handpicked because of the lack of mechanized harvesting techniques available in this rocky location. Mostra Coffee carefully roasted 100 percent Kona beans to showcase the coffee's nutty sweetness and floral aroma, a seamless complement to AleSmith Brewing's award winning Speedway Stout. Roasted cereals, toffee candy and coffee merge in this cushiest of coffee-infused imperial stouts.
Elysian The Fix
8.9% ABV, 55 IBU
Originally a collaboration with the Scots at Brewdog in 2013, Elysian Brewing's The Fix is a big and bold imperial stout that is also just as much of a chocolate beer as it is a coffee beer. The Fix also may be the most caffeinated brew on the market, brewed with 9 pounds of Stumptown Coffee Cold Brew, or the equivalent of a 1/2 cup of coffee in every bottle. Elysian then aged the stout on 3,000 pounds of Congolese cocoa nibs from Seattle-based Theo Chocolate. This intensely dark and rich beer.
Rogue Cold Brew IPA
7.5% ABV, 82 IBU
The coffee IPA isn't a new phenomenon, but Rogue Ales' Cold Brew IPA is one of the best. It provides enough coffee to wake up a dead guy, while simultaneously offering plenty of old-fashioned West Coast hops to please any hophead. Cold Brew IPA employs Stumptown's Cold Brew Coffee, which has been cold-brewed for over 12 hours and double filtered. The coffee arrives immediately, but doesn't dominate. The same can be said for the blend of Rogue Farms Rebel, Freedom and Liberty hops — as well as an additional amount of outside Simcoe. There's a smooth transition from ingredient to ingredient with pine resin, grain, grapefruit and orange all making an appearance. For 82 IBU, Cold Brew IPA isn't overly biting, but still packs a solid punch.
---