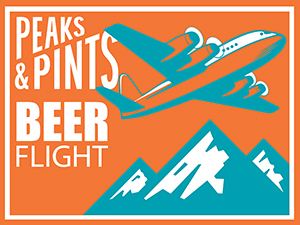 Named for a sharp hook in the Deschutes River in Central Oregon's high desert, Bend wasn't on everyone's radar; decades ago it was a bump on the state highway between golf resorts Black Butte Ranch and Sunriver. Lumber ruled the roost until the two large timber mills closed in 1994. Now what? Boom! Bend underwent a housing boom — and an image boom — in the mid '90s. Suddenly mountain biking wasn't just for teenage boys, kayaks outnumbered suits and ties and microbrews poured in Mount Bachelor's ski lodges; Bend became a paradise for outdoor adventures and outdoor beer gardens. Breweries, wineries and cideries began popping up and locals would rather discuss hops and IBUs than the predictably sunny weather. Today, the greater Bend are is home to 31 breweries, five of which grace today's Peaks and Pints beer flight, Craft Beer Crosscut 5.8.19: A Flight of Bend IPAs.
Craft Beer Crosscut 5.8.19: A Flight of Bend IPAs
Silver Moon SMB IPA
5.3% ABV, 60 IBU
Bend, Oregon's third oldest brewery, Silver Moon Brewing began as a homebrew shop in 2000, when the brewery found new ownership in 2013, and production capacity quickly rose to a top 20 brewery in Oregon. SMB is a new sub-brand of Silver Moon, targeting working folks such as woodchoppers, seamstresses and auto repair people, at least according to Silver Moon's Facebook. SMB IPA, with Herbie the Love Bug's iconic number 53 and racing stripe donning the can, is also the ABV, 5.3, with a soft grain and gentle hop nose and a bit brighter on the tongue with heavy sweet malt.
Deschutes Fresh Squeezed IPA
6.4% ABV, 60 IBU
From one of Oregon's most heralded breweries, Deschutes, comes Fresh Squeezed, a Citra-hopped delight. The mouthwatering, delicious Fresh Squeezed IPA receives a liberal dosing of Mosaic and Citra hops for a mango, pineapple, orange and grapefruit morning fruit cup. While the initial flavors are sweet and fruity, a good dose of hop bitterness comes through near the end, keeping it all in perfect harmony.
Crux Cast Out India Pale Ale
7.6% ABV, 60 IBU
In 1974, Larry Sidor walked into Olympia Brewing Company wearing galoshes. Two decades later, he ran out. He couldn't take dumbing down lagers anymore. He found happier times at Deschutes Brewery, developing legendary recipes such as The Dissident, The Abyss and Red Chair. In 2012, he and Paul Evers opened Crux Fermentation Project in a former AAMCO transmission shop in Bend, Oregon, with the complete freedom to brew whatever they desired, and by desire that meant sublime IPAs, complex barrel-aged Flanders reds and restrained pilsners. They designed the brewery for non-traditional brewing methods such as decoction mashing, open fermentation, oak barrel aging, wild yeast strains and experimental hops. Proudly, they bottled and labeled by hand in small batches right at the brewery. Crux's Cast Out IPA features the Galaxy hop from Australia, a country famously populated by England's cast out convicts. Cast Out IPA employs these hops aggressively from hop back to dry hopping stages. Yet the result is a balanced and bronzy ale, with medium hop bitterness complemented by moderate maltiness, showcasing aromas and flavors reminiscent of passion fruit.
Cascade Lakes 25th Anniversary IPA
7.6% ABV, 78 IBU
Founded in 1994, Cascade Lakes Brewing launched with a 10-barrel system in Redmond, Oregon. Twenty-five years later, Cascade Lakes Brewing includes a state-of-the-art, 25-barrel brew house system, two brewpubs — 7th Street Brew House in Redmond and Cascade Lakes Lodge in Bend — beer is distributed and sold in six states, including Washington. Recently, father and son team Andy Rhine and Bruce Rhine bought the brewery and brought in long-time Deschutes Brewery assistant brewmaster Ryan Schmiege. The brewery's 25th anniversary celebratory IPA is brewed with Cascade and Ekuanot hops, 2-row and wheat, for classic big malty aroma and taste, some bread, some caramel, and a trailing hop bitterness.
GoodLife Comatose
9.5% ABV, 95 IBU
Incorporated in 2009 as Noble Brewing Co., Brewmaster Curt Plants, Ty Barnett and Pratt Rather signed a lease in 2010 for the space it now occupies in Bend, Oregon. In 2011, just before opening their taproom, they changed the name to GoodLife Brewing because plenty of businesses used the name Noble and they wanted to set their enterprise apart. Comatose is a triple dry hopped, imperial IPA brewed with High Color Pale, Bonlander Munich and Carafoam malts balanced by Bravo, Zythos, Zeus, Chinook, Cascade and Summit hops. This heavyweight has more than 5 pounds of hop per barrel, which makes the aroma smell of strong orange candy followed by citrus and spice. The beer continues jabbing the taste buds with a taste of biting into a fresh grapefruit with a balanced malt character, luscious and slightly oily mouthfeel and a strong and clean finish.
---