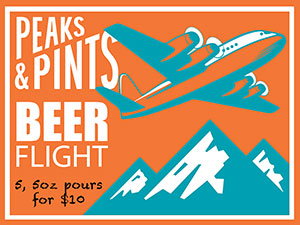 Seattle is home to thousands of sun-deprived citizens who have a passion for coffee, but it seems the bustling metropolis also has a passion for craft beers. One-third of the beer sold in America comes from just four states. Wanna guess where Seattle ranks? They have more than 80 breweries, and arguably the largest collections of brewers in the region reside in King County. In addition, more than three quarters of the nation's hops are grown in Yakima Valley near Seattle, and the clear mountain water also plays a roll in bumping up the quality of the beer. Seattle truly embraces the beer culture, with dozens of beer festivals throughout the year, including the ever-popular Seattle Beer Week, which begins May 10. Today, peaks and Pints salutes Seattle's beer scene with a flight we call Craft Beer Crosscut 5.3.18: A Flight of Seattle.
Reuben's Robust Porter
5.9% ABV, 30 IBU
Home brewer-turned-pro Adam Robbings developed his Robust Porter recipe using British malts particular to Windsor, about 25 miles west of London, where he grew up. Eight different grains are used to create this Reuben's Brews multiple award-winning beer, pouring a deep brown with a creamy tan head like it has some weight. Roast malts are the star in both aroma and flavor that's nutty and slightly sweet with an espresso bitterness balanced by a touch of creamy vanilla, chocolate and caramel sweetness, without being cloying or off putting. Reuben's Robust Porter made it to the final eight in Peaks and Pints' Tournament of Beer: Northwest Porter.
Stoup Double Dry Hopped Lager
5.6% ABV, 50 IBU
Scientist Brad Benson and foodie Lara Zahaba opened Stoup Brewing in Seattle's Ballard neighborhood in 2013. Washington state's first female Cicerone, Robyn Schumacher, became Stoup's third partner, assisting Benson in the brewing room. The trio present a delicious lager designed for the Northwest drinker. It is golden in color and double dry hopped with Huell Melon, Citra and Mosaic hops. Doughy Pilsner malt forms a just-strong-enough base to support copious amounts of juicy melon, citrus fruit and mango aroma and flavor shine.
Elysian Space Dust
8.2% ABV, 62 IBU
It was different times. It was a glorious January 2013 day when co-owner Dick Cantwell told the rest of the planet he and his Elysian Brewing Co. had a new craft beer to add to their Manic IPA Series: Space Dust IPA. The Elysian pubs had long dusted off the Dust, pouring the rainbow of orange, lemon, melon, and resin that leads to a treasure of bitterness at the end to those who checked into Elysian. Cantwell announced Space Dust will "come drifting across the cosmos to select restaurants, bars and retail establishments. More than the ocean needs the cosmic light of starglow energy, you will love this beer." People did. By the billions Carl Sagan would have said. Cantwell left Elysian, as well as a few of the brewers who brewed the first batches, but Space Dust still lights up the Universe.
Fremont The Sister Imperial IPA
8.5% ABV, 80 IBU
As part of its Imperial Series, Fremont Brewing's The Sister hides its heavy hop presence — Mosaic, Ekuanot, Amarillo and Columbus — with a nose that links together apricot, tangerine and star fruit into something wholly engrossing. We are hit with a strong hop element with our initial sip that quickly dissipates due to a considerable amount of malt in The Sister, which it balances the hop side. The Sister gradually ends on the sweet side with the aforementioned flavors dancing on the tongue. This imperial IPA packs a bevy of tastes.
Rooftop Tank Ride
8.5% ABV
Aged for six months in Heaven Hill Bourbon Barrels, Rooftop Brewing's robust 8.5 percent ABV Tank Ride takes you through a whole agility-course of complex flavor notes, delivered with the intensity of actually riding in a tank. Wafts of smoky oak and a complex maple-vanilla richness from bourbon aging greet rolls up to your taste buds. Roasted barley and chocolate malts blast accents of smooth dark cocoa. With a warming booziness, this smooth operating RIS drives across the palate with a creamy mouthfeel as you revel in the taste of spiked mocha espresso beans and chocolate-covered cherry cordials.
---