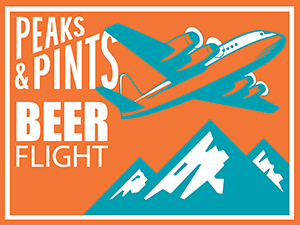 Hitting the scene in the early 2010s, the New England style India pale ale came to fame thanks to a Vermont brewery, The Alchemist, with their Heady Topper, an unfiltered double IPA that became a cult favorite. The beer was a success, and other New England breweries followed suit: namely Hill Farmstead Brewery, also in Vermont, along with Trillium Brewing Company and Tree House Brewing Co., both in Massachusetts. Call them hazy, New England or Northeast style; they're all the rage. Even the Brewers Association recognizes the New England IPA category for its competitions. Though loaded with hops, these small-batch brews tone down the bitterness by using milder varieties like Citra and Mosaic, and adding them late in the brewing process. Unfiltered, these beers are meant to be drank young and fresh. Today, Peaks and Pints offers a flight of hazy IPAs that we call Craft Beer Crosscut 5.26.19: Flight of Hazies.
Craft Beer Crosscut 5.26.19: Flight of Hazies
Powerhouse PowerForce Jeff
6.7% ABV
Yesterday, Powerhouse Brewery's PowerForce Jeff beat 11 other hazy IPAs brewed by greater South Sound breweries at Harmon Brewing's Hazy IPA Competition. Brewed with Task Force Brewing and former Harmon head brewer Jeff Carlson, PowerForce Jeff sports a simple grain bill showcasing the holy hop trinity of Citra, Mosaic and Simcoe hops. This slightly bitter, well-balanced juicy IPA with a big aroma is definitely a winner.
Revision Smoke and Mirrors
8% ABV, 30 IBU
Revision Brewing has brewed 40 or so New England style IPAs, including their double IPA, Smoke & Mirrors. They dumped a bunch of Citra, Mosaic and Amarillo hops to form a power trio of tastiness in this one. Pine, lime and tropical hops and a touch of white bread hit the nose as strong pine hops roll over the tongue, followed by a little caramel sweetness. Plenty of tropical hops ride the finish.
Fremont Head Full of Dynomite v11
6.8% ABV
Fremont Brewing excels at hazy IPAs, especially commanding the actual opaque, dense colored quality of the hazy to bloom, making for an incredible visual treat. Lots of fruit flavor, especially in its Head Full of Dynomite series, which version 11 is on tap and in the cooler at Peaks and Pints. Brewed with Mosaic, El Dorado, Citra and Simcoe Lupulin powderhops, version 11 offers intense hop character with earthy notes and flavors of cantaloupe and peach.
Matchless Super Fluff
8.3% ABV
Sometimes it's best to let Matchless Brewing do all the talking: "I'm not like regular All Fluff. I'm a Super Fluff. Super Fluff. I'm super fluffyyyy. Because it's a very fluffy beer. The kind you don't take home to mother. It tastes like pineapple and orange juice. Once you get it out the cooler. This beer is super fluffy now (this beer is Super Fluff). You'll really love to taste it (because its Super Fluff). This beer's all right. This beer's all right… with me. It's Super Fluff. Super Fluff. It's super fluffy."
Moonraker Zulu Haze
6.8% ABV, 50 IBU
Moonraker Brewing's New England style IPA Zulu Haze makes its second appearance at Peaks and Pints — almost a year later since the California brewery made the drive north to Tacoma. Simcoe and Citra hops work in harmony for huge flavors and aromas of evergreen, melon, guava, citrus, and passionfruit.
---