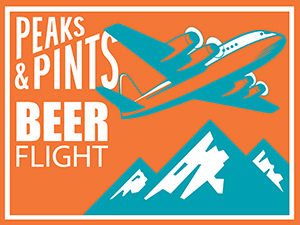 This Mother's Day, skip the box of chocolates or a handmade card. Honor the top lady in your life like the queen she is, and thank her not only for bringing you into being but spending all that time and energy trying to raise you right and feed you well. Peaks and Pints suggests you buy her five world-class and award-winning craft beers for a freakin' reasonable price. Craft beer is social, but sitting down to a taster flight with mom is high-intensity training for your taste buds. The key here is to talk about the beers, and your upbringing, as you drink them — what you like, what you don't, why you climbed on the 1964 Plymouth Barracuda and scratched the hell out of it with your cowboy belt buckle. Peaks and Pints Craft Beer Crosscut 5.12.19: A Flight For Mom is a vehicle to reconnect with mom. You should put your cellphone down and talk to each other while you're drinking. Today, Peaks and Pints skips the "mother" named breweries, the brunch beers and the "girly" beers (that's not even a thing anymore, thankfully), and offers five amazing, delicious craft beers for mom.
Craft Beer Crosscut 5.12.19: A Flight For Mom
Brasserie Dupont Brewers' Bridge
6.1% ABV
Building a bridge between Belgium and the U.S. isn't going to happen anytime soon. In the meantime, enjoy Brewers' Bridge, a collaboration between Belgium's Brasserie Dupont and America's Allagash Brewing. The resulting saison has a soft yeasty sweet malt aroma with refreshingly tart, earthy malt flavor upfront followed by notes of coriander and white peppercorns. It finishes with slightly bitter notes of lemon peel and wheat grain.
Kulshan Pilsner
4.9% ABV
For the past couple years, when a mention of Bellingham breweries awards comes up, there's always a discussion that starts with "Kulshan, again?", but even though the rest of Bellingham's growing craft beer scene is pretty damn awesome, the stamp that Kulshan Brewing has put on Bellingham can't be denied. The brewery's German-style "Pilsner" grabbed a gold medal at the 2017 Best of Craft Beer Award and a silver at the 2018 Washington Beer Awards, as well as crowned champion of Peaks and Pints Tournament of Beer: Northwest Pilsners last month — no doubt for its traditional clean and bready malt flavors supported by herbal, floral and slightly spicy hop aromatics and flavor.
Founders Canadian Breakfast Stout
11.7% ABV, 45 IBU
Founders Brewing's brewers awoke early one day and brewed their Breakfast Stout with flaked oats, chocolate, and two kinds of coffee beans. In 2010, they aged the Breakfast Stout in spent bourbon barrels that had most recently been aging pure Michigan maple syrup. Canadian Breakfast Stout, or CBS, was born, with notes of syrupy malt and strong alcohol.=
Deschutes Black Butte XXVII
11% ABV, 60 IBU
Deschutes Brewery Black Butte XXVII Birthday Reserve Porter is brewed with Theo chocolate cocoa nibs, pomegranate molasses and select spices, blended with apricot purée, then partially (50 percent) aged six months in bourbon barrels. It's powerful and dense, with loads of aromas and flavors of figs, raisins, dried apricot, chocolate malt, vanilla bean, lightly roasted coffee, molasses, woody spice and peppery cigar box. Excellent imperial porter, aged beautifully.
Fremont 2015 Coffee Cinnamon Bourbon Abominable
14% ABV
Originally known officially as Bourbon Abominable, Fremont Brewing changed the name of the base beer from Abominable Winter Ale to the shortened and universally accepted Fremont B-Bomb Imperial Winter Ale in 2016. This name change was brought on by Portland based Hopworks Urban Brewery that had been brewing its winter seasonal with the same name, Abominable. The 2015 version is aged in 12 and 15 year-old American oak whiskey barrels and is a blend of 24 and 12-month old barrel strength Abominable Ale. B-Bomb achieves distinct bourbon, oak, cacao, leather, and dark coffee notes from its extended barrel aging and barrel blending. Each barrel contributes a different note and combining each barrel to create a coherent tone is a distinct art and true pleasure.
---