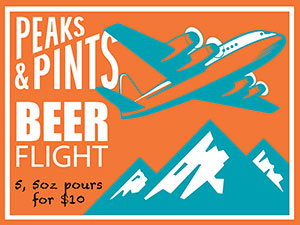 Our Tournament of Beer: Northwest Porters isn't complicated: We put you, the public, in charge of voting to determine the best porter in Washington, Oregon and Idaho. We simply count the votes and write a lot of silliness about the results. Since the voting is subjective, and we have only 64 slots, delicious, awesome porters were left out the tournament. Scanning our current inventory we found five porters that, well, should have been voted into the tournament, at least according to us. Today, with another eight porters battling at tournamentofbeer.com, we present the Craft Beer Crosscut 4.13.18: A Flight of Runner-Up Northwest Porters.
Kulshan Transporter
5.1% ABV, 18 IBU
Kulshan Brewing Transporter English brown porter just missed the cut in our Tournament of Beer: Northwest Porters. It's certainly worthy. A malt bill of 2-Row, White Wheat, Chocolate, Brown and Flaked Barley offer aromas of roasted malt, dark chocolate and coffee. The flavor follows the nose with roasted malt, bitter chocolate, subtle coffee and earthiness with a smooth lingering bitter chocolate finish. According to Kulshan hype, "After a long day of toil or a leisurely stroll through a misty Northwest day, there's no better vehicle to satisfaction than a Transporter."
Caldera Toasted Coconut Chocolate Porter
6.2% ABV, 24 IBU
Caldera Brewing tosses in 300 pounds of hand-toasted organic coconut and lots of natural chocolate to create this dessert in a pint — smooth and velvety with a pronounced coconut-chocolate aroma and a waft of vanilla. The coconuts provide an oiliness to the soft body, causing the drizzles of chocolate syrup and wet coconut shavings that arrive at the swallow to linger long after each sip.
10 Barrel Estonya
11.9% ABV, 26 IBU
This imperial porter was inspired by a Baltic version designed by Tonya Cornett, head brewer at 10 Barrel's Bend, Oregon brewhouse. She created a beer that has nuances of milk chocolate, figs and caramel that dance throughout. Bourbon barrels from West Virginia are the perfect dance partner with its notes of dried fruit and vanilla. It's basically a thick porter with massive sweetness and fruitiness.
Breakside Cultivating Mass
10.5% ABV, 30 IBU
Breakside Brewery's Cultivating Mass Imperial Baltic Porter is smooth as silk. Breakside layered on one dark malt after another, performed two mashes to get the rich body where they wanted it, coaxed it through a long and cool fermentation, and aged it for nearly 18 months in bourbon barrels from Kentucky's storied Heaven Hill distillery. The aroma is loaded with bourbon character, with lots of vanilla and caramel. Flavor is very sweet, with lots of bourbon character upfront, followed by vanilla, caramel and molasses. It's quite sweet, but not cloying.
Royale Garrison Porter
6% ABV, 39 IBU
Mike Weksler, Jack Houston and Paul Bastian had been pushing through Alameda Brewhouse's exit doors with kegs of their Royale Brewing Co. Pilsner and Fat Unicorn Pale until they found their own brewhouse down the street in Northeast Portland, followed by their own taproom in the city's St. John's neighborhood. Named after their taproom, Garrison Porter offers malty aromas of dark chocolate and toasted caramel. It's mid-palate is home to hints of liquorice and caramelized raisins. Expect balanced hop bitterness with a dry, slightly roasty coffee finish.
---