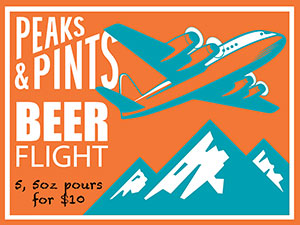 In the world history of beer, pilsners are relatively recent. Around 1840, eons before marketers invented "drinkability," Czech brewers in Bohemia created pilsner, a light beer that didn't taste like spongewater. The primary source of the innovation was the use of bottom-fermenting yeasts, which yielded a livelier, more consistent beer than the traditional top-fermented brews. Today, the best pilsners are still found in continental Europe, partly because of demand and partly because it's home to the style's signature Saaz hop, Pilsen's soft water and crackery, paler malt. German and Bavarian styles tend to emphasize bitterness and spicy hop flavor. But stateside, craft brewers borrow freely from both approaches and put a more personal flare — typically more hops — on the style. United States craft brewers have refused to let mass-produced, adjunct-laden, flavorless-at-best light lagers be the standard. Today, Peaks and Pints salutes pilsners with our Craft Beer Crosscut 3.4.18: A Flight of Pilsners.
Reuben's Pilsner
5.4% ABV, 35 IBU
Reuben's Brews' Czech-style Pilsner is as bright in color as it is on the palate, with spicy, lemony hops set against a biscuity malt base. The subtle hop notes remind us of a pleasant blend of dried Italian herbs and spices. Malt takes the lead with a nice balance between toasted and sweet. The beer is highly carbonated and finishes crisp and clean, another hallmark of the style. It checks every box you want in a pilsner.
pFriem Pilsner
4.9% ABV, 38 IBU
pFriem Pilsner may be the lightest beer we've ever seen. It pours with a delicate green tint, a fluffy white head, and a crystal-clear complexion. Pastoral aromas of flowers and meadow grains combined nicely with a typical maltiness to provide what we could only describe as a "pilsner" scent. The taste is the best part, though, with a deep dryness at the back of the mouth and the faint minerality that's so crucial to a pilsner. pFriem's Pilsner goes down easy as a breeze.
Chainline Polaris Pilsner
4.9% ABV, 30 IBU
Released in 2012 by the Hop Research Institute in Hull Germany. Polaris hops were bred as a dual purpose hop with an incredibly high alpha acidity and essential oil content that leads to very bold tastes and distinctive flavors — including contributing to bold floral and fruit notes with a slight hint of mint, which describes Chainline Brewing's Polaris Pilsner. The 2016 Great American Beer Festival silver medalist pilsner has a mint-like flavor while still maintaining its Noble hops lineage. Bohemian malts and yeast provide the body you would expect from this style pilsner.
Victory Prima Pils
5.3% ABV, 44 IBU
Victory Brewing Co. is all in. The Pennsylvania brewery is committed to finding the best natural ingredients possible, a dedication that extends to their exclusive use of whole flower hops, rather than the pellets used by most breweries. The resulting brews are more delicate and nuanced, and the Prima Pils is no exception. The nose contains elusive, variable scents, none of which overpowers any of the rest; earthy, chalky, and nutty notes all complement each other. The taste moves us into the woods of Pennsylvania, with an open flavor that is as subtle as it smells. Think of a small, comforting cottage in a forest clearing, and you'll get a sense of the Prima.
Bitburger Premium Pils
4.8% ABV, 38 IBU
Founded in 1817, seven generations of family ownership allowed Bitburger Brewery to be named number one draft beer in Germany in 1992, a position it holds to this day. Bitburger Brewery's success has been built on the strength of their original Bitburger Premium Pils. Bright, fresh golden colors and a rich frothy head are what you first notice about this elegant pilsner. The Bitburger well water gives the beer a very clean, hoppy taste, with nutty flavors accompanying. The bitterness of the hops is balanced well with the mellow sweetness of the body of the beer. This is a delightfully refreshing beer: The body is light but not watery, and the carbonation makes quick work of cleansing the palate to enhance the beer's dry, clean finish.
---