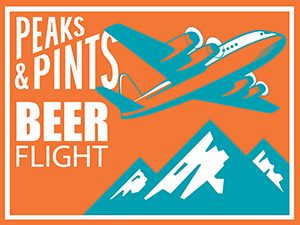 Beer lovers and bakers have always stood by their respective culinary passions — but far fewer of us have put the two of them together. It's a magical combination. The right beer and cookie pairing is outstanding because it allows you to enjoy more of both elements. Milk washes away or rounds off the edges of a cookie, but beer, especially milk stout, brings out something unexpected from a chocolate chip cookie. A milk stout has a heavier roasted flavor, almost toasted, which compliments the sweetness in the cookie without overpowering it. A milk stout is also a little bit sweeter. The milk stout gets its name from the creaminess of the beer. And because many versions are brewed with lactose, a milk sugar that doesn't ferment completely, leaving a bit of residual sweetness. It has a bit of a sweet aftertaste with a gentle flavor and aroma. This is the perfect beer to go with a chocolate chip cookie. Call Peaks and Pints a convert. Sorry, milk. We're pairing five milk stouts with a chocolate chip cookie today that we call Craft Beer Crosscut 3.27.19: A Flight For Chocolate Chip Cookies.
Craft Beer Crosscut 3.27.19: A Flight For Chocolate Chip Cookies
Left Hand Brewing Nitro Milk Stout
6% ABV, 25 IBU
Without going into the chemical physics of solubility and gas diffusion, let's just say that nitrogen has a silkifying effect on beer. Nitrogenized brews, as opposed to carbonated ones, have a softer mouthfeel, taste less acidic and boast a creamier, more stable head. Left Hand Brewing's Milk Stout was no bore before, and on nitro, it's even better. Cocoa and burnt flavors from its dark roasted grains come forward first, followed by a wave of sweet cream thanks to the use of lactose sugar. Magnum hops help give the 6 percent-alcohol brew a bitter finish that entices the next sip. Throughout, the beer's ultra-smooth texture inches it closer to chocolate milk than you thought a beer could get.
E9 O'Leary's Coffee Milk Stout
7% ABV
Milk stouts originated in Europe in the 1800s. The style emphasizes a malty sweetness with hints of chocolate and caramel. They are sometimes called cream stouts or sweet stouts. Brewers intensified the dark, chocolaty malt body with lactose, the sugar in cow's milk, hence why they're more often called milk stouts. Brewer's yeast can't ferment lactose into alcohol, so it hangs around to give you a rich mouthfeel and a soft, creamy sweetness, balancing out the bitter and roasted qualities typical of its cousin stouts. E9 Brewery brewed a milk stout adding several pounds of Bluebeard coffee to the mix, a mix they call O'Leary's Coffee Milk Stout.
Pelican The Brewed Abides
7% ABV, 25 IBU
A few days ago, Peaks and Pints drank this milk stout from the teat at Pelican Brewing in Pacific City, Oregon. The Brewed Abides takes its inspiration from the classic White Russian cocktail, as well as The Dude imbibing it in the movie that made it famous, The Big Lebowski. This milk stout is brewed with Costa Rican coffee beans, cacao nibs, vanilla beans, pure coastal water, and pure ale yeast abiding in harmony to create intense, rich flavors with hints of coffee, caramel maltiness and a velvety mouthfeel.
Against The Grain 70K
13% ABV, 48 IBU
Against the Grain's bottles are full of attitude that jumps out at you on the shelf. Located in a former train station on Main Street in Louisville, Kentucky, this rapidly expanding brewery and restaurant brews on a 15-barrel system, in addition to brewing at Pub Dog Brewery in Maryland. It's 70K is essentially Against The Grain Brewery's 35K Milk Stout recipe doubled: double roasty, double chocolaty, double creamy, double delicious. Then, the Kentucky brewery aged it in Angel's Envy Bourbon barrels for notes of rich molasses, brown sugar, bourbon, roasted malts, dark sugars, oak and coffee with a bitter finish.
Aslan Satan's Airport
9% ABV, 75 IBU
Aslan Brewing Satan's Airport brewed a massive imperial milk stout brewed with coffee — not so massive in alcohol but 60 pounds of custom roasted, organic Guatemalan coffee beans from Doma Coffee Roasting Company in Bellingham. Brewed with 2-row, Black, Carafe, Caramunich, Chocolate, Roast and Vienna malts, this stout arrives pitch black in color, malty and smooth, the chocolate is complemented with deep coffee notes that linger on the palate.
---