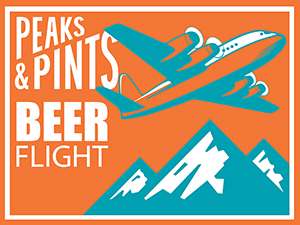 As Ben Love and Van Havig worked toward opening Gigantic Brewing Co. in Southeast Portland, they came up with a plan to draw people to their brewery smack dab in a industrial wasteland behind Reed College: Be cool. When they opened Wednesday May 9, 2012, they were cool. Their taproom had a college clubhouse vibe. They brewed amazing one-offs. Their label art, signed by the artists, could hang in museums. And, they would brew with the coolest rock stars. Of course, Havig and Love had the pedigree. Havig spent 16 years brewing at Portland's Rock Bottom, and Ben Love held down posts at Pelican Brewing in Pacific City and Hopworks Urban Brewery in Portland. Together, the two produce a year round IPA and a wide variety of rotating seasonals, specialties, and one-offs. Today, Peaks and Pints offers a flight of Gigantic beers that we call Craft Beer Crosscut 3.19.19: A Flight of Gigantic Brewing. If we decide to do another Gigantic flight next week, not doubt we would have five newly brewed Gigantic beers. What's cooler that that?
Craft Beer Crosscut 3.19.19: A Flight of Gigantic Brewing
Gigantic Marionberry Tart
7.3% ABV, 19 IBU
The dark purple blackberry is for Oregon, by Oregon. Created at Oregon State University, it bears the name of its birthplace — Marion County — and a mix between the Chehalem and the Ollie berry. Marionberries have a complex, rich and earthy flavor that is both sweet and tart. Taste is light sweet and light to medium sour with a long slightly dry, berry and fruity finish. Enjoy fresh marionberries, refreshing tartness and subtle notes of vanilla in Gigantic's Marionberry Tart wild ale.
Gigantic Corpse Reviver #2
9.3% ABV, 25 IBU
Popularized by the 1930 Savoy Cocktail Book by Harry Craddock, the classic Corpse Reviver No. 2 cocktail is part of a succession of "Corpse Revivers" originally devised as a hangover cure. The Corpse Reviver #2 is rightfully considered by many to be the best-tasting of the Corpse Reviver cocktails: Absinthe rinse, gin, Cointreau, Lillet Blanc and fresh lemon juice. It's one of the staples at Chicago's gin-focused bar Scofflaw. Gigantic's version features their citrus sour aged in Ransom Old Tom Gin Barrels with fresh oranges and lemons.
Gigantic Hellboy (Maple Syrup Pancakes)
6.66% ABV
To commemorate the 25th anniversary of the publication of Hellboy: Seed of Destruction, Gigantic and Dark Horse Comics collaborated on Hellboy, a maple syrup pancakes beer, based on award-winning cartoonist Mike Mignola's legendary character. It's a brown ale infused with massive amounts of maple syrup. It really does taste like maple syrup pancakes.
Gigantic Weapon of Mass Seduction
7.5% ABV, 55 IBU
Gigantic Brewing incorporates rich, silky cacao from Woodblock Chocolate and luscious oysters from Nevør Shellfish to make this sexy Chocolate Oyster Stout, along with malted chocolate and cocoa, salt, caramelized sugars, fresh espresso shots and raw vanilla. The chocolate flavor is legit. It also has an authentic, roasted cocoa flavor to it. It's on the dry side with slight creaminess. Oyster? It's the big finish, mixed with the chocolate.
Gigantic Most Most Premium Russian Imperial Stout
12.3% ABV
Gigantic Most Most Premium Russian Imperial Stout sports the same recipe as the brewery's Most Premium Russian Imperial Stout, but this beer was aged for 18 months in bourbon barrels. No light penetrates the dark grape juice colored beer. It has some boozy heat from the bourbon and is, by design, low in carbonation. Expect a robust, dark, malty aroma with tones of roast, cocoa, brown sugar, a kiss of bourbon and a whiff of vanilla. On the tongue comes smooth, dark, toasty semi-sweetness full of brown sugar, dark chocolate and a touch of vanilla.
---